News
Africa
Agricultural biotechnology stakeholders comprised of scientists, journalists, and key officials from select government departments, including the Vice President's office, the Commission for Science and Technology, and the National Environment Management Council, underwent a two day issues management and effective science communication training workshop in Dar es Salaam, Tanzania, on July 21-22, 2015.
The workshop, conducted by ISAAA AfriCenter under the auspices of the Program for Biosafety Systems, provided a platform for the key players to discuss about the strengths and weaknesses in biotech communications and issues management, and afforded them an opportunity to identify tangible solutions to their unique challenges. The participants were also equipped with the relevant skills to effectively communicate biosafety processes as well as the safety and benefits of GM foods.
According to a number of participants at the workshop, the training came at an opportune time given that Tanzania recently revised its biosafety laws to open the way for confined field trials (CFTs). "Now that we can finally move from theory to practice with CFTs, it is important that key stakeholders speak the same language and avoid giving conflicting messages," said Dr. Allois Kullaya, a Principal Agricultural Officer with the Tanzanian Ministry of Agriculture and the Country Coordinator of the WEMA project in Tanzania.
The participants particularly enjoyed the practical component of the workshop where they learned how to create message maps for various issues and concerns that are raised by different stakeholder groups. They also got to apply the message mapping concept in mock media interviews that were based on a CFT approval scenario.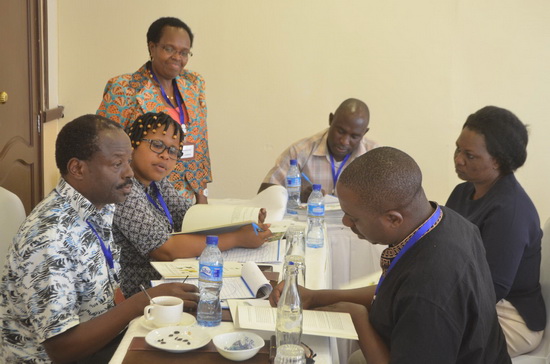 For more information on the workshop, contact Faith Nguthi on fnguthi@isaaa.org.
[ Send to a Friend | Rate this Article ]
---
Biotechnology continues to be a politically sensitive issue in Morocco, according to the USDA Foreign Agriculture Service Global Agricultural Information Network (GAIN) Report. A law was drafted in 2008 to regulate the introduction, use, and marketing of biotech products, however the law was dismissed in 2011 and there have been no updates since then. The country allows GM feeds, but bans GM products for food.
Morocco ratified the Cartagena Protocol on Biosafety in 2011, and in the following year, approved the Nagoya Protocol on Access and Benefit-sharing.
Read the complete report at USDA FAS.
[ Send to a Friend | Rate this Article ]
---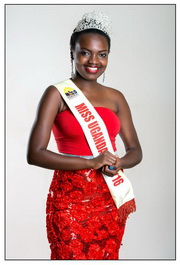 Miss Uganda 2015/2016, Zahara Nakiyaga, impressed judges and the public with her answer when asked about genetically modified organisms (GMOs). This was during the crowning of Miss Uganda 2015/2016 last July. Questions on agriculture dominated the final round of adjudication, and the GMO question was directed to the eventual winner. Miss Nakiyaga's response on GMOs was positive and spot-on, something unusual with socialites' pronouncement on the subject in Uganda. She mentioned that, "GMOs are genetically modified organisms made from joining DNAs of plants to produce more resistant and long lasting crops."
Miss Nakiyaga was one of the 21 contestants who participated in the beauty pageant. Prior to the crowning ceremony, Uganda Biosciences Information Center (UBIC) organized a week-long agricultural boot camp for the contestants. They were introduced to various crop agricultural technologies, including genetic engineering. In the laboratories, the contestants interacted with Ugandan scientists involved in the production of GMOs. The current GM research in Uganda aims to address some of the difficult challenges affecting farmers, and other priorities such as reducing malnutrition especially among young children. Miss Nakiyaga added that the agricultural boot camp improved her understanding of modern agriculture. "I learnt so many things, including the benefits of modern agriculture, which I want to pass on to other youth during my reign," said Miss Nakiyaga.
For more information about biotech in Uganda, send a message to ubic.nacrri@gmail.com.
Americas
The U.S. Biotech Crops Alliance's Working Group met in Montreal, Canada, last week to recommit to address any worldwide regulatory risks on the commercial possibilities of biotechnology for the next three years. During the meeting, representatives worked together to create an understanding of both the biotechnology derived products which have or may gain U.S. regulatory approval, their international approval status and possible market risks in an attempt to help farmers understand the status of new products in world markets before they plant these varieties. The group also discussed the robust trait pipelines for both corn and soybean in the coming years.
For more details, read the news release at the National Corn Growers Association website.
[ Send to a Friend | Rate this Article ]
---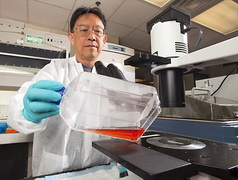 Scientists at the U.S. Department of Agriculture (USDA) developed a new procedure to extract lunasin, a compound with cancer-fighting potential and anti-inflammatory activity of soybean seeds.
According to Hari Krishnan, a molecular biologist from USDA Agricultural Research Service, animal and human clinical trials of lunasin have been delayed because its extraction has been tedious, time-consuming, and expensive. However, with the new procedure that they have developed, extraction only takes less than 2 hours and yields far more lunasin and protease inhibitor concentrate than other methods, including sophisticated chromatography procedures and live cultures of GM yeast or bacteria. The actual extraction is done with a 30 percent solution of ethanol, followed by centrifuging steps and the addition of calcium chloride to further purify the concentrate.
Read the original article from USDA. The new procedure is discussed in a research article published in Food Chemistry.
[ Send to a Friend | Rate this Article ]
---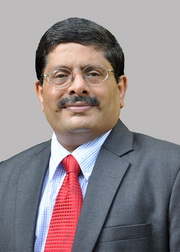 Hailed by Huffington Post as one of the "Top 30 Influencers in Biotech and Pharma", Dr. Channapatna S. Prakash now carries a new hat - that of Dean of the College of Arts and Sciences of Tuskegee University. A professor of crop genetics, genomics, and biotechnology, Dr. Prakash also served as editor-in-chief for GM Crops & Food since 2010. He is also a recipient of the prestigious 2015 Borlaug CAST Communications Award, recognizing his lifelong contribution to agricultural science communication.
Dr. Prakash has been working with the university for about 26 years, and was vital in starting its biotech program that has trained several minority students and scholars on agri-biotech. He also successfully developed biotech sweet potato with high protein content. Dr. Prakash has a Ph.D. in Faculty of Science (Forestry and Genetics), from The Australian National University and a M.S. in genetics and plant breeding and a B.S. in agriculture from the University of Agricultural Sciences in India.
"I am delighted to take on a new admin role at my university, and look forward to work with stellar faculty and students at CAS. My goal is to ensure success of every student and faculty at my college. This will be an exciting opportunity for me to integrate arts and humanities with STEM—to move to a STEAM education, launch online courses, and work very very hard to bring much needed resources for the college," said Dr. Prakash in response to his new appointment.
Read the news release from Tuskegee University.
Asia and the Pacific
Researchers from the University of Adelaide have shown for the first time that plants use animal-like signals when they are under stress. The researchers from the Australian Research Council (ARC) Centre of Excellence in Plant Energy Biology reported in a paper in Nature Communications how plants respond to their environment with a similar combination of chemical and electrical responses to animals, but through machinery that is specific to plants.
According to senior author Dr. Matthew Gilliham, it has been known for a long time that plants produce the animal neurotransmitter gamma-aminobutyric acid (GABA) when they are under stress, such as when they encounter drought, salinity, viruses, acidic soils, or extreme temperatures. But it was not known whether GABA was a signal in plants. The research team discovered that plants bind GABA in a similar way to animals, resulting in electrical signals that ultimately regulate plant growth when the plant is exposed to environmental stress. "By identifying how plants use GABA as a stress signal we have a new tool to help in the global effort to breed more stress resilient crops to fight food insecurity," said co-lead author Prof. Steve Tyerman.
For more details about this research, read the news release at the University of Adelaide website.
[ Send to a Friend | Rate this Article ]
---
NRGene, a computational genomic company based in Israel, has mapped the complete genome of emmer wheat. This breakthrough will accelerate global research on crop development.
According to Assaf Distelfeld of Tel Aviv University (TAU), primary researcher of the project, decoding the emmer wheat's genome will help scientists to identify important genes from the crop and introduce them to commercial wheat varieties. This will lead to hardier varieties across environmental conditions, which will help attain food security.
NRGene used their DeNovoMAGIC assembler to create long genome sequences, covering 90 percent of the genome.
Read the original article at Seed World.
Europe
Jan Lucht of Scienceindustries based in Switzerland reviewed the public acceptance of plant biotech and GM crops in Europe to show the contrasts in the development of different agri-biotechnology applications. According to the review, the important factors affecting consumers' attitudes are perception of risks and benefits, knowledge and trust, and personal values.
Recent political and societal developments have also intensified the negative perception of GM in Europe. Lucht concludes that discussions on agriculture would be more productive if they would focus less on technologies, but on common aims and underlying values.
Read the review article at Viruses.
[ Send to a Friend | Rate this Article ]
---
Scientists at The Genome Analysis Centre (TGAC) have developed a new library construction method for genome sequencing that can simultaneously construct long-range data with reduced DNA input, time, and cost. The TGAC team gained early access to a new piece of technology, the SageELF from Sage Scientific, to develop a more robust, global approach to the most accurate long range sequence data for any given sample.
Long range genetic data (long mate pair – LMP) is an invaluable source for plant, crop, and animal genetic research. Sequencing genomes requires breaking them into small manageable pieces and then working out how to put them back together. To do this, a combination of short range and long range sequence data is needed. Generating short range data is relatively straightforward, but long range data is more problematic as the quality and quantity of DNA are major factors influencing the outcome.
Darren Heavens, lead author and team leader in the Platforms & Pipelines at TGAC said, "Although producing a single high-quality size selected LMP library can be difficult, several LMP libraries are often used for larger genome sequencing projects. Our new genome analysis protocol allows concurrent construction of 12 long-range data libraries for less than twice the cost of a single library and reduces the time by 3 to 2 days."
For more information, read the news release at the TGAC website.
[ Send to a Friend | Rate this Article ]
---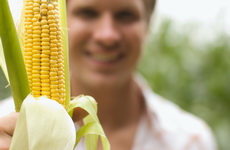 Genetically altering the amounts of a naturally occurring sugar can substantially improve the yield of drought affected corn, according to the results of a collaborative project between Syngenta and Rothamsted Research. Syngenta scientists introduced a single transgene to alter the amounts of trehalose 6-phosphate (T6P), a naturally occurring sugar in corn plants. The plants were evaluated over several years in corn fields in North and South America. The results showed that corn under none or mild drought, increased in yield between 9% and 49%, and corn under severe drought increased in yield between 31% and 123%.
The Rothamsted research team led by Professor Matthew Paul worked on understanding the regulation of plant and crop processes by T6P. T6P drives the allocation of sucrose to different parts of the plant during growth and development. By altering the amounts of T6P in key cells that deliver sucrose to developing seeds in the cobs, more sucrose is transported into the corn kernels. This increases seed numbers per cob and the overall harvest index and yield.
Professor Paul said "The work shows that T6P exerts significant control of yield in corn. This is one of few reports where genetic modification of an intrinsic plant process for yield works in the field."
For more information about this research, read the news release at the Rothamsed Research website.

Research
A team of researchers led by Miao Bian from the Huazhong Agricultural University conducted a study that will help in developing acid-tolerant malting barley. Acid tolerance is an important trait in crops since acid soils inhibit root growth which may lead to yield losses. An acid tolerance gene has already been identified, however, this gene causes undesirable malting trait quality.
In the study, the researchers were able to identify Br2, a Brazilian malting variety cultivar that is tolerant to acid soil. Further studies in this cultivar reveal that the HvMATE gene located in chromosome 4 is the one responsible for its acid tolerance. Based on the HvMATE gene the researchers then developed Cit7, a gene-specific marker that can be used for marker assisted selection in developing new acid tolerant barley varieties.
Read the details of the study at BMC Genetics.
[ Send to a Friend | Rate this Article ]
---
Rust fungi are caused by Puccinia sp. and considered to be one of the most destructive cereal crop pathogen. Researchers from Washington State University, Carleton College, and U.S. Department of Agriculture, studied Puccinia genes in detail. This is done by using a host induced gene silencing (HIGS) to test the ability of Puccinia genes to interfere with the full development of Puccinia sp.
Results of their study reveal that only 10 out of 86 genes with transcripts enriched in haustoria interfered P. graminis f.sp. tritici development when their transcripts were reduced in HIGS assays. These 10 genes were found to be involved in several biological processes in fungi. Furthermore, 3 out of the 10 genes were also found to suppress the development of the two other rust fungus, P. striformis and P. triticina.
These findings indicate the possibility of engineering a rust resistant cereal crop to multiple rust pathogens using a single gene and can also be applied to other grain and forage crops.
The study can be read at BMC Genetics.
[ Send to a Friend | Rate this Article ]
---
Strawberry production is limited by its susceptibility to a wide range of pathogens. Researchers from the University of Florida expressed the Arabidopsis thaliana NPR1 gene (AtNPR1), a known regulator of the systemic acquired resistance (SAR), in the diploid strawberry (Fragaria vesca L.) in hopes to develop disease resistance.
Ectopic expression of AtNPR1 in strawberry increased the transgenics' resistance to anthracnose, powdery mildew, and angular leaf spot, which are caused by different pathogens. The increased resistance is related to the relative expression levels of AtNPR1 in the transgenic plants. However, the transgenic plants were shorter than controls, and most of them fail to produce runners and fruits. Nevertheless, the results indicate that overexpression of AtNPR1 holds the potential for generation of broad-spectrum disease resistance in strawberry.
For more information, read the full article on Transgenic Research.