Report Forecasts Global Seed Market Trends to 2020
June 17, 2015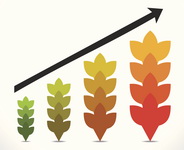 The global seed market is expected to reach US$92.04 billion in 2020, at a compound annual growth rate of 9.4 percent from 2015 to 2020, according to Markets and Markets report on Seed Market by Type (Cereals & Grains, Oilseeds, and Fruit & Vegetables), Seed Trait (Herbicide Tolerant, Insect Resistant, and Other Stacked Traits) & Region - Global Trends & Forecast to 2020.
It was also reported that in 2014, the global seed market was dominated by North America, which has accounted for around 32.60% of the total share. The Asia-Pacific region is projected to be the fastest growing market due to high population, which calls for more food products and advanced farming technologies to attain higher productivity and profits.
Furthermore, India is projected to be the fastest growing market for seed, followed by China because of the government initiatives in promoting technology driven agriculture practices. The cereals and grains segment is projected to be the biggest market for seed in the world from 2015 to 2020.
For more details about the report, visit Markets and Markets.
ISAAA shares, disseminates, and promotes science-based information to help in achieving global agricultural sustainability and development. During this time of COVID-19 pandemic, we monitor research on treatments, vaccines and keep track of the pandemic's effect on food security and agriculture. We help the public make informed decisions and actions to mitigate and recover from the impact of COVID-19. At this crucial time, we need your help. Please support our efforts today from as little as $10  
See more articles:

News from Around the World

Research Highlights

Beyond Crop Biotech

Announcements

Resources


Subscribe to CBU: