China to Enhance Public Awareness of GM Technology
February 11, 2015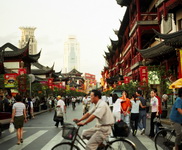 China will step up its efforts in improving public awareness of genetic modification (GM) technology in agriculture in 2015, according to a key policy document released by the Communist Party of China and the government on February 2, 2015.
The country will strengthen technical study, safety management, and better public awareness of GM technology, as stated in the No. 1 Central Document. The No. 1 Central Document refers to the first major policy document of the year, and focuses on agricultural modernization in China. It was released by the Central Committee of the Communist Party of China and the State Council.
In a speech to the Central Rural Work Conference last year, Chinese President Xi Jinping said that GMOs will finally be accepted in China and the technology should be allowed in the country as long as necessary caution is exercised.
This year's document puts an emphasis on "strengthening reform and innovation." It highlights the challenges in China's agricultural sector, including surging production costs, shortage of agricultural resources, excessive exploitation, and worsening pollution.
For more details, read http://english.agri.gov.cn/news/dqnf/201502/t20150203_24951.htm.
See more articles:

News from Around the World

Research Highlights

Beyond Crop Biotech

From the BICs

Announcements

Resources

Subscribe to CBU: