Optimism is high within Uganda's pro-biotech community as they eagerly await outcomes of the March 28, 2018 tabling of a report on the National Biosafety bill in Parliament. The bill originally passed in October 2017 was referred back to the August body by President Yoweri Museveni citing concerns that needed to be addressed. Speaking at the official opening of the 3rd Biennial National Agricultural Biosciences Conference (NABIO) 2018, Dr. Elioda Tumwesigye, Minister of Science, Technology, and Innovation, assured guests that the report on the bill would be tabled for debate before Parliament broke off for the Easter holiday.
Researchers Find Gene Regulating Plant Growth and Pest Resistance in Rice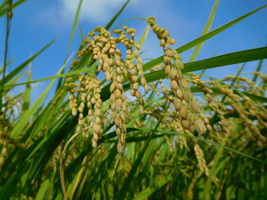 Expansins are proteins that can loosen the cell wall. Previous studies have indicated that expansin-encoding genes are also involved in defense against abiotic stresses. However, little is known about their involvement in the defense against biotic stresses. The team of Jiang Tan from the Chinese Academy of Sciences found that one rice (Oryza sativa) expansin-encoding gene, OsEXPA10, functions in both plant growth and biotic resistance.

A biweekly update on genome editing research, regulations, and impact
produced by ISAAA Inc.

A monthly update on gene drive research and development provided by ISAAA in collaboration with the Outreach Network for Gene Drive Research
GM APPROVAL UPDATES
Turkey approved the maize event MON87427 for feed.
Australia and New Zealand approved the wheat event HB4 for food.

The USA approved the canola event NS-B5ØØ27-4 for food and feed.
Canada approved canola event LBFLFK for food.
The USA approved canola event LBFLFK for food and feed.
The USA approved soybean event GMB151 for cultivation.

Events
2018 IPBO Conference
August 30 - 31, 2018
Ghent , Belgium


What: 2018 IPBO Conference: "Scientific innovation for a sustainable development of African agriculture"

Where: VIB-UGent Center for Plant Systems Biology, Technologiepark 927, 9052 Ghent, Belgium

When: August 30-31, 2018

The overall objective of this conference is to bring different researchers from Belgium/Europe and Africa who are working on agriculture and/or plant biotechnology. Topics that will be discussed during this meeting are (1) Relevant crops for Africa, (2) Creating new plant varieties through scientific innovation, (3) Biotic stresses threatening crop yields, (4) Abiotic stresses threatening crop yields, (5) Improved soil fertility to enhance crop yield, (6) Mycotoxins, a threat for both human and animal health, and (7) Enhancing the nutritional value of important crops for Sub-Saharan Africa.

The deadline for early registration (with reduced fee) is on June 15, 2018. For more details, visit the Conference website or contact the International Plant Biotechnology Outreach (IPBO, VIB-UGent): ipbo@vib-ugent.be.
The Crop Biotech Update is a weekly newsletter of ISAAA, a not-for-profit organization. The CBU is distributed for free to over 23,000 subscribers worldwide to inform them about the key developments in biosciences, especially in agricultural biotechnology. Your support will help us in our mission to feed the world with knowledge. You can help by donating as little as $10.