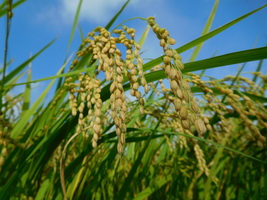 An international team of experts led by the University of Exeter used chemical genetic inhibition of a protein in rice blast and successfully stopped it from spreading in a rice leaf. The results are published in Science.
Rice blast destroys up to 30 percent of the world's rice crop annually. The fungus has a powerful mechanism of infecting a rice plant. When it enters into a rice cell, the plasma membrane stays intact and the cells remain viable, then the fungus moves to nearby cells through the plant's intercellular channels called plasmodesmata.
The researchers used a chemical genetic approach to selectively inhibit a single protein (Pmk1) in the blast fungus. When Pmk1 is inhibited, the fungus gets trapped within a rice cell. Pmk1 is responsible for the expression of genes involved in suppression of host immunity. It also controls the fungus' hyphal constriction, which allows transfer into new host cells.
Read more from the University of Exeter.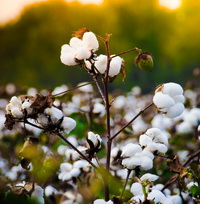 Cotton bollworm (Helicoverpa armigera) is one of the most disastrous pests worldwide, threatening various food crops. Genomic tools may provide effective ways to manage this pest. The team of Ming‐Hui Jin from Southwest University in China aimed to test the CRISPR-Cas9 system to induce mutations for targeted mutagenesis in cotton bollworm.
Researchers Find New Clues on How to Stop Spread of Citrus Greening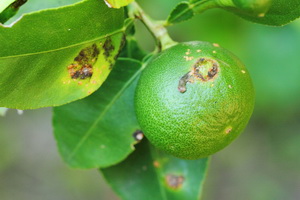 Researchers from Boyce Thompson Institute (BTI) and the USDA Agricultural Research Service (USDA-ARS) found new clues about how the bacteria linked to citrus greening infect the only insect that carries them which could lead to finding the solution on how to block the spread of infection. The results are published in Infection and Immunity.
Researchers Discover Gene for Salt Stress Sensitivity in Rice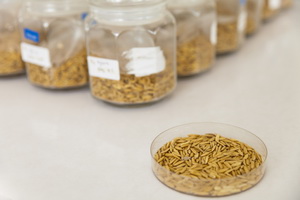 Early leaf senescence can cause negative effects on rice yield, but the underlying molecular regulation is not fully understood. The bilateral blade senescence 1 (bbs1), an early leaf senescence and salt stress-sensitive mutant, was isolated from a population generated via ethylmethane sulfonate (EMS) treatment. The team of Dong-Dong Zeng of Zhejiang University in China studied the mutant to determine the gene responsible for the mutation.

A biweekly update on genome editing research, regulations, and impact
produced by ISAAA Inc.

A monthly update on gene drive research and development provided by ISAAA in collaboration with the Outreach Network for Gene Drive Research
The Crop Biotech Update is a weekly newsletter of ISAAA, a not-for-profit organization. The CBU is distributed for free to over 23,000 subscribers worldwide to inform them about the key developments in biosciences, especially in agricultural biotechnology. Your support will help us in our mission to feed the world with knowledge. You can help by donating as little as $10.