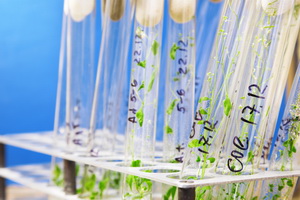 Global warming has affected not only plant biodiversity, but also altered the way plants grow. A team of researchers at Martin Luther University Halle-Wittenberg (MLU) joined forces with the Leibniz Institute for Plant Biochemistry (IPB) to discover which molecular processes are involved in plant growth at high temperatures. This could help breed plants that adapt to global warming.
US President Donald Trump Mentions Biotechnology at AFBF Convention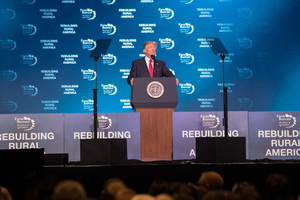 The American Farm Bureau Federation's 2018 Annual Convention held in Nashville, Tennessee on January 5-10, 2018 was addressed by the US President Donald J. Trump. On January 8, the President said, "We are streamlining regulations that have blocked cutting-edge biotechnology, setting free our farmers to innovate, thrive, and to grow." His remarks were delivered to 7,400 farmers and ranchers gathered at the Convention.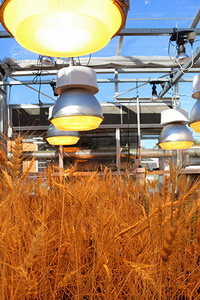 Scientists at the University of Queensland (UQ) got the inspiration to develop the world's first 'speed breeding' procedures from National Aeronautics and Space Administration (NASA) experiments that involved using continuous light on wheat triggering early reproduction in the plants.
Researchers Study the Function of FRUCTOKINASE-LIKE PROTEIN 1 in Rice Using CRISPR-Cas9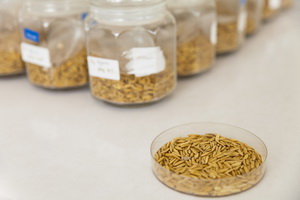 FRUCTOKINASE-LIKE PROTEINS (FLNs) are phosphofructokinase-B (PfkB)-type carbohydrate kinases that act as part of the PEP complex, which are known to transcribe chloroplast genes. However, the mechanisms underlying FLNs activity in rice remain elusive. Previously, the team of Lei He from China National Rice Research Institute studied a heat-stress sensitive albino mutant in rice, hsa1. Analysis of this mutant revealed that HSA1 gene encodes an OsFLN2 protein.
Using CRISPR-Cas9 technology, the team aimed to prove that knockdown or knockout of the OsFLN1, a homolog of HSA1/OsFLN2, will inhibit chloroplast biogenesis. The fln1 knockout mutants exhibited severe albino phenotype and seedling lethality. Analysis found that OsFLN1 localizes in the chloroplast and that the OsFLN1 and HSA1/OsFLN2 proteins interact with THIOREDOXINZ (OsTRXz) to regulate chloroplast development.
To prove this, OsTRXz knockout plants were developed and it resulted in similar albino and seedling lethal phenotype as the fln1 mutants.
These results show that OsFLN1 and HSA1/OsFLN2 contribute to chloroplast biogenesis and plant growth.
For more on this study, read the article in Journal of Integrative Plant Biology.

A biweekly update on gene editing research, regulations, and impact
produced by ISAAA Inc.

A monthly update on gene drive research and development provided by ISAAA in collaboration with the Outreach Network for Gene Drive Research
Biotech Updates is a weekly newsletter of ISAAA, a not-for-profit organization. It is distributed for free to over 22,000 subscribers worldwide to inform them about the key developments in biosciences, especially in biotechnology. Your support will help us in our mission to feed the world with knowledge. You can help by donating as little as $10.