Congress on Genetic Engineering, Food Security, and Sustainable Development Concluded in Iran.
July 1, 2011
The Third Biosafety and Genetic Engineering Congress was successfully concluded in Islamic Azad University, Tehran, Iran on June 13 – 18, 2011. More than 200 scientists, faculty and students, policy makers, members of the parliament, non-government organizations, and scientists from 6 countries (Philippines, Pakistan, Malaysia, Turkey, Switzerland, and Canada) participated in the congress.
Dr. Klaus Amman, a noted Swiss botanist and biotechnologist, and member of the Steering Committee of Public Research and Regulation Initiative (PRRI) gave the keynote message on "Regulatory Misconception of Transgenesis". He discussed the misconception that GM and non-GM crops are extremely different which was picked up by policy makers and regulators. Amman thus called for a change in GE regulation from one that is being driven by 'extreme precaution principles' to being driven by 'science-based' principles.
Plenary Talks and workshops were conducted on genetic engineering and food security, genetic engineering and environmental safety, risk assessment, management, standards and national/international regulations, socio-economic impact of applications and use of GMOs, and public awareness and participation for biosafety. The congress is jointly organized by the Biosafety Society of Iran, the Islamid Azad University, and the Iran Biotechnology Information Center.
Iran is the first country to commercialize biotech rice in 2004, and has very active crop and animal biotechnology researches, with the first cloned goat named Hana born in 2009 in the Royan Institute of Iran.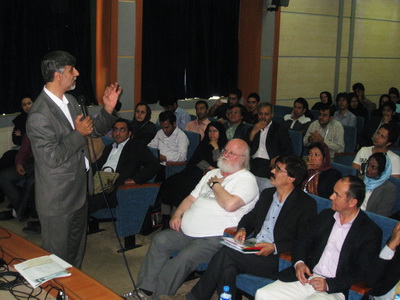 For more on the Congress, contact Naghmeh Abiri of IrBIC at nmabiri@gmail.com.
Biotech Updates is a weekly newsletter of ISAAA, a not-for-profit organization. It is distributed for free to over 22,000 subscribers worldwide to inform them about the key developments in biosciences, especially in biotechnology. Your support will help us in our mission to feed the world with knowledge. You can help by donating as little as $10.