Global Status of Biotech Crops Discussed in Pakistan
March 27, 2009
The Pakistan community was briefed about the global status of commercialized biotech/genetically modified crops for 2008 during a press conference and scientific communication workshop in Karachi, Pakistan. Organized by the Pakistan Biotechnology Information Center (PaBIC), the conference sought to give the latest information on the global trends regarding biotech crops released by the International Service for the Acquisition of Agri-biotech Applications (ISAAA). Notably, the high adoption rate among small and resource-poor farmers particularly in developing countries and increasing number of countries commercializing biotech crops were emphasized.
Dr. Kauser Abdullah Malik, Secretary of the National Commission on Biotechnology, who served as guest speaker during the conference, said that in the last decade there has been "tremendous increase in the awareness of biotechnology and in research activities but there is still a long way to go." Dr. Zafar M. Khan, director of the National Institute of Biotechnology and Genetic Engineering highlighted biosafety issues and the role of the national biosafety body. He said that the major constraints to biotech research and development are technical skills, infrastructure, funds, the education system, and lack of professionalism. PaBIC director M. Iqbal Choudhary stressed the importance of biotech crops in Pakistan where the challenge is to feed a growing population. He discussed PaBIC information initiatives to support efforts to increase greater awareness of crop biotechnology.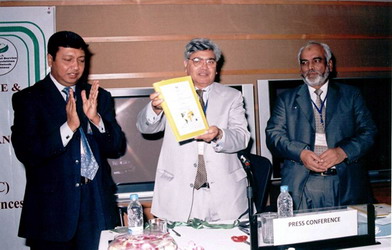 For more information, contact iqbal.choudhary@iccs.edu or visit http://www.pabic.com.pk/24%20March,09%20Launching%20of%20ISAAA%20breif%2039%20articles.html
The Crop Biotech Update is a weekly newsletter of ISAAA, a not-for-profit organization. The CBU is distributed for free to over 23,000 subscribers worldwide to inform them about the key developments in biosciences, especially in agricultural biotechnology. Your support will help us in our mission to feed the world with knowledge. You can help by donating as little as $10.
See more articles:

News from Around the World

Research Highlights

Announcements


Read the latest:


Subscribe to CBU: