Khush Donates Research Fund to Punjab Agricultural University
January 23, 2009
World renowned rice breeder and geneticist Dr. Gurdev Singh Khush donated Rs.3.5 crore equivalent to US$0.75 million to the Punjab Agricultural University (PAU), Ludhiana on the occasion of its convocation ceremony on 15th Jan 2009. The amount will be used to strengthen research work at the University. This amount has been accumulated from the prize money of various international awards which he has received till date, Dr. Khush said. In his convocation address, he said that India's condition used to be hand to mouth, where hunger and poverty were rampant. "We have come a long way since then and the world, today, is marveling at our growth rate. And if this trend continues, India is sure to become one of the most important economic power-houses of the world."
Dr. Khush highlighted the introduction of high yielding varieties of rice and wheat in the sixties and seventies that set the stage for the green revolution. With biotechnology, scientists are now able to develop crops with higher yield potential and resistance to diseases and pests. Setting aside the fear over the safely of genetically modified (GM) crops/foods, Dr. Khush said there is no legitimate evidence of harm to human health or environment from these foods. He said that social anxiety over these foods is fueled by lack of understanding of genetic modification process, negative opinion in the media and opposition by certain activist groups. "Biotechnology is a useful tool for ensuring food and nutritional security", he stressed.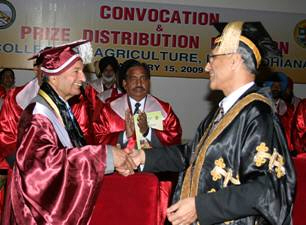 Dr Khush is an alumnus of the university from where he started his scientific journey some 53 years ago. For more information about PAU's convocation see http://www.pau.edu/index.php?_act=manageStory&DO=viewStoryDetail&intStoryID=16; additional details regarding Dr. Gurdev Singh Khush and his family at http://www.khush.org/ . For more information about biotech development in India contact b.choudhary@cgiar.org or k.gaur@cgiar.org.
Biotech Updates is a weekly newsletter of ISAAA, a not-for-profit organization. It is distributed for free to over 22,000 subscribers worldwide to inform them about the key developments in biosciences, especially in biotechnology. Your support will help us in our mission to feed the world with knowledge. You can help by donating as little as $10.
See more articles:

News from Around the World

Research Highlights

Announcements

Resources


Read the latest:


Subscribe to BU: