27,000 Farmers in Bangladesh Reap the Benefits of Bt Brinjal Due to Strong Political Support
June 20, 2019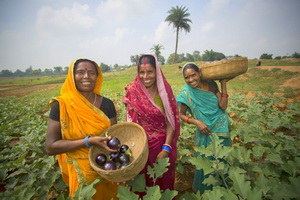 Bt eggplant
or brinjal (
Solanum melongena
) as it is more commonly known in Bangladesh, has revived the country's eggplant industry by increasing fruit yield and reducing insecticide use, according to a study led by scientists from Cornell University and the Bangladesh Agricultural Research Institute (BARI).
Grown by an estimated 150,000 resource-poor farmers on 51,000 ha throughout Bangladesh, brinjal is the second-most important vegetable in the country. However, the prevalence of the eggplant fruit and shoot borer or EFSB (Leucinodes orbonalis) continues to plague eggplant production and has also caused severe economic damage. Farmers regularly spray broad-spectrum insecticides 2-3 times a week or even twice a day to control the insect, making the fruit unfit for consumption.
To address the EFSB pest, Bangladesh has developed and released four Bt brinjal varieties with the Cry1Ac gene (Bt brinjal). Bangladesh is the first developing country to release a commercial genetically modified (GM) food crop. Since its approval in 2013, the number of farmers adopting the crop has steadily increased, from 20 farmers in 2014 to more than 27,000 in 2018. A previous study conducted by BARI also indicated that farmers saved 61% of pesticide cost compared to non-Bt brinjal farmers with no yield losses. The study likewise noted a six-fold increase in profit ($2,151/ha for Bt brinjal as compared to $357/ha for non-Bt brinjal) during the 2016-2017 cropping season.
The researchers attributed the success of Bt brinjal in Bangladesh to several factors, most notable of which is the strong political support from key Bangladeshi leaders and agencies as well as the growing engagements of the private sector seed companies and the use of multimedia platforms to share information and build awareness on the benefits of Bt brinjal.
For more details, read the full journal article on Cold Spring Harbor Perspectives in Biology.
Biotech Updates is a weekly newsletter of ISAAA, a not-for-profit organization. It is distributed for free to over 22,000 subscribers worldwide to inform them about the key developments in biosciences, especially in biotechnology. Your support will help us in our mission to feed the world with knowledge. You can help by donating as little as $10.