Russia Launches Gene-editing Research Program
June 13, 2019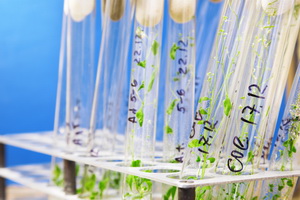 Russia has declared support to gene-editing technology by launching a US$1.7 billion federal research program that will develop 10 new varieties of gene-edited crops and animals by 2020 and another set of 20 gene-edited varieties by 2027.
Alexey Kochetov, director of the Siberian Branch of the Russian Academy of Sciences (RAS) Institute of Cytology and Genetics in Novosibirsk, lauded this new effort stressing that the country has been "chronically underfinanced" for decades. The research program also suggests that gene-edited products will be exempted from a law passed in 2016 that bans planting of genetically modified crops in Russia, except for research use.
Molecular geneticist Konstantin Severinov, who helped develop the research program, emphasized the importance of CRISPR technology in making Russia less dependent on imported crops. "Despite considering itself a bread basket, Russia is highly dependent on imports when it comes to elite crop varieties, so [the government decided] something needs to be done. . . Luckily, a few RAS members managed to make the case that CRISPR–Cas9 is a good thing," says Severinov.
Read the original article in Nature.
Biotech Updates is a weekly newsletter of ISAAA, a not-for-profit organization. It is distributed for free to over 22,000 subscribers worldwide to inform them about the key developments in biosciences, especially in biotechnology. Your support will help us in our mission to feed the world with knowledge. You can help by donating as little as $10.
See more articles:

News from Around the World

Research Highlights

Beyond Crop Biotech

Announcements

Plant


Read the latest:


Subscribe to BU: