EC Chief Scientific Advisors Call for Update of GM Legislation
November 21, 2018
The European Commission's chief scientific advisors urged the EC to revise the existing GMO directive 2001/18/EC because the recent ruling of the European Court of Justice has revealed that it is not in line with scientific evidence. "There is a need to improve EU GMO legislation to be clear, evidence-based, implementable, proportionate and flexible enough to cope with future advances in science and technology in this area," they said.
The advisors particularly recommended verifying if the Directive's paradigm of "naturalness" can be sustained since the gene-edited crops are impossible to differentiate from crops with natural mutations. The advisors argue that it has been shown that "unintended effects will occur less frequently in gene edited products" and that "these products are potentially safer than the products of random mutagenesis." For evaluation of new crops if they pose a risk for human health and the environment, they recommended to "examine the features of the final products regardless of the underlying technique used to generate that product."
The advisors said that they do not recommend revising the GMO Directive without public consultation. Through a social dialogue, the public would be informed about how food is produced in Europe and also establish the highest possible protection of health and environment and create a favorable regulatory environment for science and technology innovation.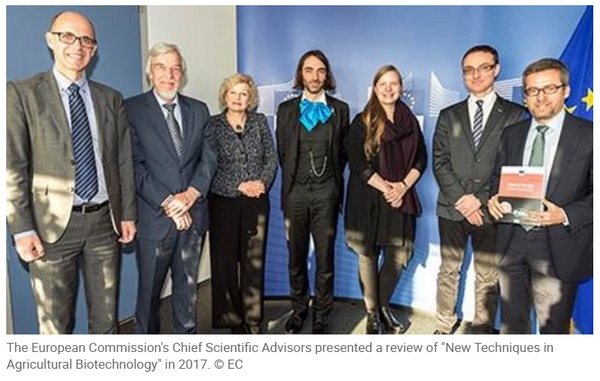 Read the original article from European Biotechnology.
Biotech Updates is a weekly newsletter of ISAAA, a not-for-profit organization. It is distributed for free to over 22,000 subscribers worldwide to inform them about the key developments in biosciences, especially in biotechnology. Your support will help us in our mission to feed the world with knowledge. You can help by donating as little as $10.