Study: 20 Years of GM Adoption in Brazil Increased Farmers' Profits, Boosted Economy, and Preserved the Environment
September 5, 2018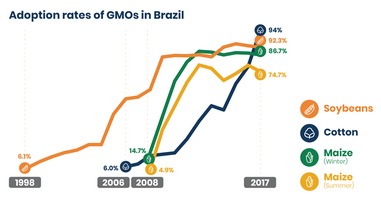 In 2018, Brazil has completed 20 years since GMOs were adopted in agriculture. Throughout this period, what stands out are the benefits for farmers resulting from planting genetically modified (GM) soybeans, corn, and cotton. There has been, for example, a reduction in the application of pesticides per hectare and there have been fewer losses caused by pests. Consequently, the productivity and yield of the GM crops have been, on average, higher than conventional crops. The data is part of a study, 20 Years of GMOs in Brazil: Environmental, Economic, and Social Impacts, which was conducted by the Agroconsult consultancy with support from the Council for Information on Biotechnology (CIB Brazil).
Throughout the period being analyzed, the profit obtained per hectare from GM soybeans was up to 26% higher than the conventional variety. For corn, the performance differential reached 64% in the summer harvest and 152% in the winter harvest. In the case of cotton, GM seeds have a margin of 12% higher than non-modified ones. "The positive effect of this technology on agriculture and on the quality of life, level of education and profit for the population is unquestionable," says executive-director of the CIB, Adriana Brondani.
Read the complete report from CIB.
Biotech Updates is a weekly newsletter of ISAAA, a not-for-profit organization. It is distributed for free to over 22,000 subscribers worldwide to inform them about the key developments in biosciences, especially in biotechnology. Your support will help us in our mission to feed the world with knowledge. You can help by donating as little as $10.