CAAS Scientists Develop Herbicide Resistant Cotton with Low Glyphosate Residues
May 31, 2017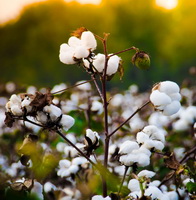 Glyphosate resistant crops have been widely adopted by North and South American farmers. However, the adoption of glyphosate resistant crops in China has been hampered by several factors, including labor markets and the residual effects of glyphosate in transgenic plants.
Chengzhen Liang from the Chinese Academy of Agricultural Sciences reported the co-expression of codon-optimized forms of GR79 EPSPS and N-acetyltransferase (GAT) genes in cotton. Two co-expression cotton lines, GGCO2 and GGCO5, exhibited five times more resistance to glyphosate with a 10-fold reduction in glyphosate residues.
The GGCO2 line was then used in a hybridization program to develop new glyphosate resistant cotton varieties. Field trials consisted of three growing seasons showed that pGR79-pGAT transgenic cotton lines had the same agronomic performance as conventional varieties, but were cheaper to produce per hectare.
The strategy to pyramid these genes offers an attractive approach for engineering and breeding of highly resistant low-glyphosate-residue cotton varieties.
For more information on the study, read the article in Plant Biotechnology Journal.
Biotech Updates is a weekly newsletter of ISAAA, a not-for-profit organization. It is distributed for free to over 22,000 subscribers worldwide to inform them about the key developments in biosciences, especially in biotechnology. Your support will help us in our mission to feed the world with knowledge. You can help by donating as little as $10.