Agri Minister Matia Chowdhury Speaks on Biotech Efforts in Bangladesh
May 18, 2016
Honorable Minister of Agriculture Matia Chowdhury inaugurated the seminar on "20th anniversary of the global commercialization of biotech crops and biotech crop highlights in 2015" at the Bangladesh Agricultural Research Council in Dhaka, Bangladesh on May 12, 2016.
During the seminar, Minister Chowdhury emphasized the need for scientific innovations and collaborations to improve food production and poverty alleviation in Bangladesh. She also stated that the government is pro-active in adopting biotech innovations for introducing improved varieties to their farmers. The efforts of Bangladesh Agricultural Research Institute (BARI) and its collaborations with international institutions were also praised and deemed instrumental in delivering the benefits of biotechnology to farmers and consumers in Bangladesh, specifically, the Bt Brinjal.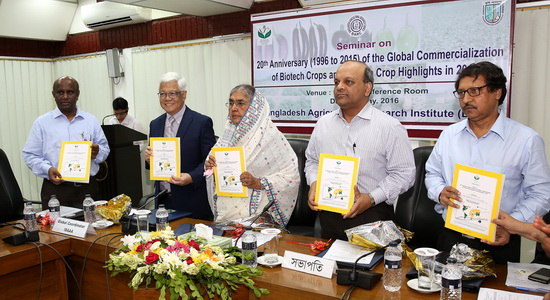 Dr. Randy Hautea, Global Coordinator of ISAAA, Dr. Mahaletchumy Arujanan, Executive Director of Malaysian Biotechnology Information Centre (MABIC) and Bhagirath Choudhary, Founder Director of South Asia Biotechnology Centre (SABC) were resource persons in the seminar. Dr G.P. Das facilitated the organization of the seminar, which was attended by agriculture officials, stakeholders as well as members of scientific community from Bangladesh.
BARI, the Bangladesh Agricultural Research Council (BARC), and the International Service for the Acquisition of Agri-biotech Application (ISAAA) jointly organized the seminar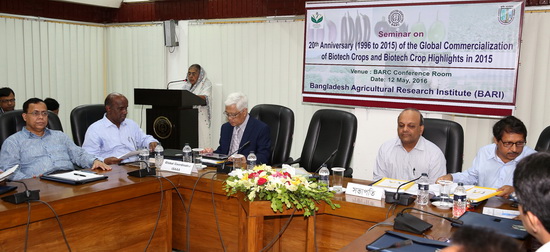 For more on the event, read the article on the Agricultural Information Services (AIS) of the Government of Bangladesh.
The Crop Biotech Update is a weekly newsletter of ISAAA, a not-for-profit organization. The CBU is distributed for free to over 23,000 subscribers worldwide to inform them about the key developments in biosciences, especially in agricultural biotechnology. Your support will help us in our mission to feed the world with knowledge. You can help by donating as little as $10.