Public Attitudes on GE Crops and Food Investigated in China
October 14, 2015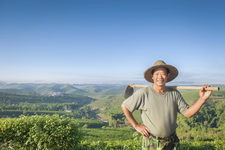 Scientists from China Agricultural University and partners conducted interview surveys of Chinese consumer households, farmer households, and scientists to investigate their attitudes about biotech crops. The results are published in Plos One journal.
To determine the purchase preferences of the respondents, the scientists used a discrete choice approach. They also used two separate probit models to analyze the impact of various factors on the preferences of the respondents.
Results showed that Bt cotton farmers had highly favorable attitude towards the crop because of the economic benefits they obtain from its cultivation. Consumers from developed regions had better acceptance and willingness to pay for GE foods than consumers from other regions. The scientific community also showed positive attitude towards GE food, which will influence the promotion of biotech in China in the future. Furthermore, information drive on biotech conducted by the government, media, and scientists was also shown to be vital in facilitating the acceptance of the technology in the country, as well as in influencing decisions of government agencies regarding biotech crops.
Read the open-access article in Plos One.
The Crop Biotech Update is a weekly newsletter of ISAAA, a non-for-profit organization. The CBU is distributed for free to over 23,000 subscribers worldwide to inform them about the key developments in biosciences, especially in agricultural biotechnology. Your support will help us in our mission to feed the world with knowledge. You can help by donating as little as $10.
See more articles:

News from Around the World

Research Highlights

Beyond Crop Biotech

From the BICs

Resources


Subscribe to CBU: