Wheat without GM will Lead to Food Shortages, says World Food Prize Winner
September 23, 2015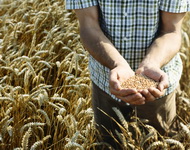 Dr. Sanjaya Rajaram, 2014 World Food Prize Laureate says that wheat without using genetic modification will lead to food shortages. Interviewed live from the International Wheat Conference at the Four Seasons Hotel in Sydney by the Australian Broadcasting Corporation for their program "The Country Hour," Dr. Rajaram said that genetic modification technology is needed to feed the world in the future.
Dr. Rajaram stressed that global wheat production has to increase from 700 million metric tonnes to one billion tonnes to feed the world's population by 2050, and conventional or hybrid breeding will not be enough. "I think the world community, including the governments, scientific centers and scientists as well as farmers, have got to prepare for how to meet that target. I also don't see traditional plant breeding doing that job," said the World Food Prize Laureate.
Dr. Rajaram was awarded the World Food Prize in 2014 for his scientific research in developing 480 wheat varieties that have been released in 51 countries. He worked alongside Dr. Normal Borlaug in the International Maize and Wheat Improvement Center (CIMMYT).
For more details, read the news release at ABC Rural, which also features a recording of the interview.
The Crop Biotech Update is a weekly newsletter of ISAAA, a non-for-profit organization. The CBU is distributed for free to over 23,000 subscribers worldwide to inform them about the key developments in biosciences, especially in agricultural biotechnology. Your support will help us in our mission to feed the world with knowledge. You can help by donating as little as $10.