NYU Prof Talks about Importance of Genome and Evolutionary Bio
February 4, 2015
The importance of the genome in trying to understand diversity and how organisms evolved, as well as the genetic basis for the diversity of life on the planet was highlighted by Dean of Science and Professor of Biology at New York University (NYU) Dr. Michael Purugganan in a seminar titled "The Evolution of Plant Genomes". The seminar was held on January 28, 2015 at the Southeast Asian Regional Center for Graduate Study and Research in Agriculture (SEARCA), Laguna, Philippines as part of the Agriculture and Development Seminar Series (ADSS). The seminar was co-organized by the Philippine Genome Center-Agriculture Program (PGC-Agriculture) and the University of the Philippines Los Baños-Institute of Plant Breeding.
Molecular data, according to Dr. Purugganan, "is beginning to make us rethink how crop species evolve." He explained that the genomes of a species, which have a record of its evolutionary history, if read properly, can help one understand how that species has evolved. He also said that advancements in genomics can help in trying to understand conservation and breeding in crops. He presented some of the research efforts on genome diversity in their laboratory, including studies on domesticated rice, traditional rice varieties in the Philippines, date palms, and more recently, on the Philippine Rafflesia.
Dr. Purugganan, who is a member of the international scientific advisory board of the PGC, also mentioned the need to advance biotechnology enterprise in the country, especially in agriculture. "The reality is GMO crops, the technology, inherently, has no problem. The products, we have to test, to make sure that they're fine. The technology itself is fine…we need all the tools in our power to try to meet the demands a hungry world."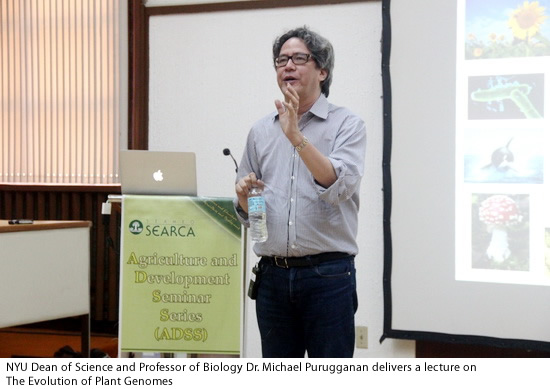 For biotechnology updates in the Philippines or in Southeast Asia, visit SEARCA Biotechnology Information Center's website at www.bic.searca.org or send an e-mail to bic@searca.org.
Biotech Updates is a weekly newsletter of ISAAA, a not-for-profit organization. It is distributed for free to over 22,000 subscribers worldwide to inform them about the key developments in biosciences, especially in biotechnology. Your support will help us in our mission to feed the world with knowledge. You can help by donating as little as $10.