Key Stakeholders from PH Provinces Join Growing Support for Bt Eggplant
October 29, 2014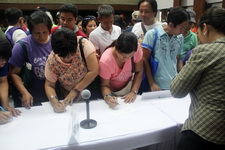 One hundred and sixty-six farmers, agriculture officers, technicians, researchers, and other stakeholders from the provinces of Laguna, Batangas, Quezon, and Camarines Sur signed a declaration of support for the commercial planting of the fruit and shoot borer resistant Bt eggplant during the second Public Dialogue on Bt Eggplant held at the Southeast Asian Regional Center for Graduate Study and Research in Agriculture (SEARCA), College, Los Baños, Laguna on October 21, 2014.
The declaration carried the same statements from the first declaration signed by farmers and agriculture stakeholders in Pangasinan during the first public dialogue held on September 3. It expressed the signatories' acknowledgement of the Bt eggplant project's proper compliance to the right authorities; its potential benefits to the Filipino community; and their encouragement and support for safe agricultural technologies such as Bt eggplant, among others.
The public dialogue briefed the participants on the Bt eggplant project background, status, regulatory compliance, and potential benefits, as well as the food and environmental safety of biotech crops. It also presented a study on insecticide residues in eggplant farms in Pangasinan. Academician and former UPLB Chancellor Dr. Emil Javier also gave his message of support to Bt eggplant, emphasizing that as a public sector product, Bt eggplant is the first "Pinoy" GMO and will be an advantage to local agriculture if commercialized.
The public dialogue was organized by SEARCA, ISAAA, and University of the Philippines Los Baños-Institute of Plant Breeding (UPLB-IPB). For more information about Bt eggplant in the Philippines, visit www.bic.searca.org.
The Crop Biotech Update is a weekly newsletter of ISAAA, a non-for-profit organization. The CBU is distributed for free to over 23,000 subscribers worldwide to inform them about the key developments in biosciences, especially in agricultural biotechnology. Your support will help us in our mission to feed the world with knowledge. You can help by donating as little as $10.
See more articles:

News from Around the World

Research Highlights

Beyond Crop Biotech

From the BICs

Resources


Subscribe to CBU: