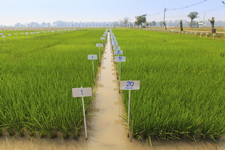 Around 1,500 individuals from 69 countries are gathered for the 4th International Rice Congress (IRC2014) at the Bangkok International Trade and Exhibition Centre (BITEC) in Thailand from October 27 to November 1, 2014. IRC is known as the "Olympics of rice science" because it is the largest gathering of individuals involved in rice science held every four years. This year's theme is "Rice for the World", focuses on the latest advances in rice research and technologies around the globe.
Nine Kenyan members of Parliament promised to take specific measures towards lifting the ban on importation of genetically modified (GM) foods that was instituted in November 2012. The MPs visited the Water Efficient Maize for Africa (WEMA) project's confined field trials site at KALRO Kiboko on October 9, 2014. They were briefed on ongoing efforts to develop water efficient maize with insect resistance trait.
Key Stakeholders from PH Provinces Join Growing Support for Bt Eggplant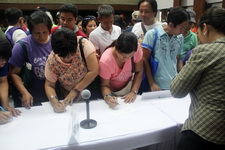 One hundred and sixty-six farmers, agriculture officers, technicians, researchers, and other stakeholders from the provinces of Laguna, Batangas, Quezon, and Camarines Sur signed a declaration of support for the commercial planting of the fruit and shoot borer resistant Bt eggplant during the second Public Dialogue on Bt Eggplant held at the Southeast Asian Regional Center for Graduate Study and Research in Agriculture (SEARCA), College, Los Baņos, Laguna on October 21, 2014.
The Crop Biotech Update is a weekly newsletter of ISAAA, a non-for-profit organization. The CBU is distributed for free to over 23,000 subscribers worldwide to inform them about the key developments in biosciences, especially in agricultural biotechnology. Your support will help us in our mission to feed the world with knowledge. You can help by donating as little as $10.