ISAAA Releases Bt Brinjal Video "The Story of Bt Brinjal in India"
April 16, 2014
ISAAA releases latest videos – 24 minutes video The Story of Bt Brinjal in India and shorter 7 minutes video Bt Brinjal: Safer, Better & Affordable. The Story of Bt Brinjal in India documents the process of development, deregulation, demand and debate on Bt brinjal (eggplant/aubergine) in India. The experts objectively answer key societal concerns including Why India needs Bt brinjal? How rigorous is safety assessment process? Why Bt brinjal is Safe? Who would benefit from Bt Brinjal? And Why Bt brinjal is indispensible for farmers and consumers? Whereas, the Short Video Bt Brinjal – Safer, Better & Affordable captures the diverse views of experts, farmers and consumers on Bt brinjal in India. The key stakeholders navigate the viewers through the confusing myths of science, safety, regulation and economics of Bt brinjal for the Indian society to make informed choice on this technological breakthrough based on evidence rather than rhetoric.
The educational videos attempt to bridge science and society about the science of recombinant DNA technology, approval process and status of Bt brinjal, which has undergone rigorous safety assessments by the regulatory authorities from 2001 to 2009. The apex regulator GEAC declared Bt brinjal safe for environmental release in Oct 2009 before the MOEF imposed the moratorium on Bt brinjal on 9 Feb 2010. Over the last four years, farmers and consumers have been denied the choice of adopting and accepting Bt brinjal and missed the enormous opportunity of benefits including significantly reducing insecticide sprays by farmers and pesticide-residue-free brinjal fruits for consumers.
On the contrary, Bangladesh in a historic decision approved the official release of four biotech varieties of insect-resistant Bt brinjal for seed production and initial commercialization of Bt brinjal technology on 30 Oct 2013. Bt brinjal technology was originally developed by Mahyco in India. Small farmers in Bangladesh started cultivation of Bt brinjal on 22 Jan 2014. A large scale adoption of Bt brinjal is expected to positively impact the income of thousands of smallholder farmers in Bangladesh who will profitably use these technologies for the benefit of consumers. The big question is how long India would afford to deny the enormous benefits of Bt brinjal to millions of farmers and consumers in the country.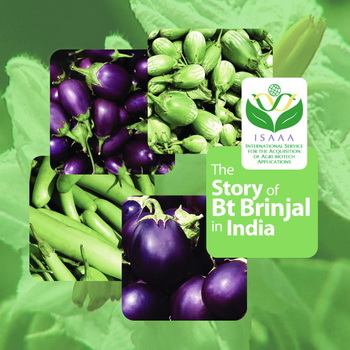 Download the high resolution short and long version Bt brinjal videos The Story of Bt Brinjal in India and Bt Brinjal: Safer, Better and Affordable from www.isaaa.org/india and http://www.isaaa.org/resources/videos/btbrinjalindia/default.asp. ISAAA Brief 38 on Bt Brinjal The Development and Regulation of Bt Brinjal in India and is made available, free of charge on the ISAAA website at http://www.isaaa.org/resources/publications/briefs/38/download/isaaa-brief-38-2009.pdf. A short version of this brief in the form of a Pocket K on Bt brinjal in India has been published, updated and translated in 8 Indian languages which are available at: http://www.isaaa.org/kc/inforesources/publications/pocketk/default.html#Pocket_K_No._35.htm For original DVDs of Bt brinjal videos, place your order to b.choudhary@cgiar.org or k.gaur@cgiar.org


Biotech Updates is a weekly newsletter of ISAAA, a not-for-profit organization. It is distributed for free to over 22,000 subscribers worldwide to inform them about the key developments in biosciences, especially in biotechnology. Your support will help us in our mission to feed the world with knowledge. You can help by donating as little as $10.
See more articles:

News from Around the World

Research Highlights

Beyond Crop Biotech

Announcements

Resources


Read the latest:


Subscribe to BU: