Experts Agree on Potential of Animal Biotech in Addressing Food Insecurity
September 2, 2020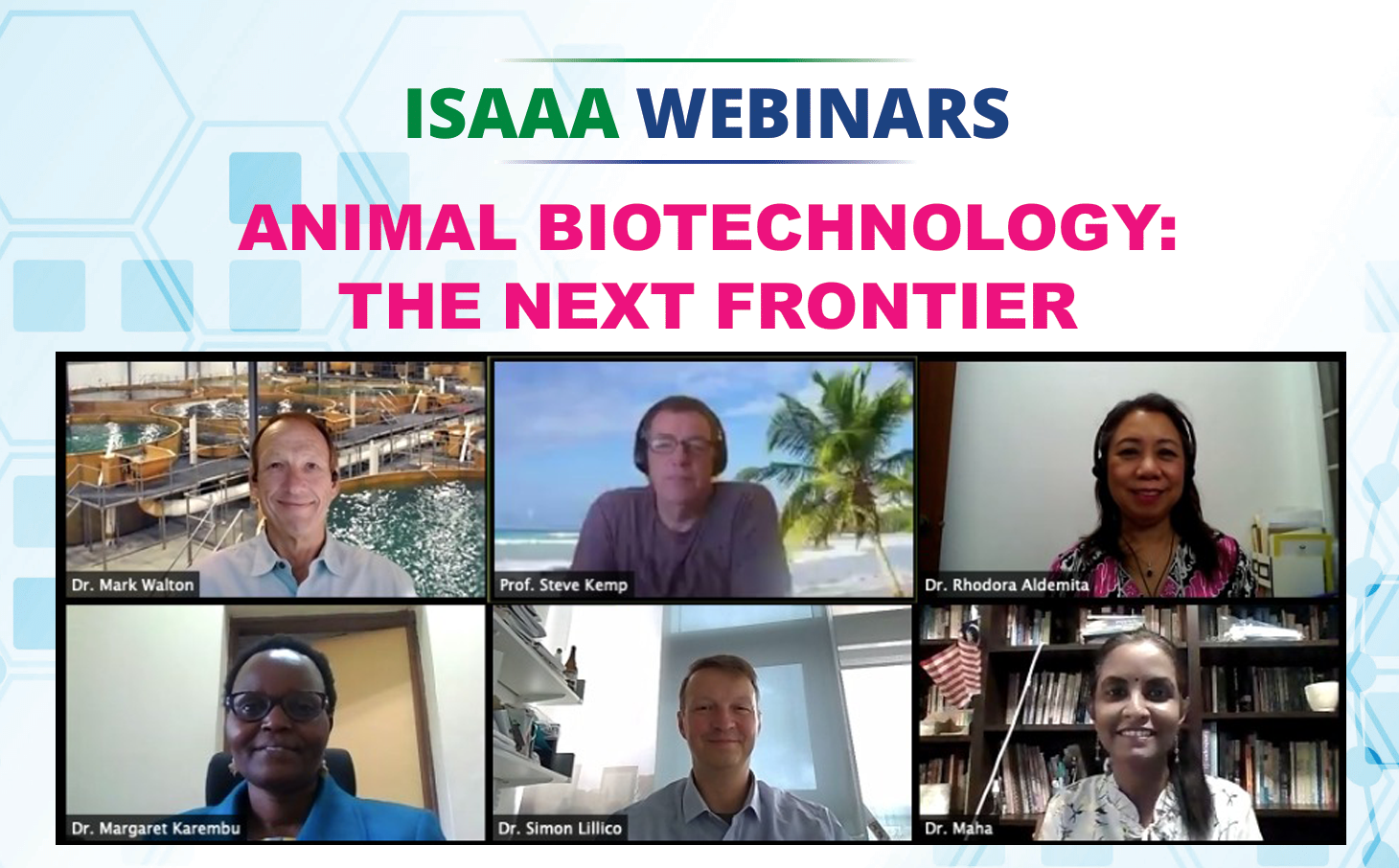 Animal biotechnology has been primed to contribute significantly towards addressing the challenge of food security, especially in the developing world. During the webinar
"Animal Biotechnology: The next frontier,"
organized by ISAAA
Afri
Center on August 27, 2020, experts agreed that animal biotechnology is an inevitable part of the toolkit to address
climate-related challenges
.
The panelists and attendees were welcomed to the webinar by AfriCenter Director, Dr. Margaret Karembu.
Prof. Steve Kemp, an animal geneticist at the International Livestock Research Institute (ILRI), underscored the importance of genetic selection in driving improvements in productivity. Prof. Kemp revealed how an ILRI project to develop trypanosomiasis-resistant cattle using biotechnology could transform the lives of smallholder farmers who depend on livestock. "African trypanosomiasis is an extremely important pathogen, and is estimated to cost about $1 billion annually across Africa," he said. It also emerged that marine-based proteins are gaining a growing market share and putting massive pressure on wild fisheries. According to the Food and Agriculture Organization of the United Nations, more than 90% of the world's fisheries are fully fished or overfished. Experts rooted in more innovative ways to address this challenge, one of which is through genetic engineering.
Dr. Mark Walton, the Chief Technology Officer at AquaBounty Technologies, explained that AquAdvantage Salmon (AAS) offers many prospects in addressing the imminent seafood gap and building an array of nutritious food. "AAS has faster growth and greater feed efficiency thus takes less time in water and less feed to get a kilo of proteins," said Dr. Walton. He added that investment in the AquAdvantage system is growing quite significantly and AAS genetics is key to making this system profitable. He said AquAdvantage will be an important factor in the continued growth of salmon farming in land-based Recirculating Aquaculture Systems in the US and beyond.
Speaking on the importance of editing livestock genome, Dr. Simon Lillico of the University of Edinburgh hailed the effectiveness of genome editing in developing pigs resistant to porcine reproductive and respiratory syndrome (PRRS). PRRS is a viral disease that has had a major impact on pig production in the European Union. Dr. Lillico revealed the disease is estimated to cost about $2 billion in production costs annually.
SEAsiaCenter Director Dr. Rhodora R. Aldemita was the webinar's moderator and facilitated the questions from attendees that were answered by the panelists.
In her closing remarks, ISAAA Global Coordinator, Dr. Mahaletchumy Arujanan, highlighted the need to carry out public engagements in the area of animal biotechnology. Dr. Arujanan called on scientists to speak up and play a role in influencing public opinion. She said ISAAA is committed to working with stakeholders to promote decision-making processes.
For more information on ISAAA's Genome Editing webinars, contact Dr. Margaret Karembu at mkarembu@isaaa.org.
Science Speaks is ISAAA Inc.'s official blog. Weekly blog articles, authored by ISAAA writers, partners, and invited contributors, aim to help share, disseminate, and promote scientific knowledge and its vital role in achieving global agricultural sustainability and development. Your support to Science Speaks will help us achieve this goal. You can help us by donating as little as $10.