Commercially Available Biotech Crops and Where to Find Them
May 11, 2022
In 2019, 72 countries in the world adopted biotech crops — 29 countries planted and 43 additional countries imported for food, feed, or processing. Ten countries in Latin America, nine in Asia and the Pacific, six in Africa, two in North America, and two in the European Union planted a total of 190.4 million hectares of biotech crops in 2019.
The five major biotech crops planted at more than 1 million hectares are soybeans (91.9 million hectares), followed by maize (60.9 million hectares), cotton (25.7 million hectares), canola (10.1 million hectares), and alfalfa (1.28 million hectares), occupying 99% of the global biotech crop area of 190.4 million hectares.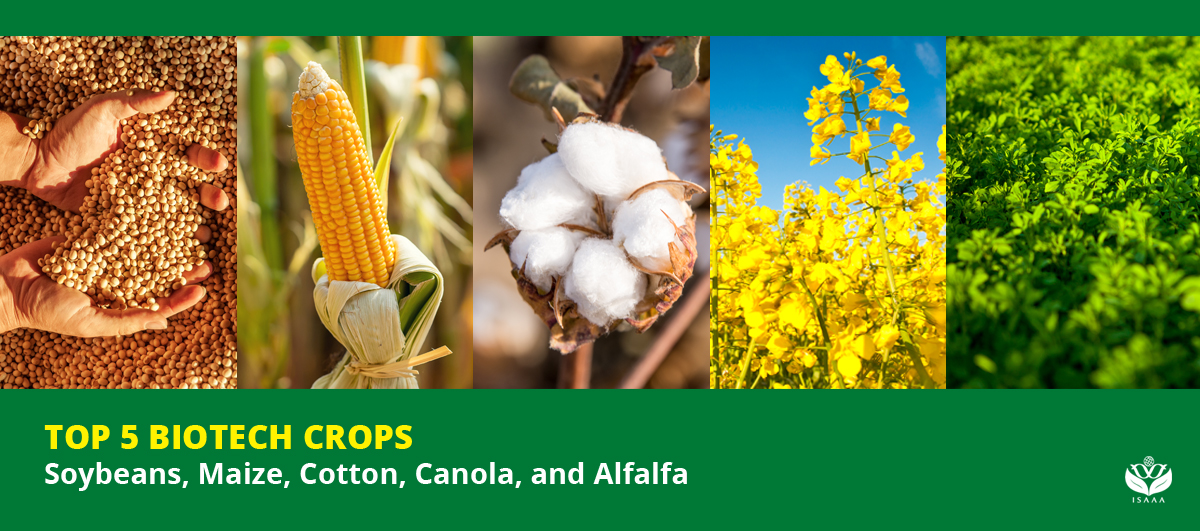 Where are biotech crops grown in the world?
Biotech soybeans were 48% of the total global area planted for biotech crops and 74% of the global soybean area in 2019. Eight countries led by Brazil planted biotech soybeans, including the USA, Argentina, Paraguay, Canada, Bolivia, Uruguay, and South Africa.
Fourteen countries planted biotech maize in 2019 when 31% of maize global area is biotech. Biotech maize has the largest number of approved events with 146 in 35 countries. Maize event NK603 had the most approvals, 61 from 28 countries. The 14 countries that planted biotech maize in 2019 include the USA, Brazil, Argentina, South Africa, Canada, Philippines, Paraguay, Uruguay, Spain, Vietnam, Colombia, Honduras, Chile, and Portugal.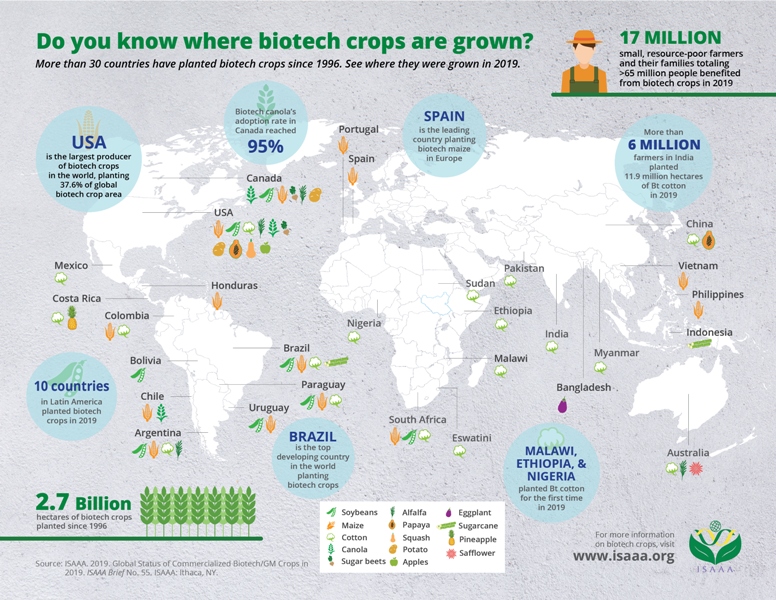 Biotech cotton area of 25.7 million hectares was 79% of the total global area planted to cotton in 2019. Eighteen countries led by India planted biotech cotton, including the USA, China, Pakistan, Brazil, Argentina, Myanmar, Sudan, Mexico, Australia, South Africa, Paraguay, Colombia, Malawi, Eswatini, Nigeria, Ethiopia, and Costa Rica.
Canada, the USA, Australia, and Chile planted biotech canola with a total area of 10.1 million hectares, which is 29% of the world's total area planted for canola. Chile's biotech canola is dedicated only to seed export.
Biotech alfalfa was planted on 1.28 million hectares in 2019. HarvXtra™ alfalfa first planted in 2016 has high demand from farmers because it contains less lignin, has higher digestibility, and offers a 15 to 20% increase in yield. Biotech alfalfa was first planted in Argentina in 2019, joining the USA and Canada.
Also in 2019, the USA planted biotech sugar beets, biotech potatoes, biotech papaya, biotech squash, and biotech apples. Canada also planted sugar beets and potatoes, and biotech sugarcane was planted in Brazil and Indonesia. China also planted biotech papaya and Australia grew biotech safflower. Bangladesh is the only country in the world planting Bt brinjal (eggplant), while Costa Rica planted biotech pineapple.
In the 24th year of commercialization of biotech crops, the increase in adoption of the top five biotech crops reveals the satisfaction of more than 17 million farmers—95% of which are smallholder farmers—and consumer acceptance due to agricultural, socio-economic, and environmental benefits as well as food safety and nutritional improvement brought by biotech crops.
To learn more about the commercial biotech crops being cultivated and imported around the world, visit the Brief 55 page on the ISAAA website.
Sources:
Science Speaks is ISAAA Inc.'s official blog. Weekly blog articles, authored by ISAAA writers, partners, and invited contributors, aim to help share, disseminate, and promote scientific knowledge and its vital role in achieving global agricultural sustainability and development. Your support to Science Speaks will help us achieve this goal. You can help us by donating as little as $10.