ISAAA 2021 Accomplishment Report Released, New Consortium Initiated
March 16, 2022
"The past year has been a milestone year for ISAAA as its Board decided that after more than twenty-six years, the organization needed to adjust to the changed agriculture and food landscape, and reinvent itself," said Dr. Paul Teng, Chair of ISAAA Board of Trustees. With the goal of fortifying partnerships to maximize impact and reach in the biosciences, ISAAA has evolved into a new identity known as the BioTrust Consortium.
"BioTrust Consortium will continue the legacy and impact created by ISAAA to ensure sustainable development in agriculture and food production. In line with both the current challenges and opportunities, BioTrust is expanding its scope beyond ISAAA's, to include biosciences in sustainable food production," ISAAA-BioTrust Global Coordinator, Dr. Mahaletchumy Arujunan, explained in the accomplishment report titled ISAAA in 2021: From Partnerships to Public Trust.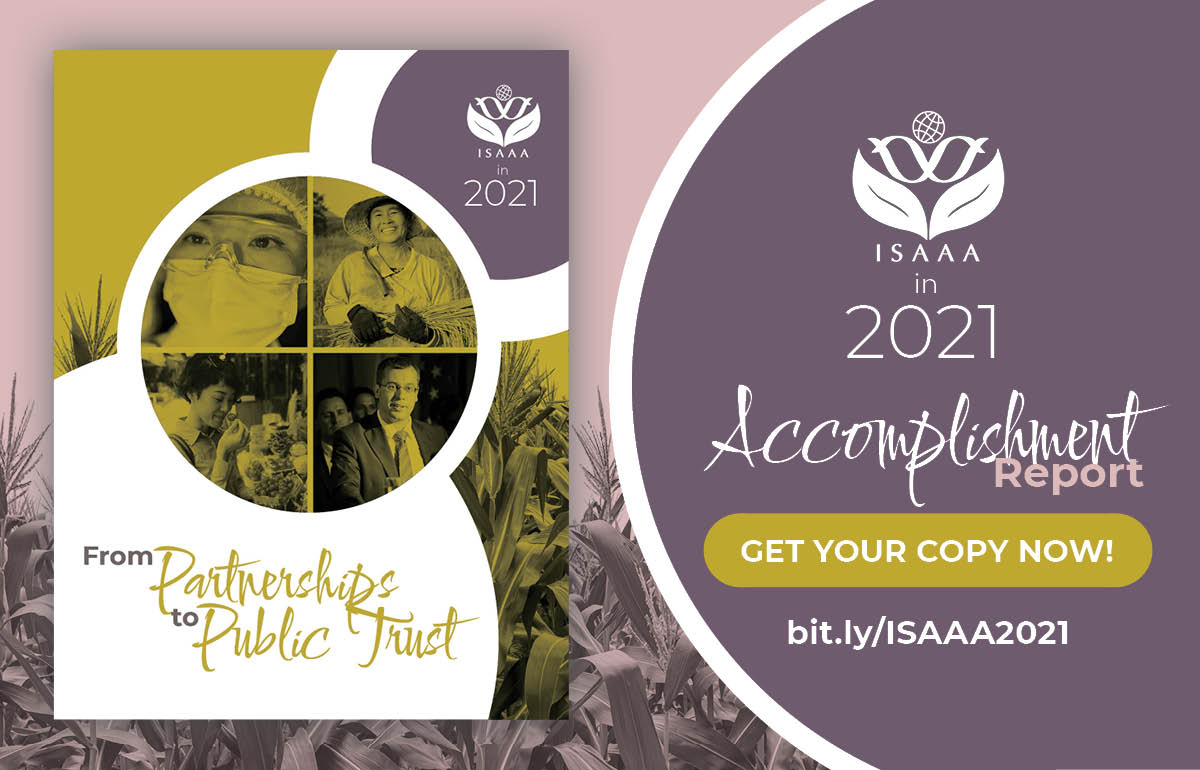 Aside from the introduction of the Consortium, the report also highlights the key contributions of ISAAA Regional Centers in Southeast Asia and Africa, together with their 85 partners and donors in the public and private sectors worldwide. Some of the milestones in 2021 were as follows:
46.7k monthly users of GM Approval Database and resource pages on COVID-19, genome editing, and Bt eggplant
23k subscribers of the Crop Biotech Update
178k total followers on social media platforms
36.9 million reach of the Bt eggplant campaign
launch of the GM Crops E-Learning Platform
over 80 hours of digital learning opportunities for key stakeholders
In Asia, groundbreaking activities were spearheaded by the SEAsiaCenter such as the virtual international workshops on building regulatory capacities for biotechnology (genetic engineering and genome editing) in accordance with Asia-Pacific Economic Cooperation, a training workshop to prepare for international biodiversity negotiations (pre-COPMOP), science communication, and animal biotechnology regional workshops. A series of webinars have also placed ISAAA SEAsiaCenter in the fields of genome editing, gene drive, and science diplomacy.
According to Dr. Margaret Karembu, ISAAA AfriCenter Director, AfriCenter continued to engage policy and decision makers towards aligning agricultural biotechnology with key government agendas. For continued and balanced reporting on agri-biotech issues, AfriCenter continued to engage the media using various strategies including science cafes, study tours, and commissioning of biotech stories, while incentivizing accurate coverage through the Open Forum on Agricultural Biotechnology in Africa-Kenya media awards.
ISAAA SEAsiaCenter Executive Director, Dr. Rhodora Romero-Aldemita, acknowledged the contributions of partners and donors who made all ISAAA's initiatives possible and for believing in the organization's credibility and capabilities. Knowledge sharing and capacity building initiatives will continue in 2022 with strengthened linkage and partnerships while new ones are initiated to cover emerging technologies and topics that are vital in the food and agriculture supply chain.
ISAAA targets their efforts to gain public trust in biosciences and shape policies that will be helpful in creating empowered communities with individuals that can make sound decisions on relevant technologies for food security. With informed trust, ISAAA foresees a transformative change that will help attain the global goals of having a sustainable future for all.
Download the report at bit.ly/ISAAA2021.
For inquiries on partnerships, send an email to knowledgecenter@isaaa.org.
Science Speaks is ISAAA Inc.'s official blog. Weekly blog articles, authored by ISAAA writers, partners, and invited contributors, aim to help share, disseminate, and promote scientific knowledge and its vital role in achieving global agricultural sustainability and development. Your support to Science Speaks will help us achieve this goal. You can help us by donating as little as $10.