Filipino Farmers' Clamor for Bt Eggplant Revealed in SEARCA BIC's Video Series
February 6, 2020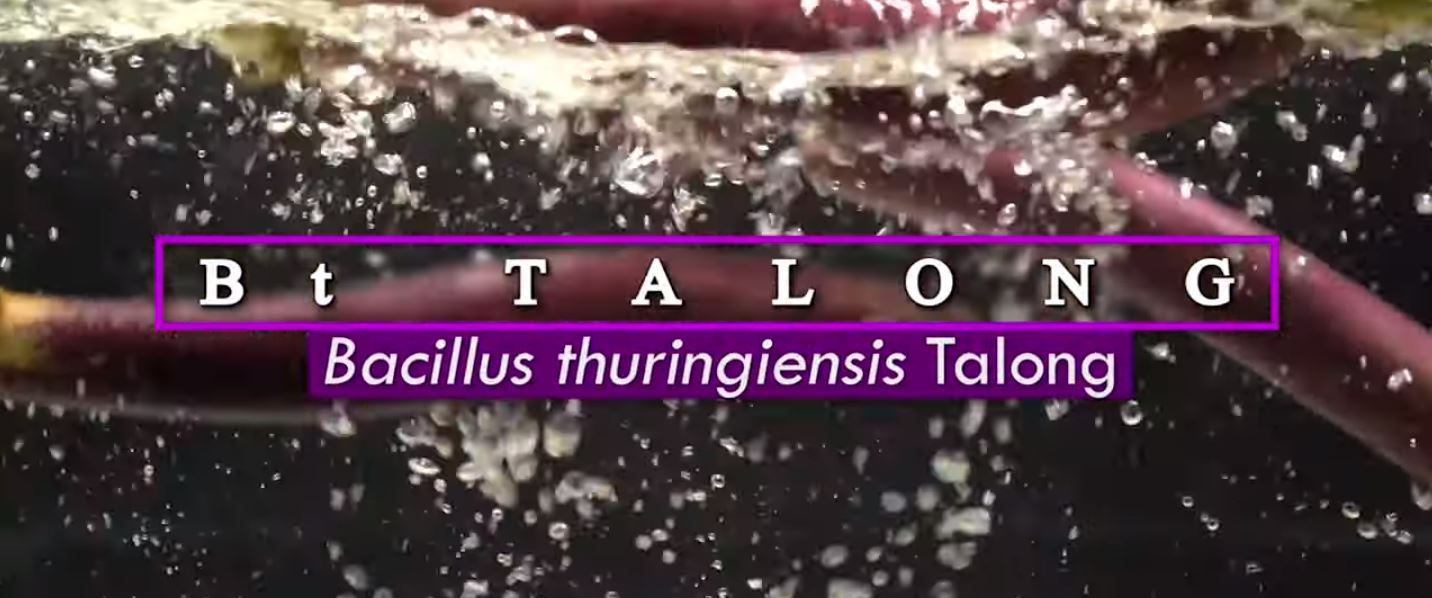 SEARCA Biotechnology Information Center (SEARCA BIC) has released The Bt Eggplant Story, a six-part video series that documents the development of Bt eggplant in the Philippines. The video series also highlights the clamor of Filipino farmers for the release of the genetically modified (GM) crop.
In the Philippines, eggplant farming is a major source of income, but it is suffering from damages brought by pests and diseases, putting farmers, consumers, and the environment at risk. Eggplants are susceptible to the eggplant fruit and shoot borer (EFSB), a pest that causes around 70-80% yield loss annually.
To address this problem, scientists from the University of the Philippines Los Baños-Institute of Plant Breeding (UPLB-IPB) developed a genetically modified (GM) eggplant that contains a gene from the soil bacterium Bacillus thuringiensis (Bt). Inserting the Bt gene into the eggplant protects the plant by making it resistant to EFSB.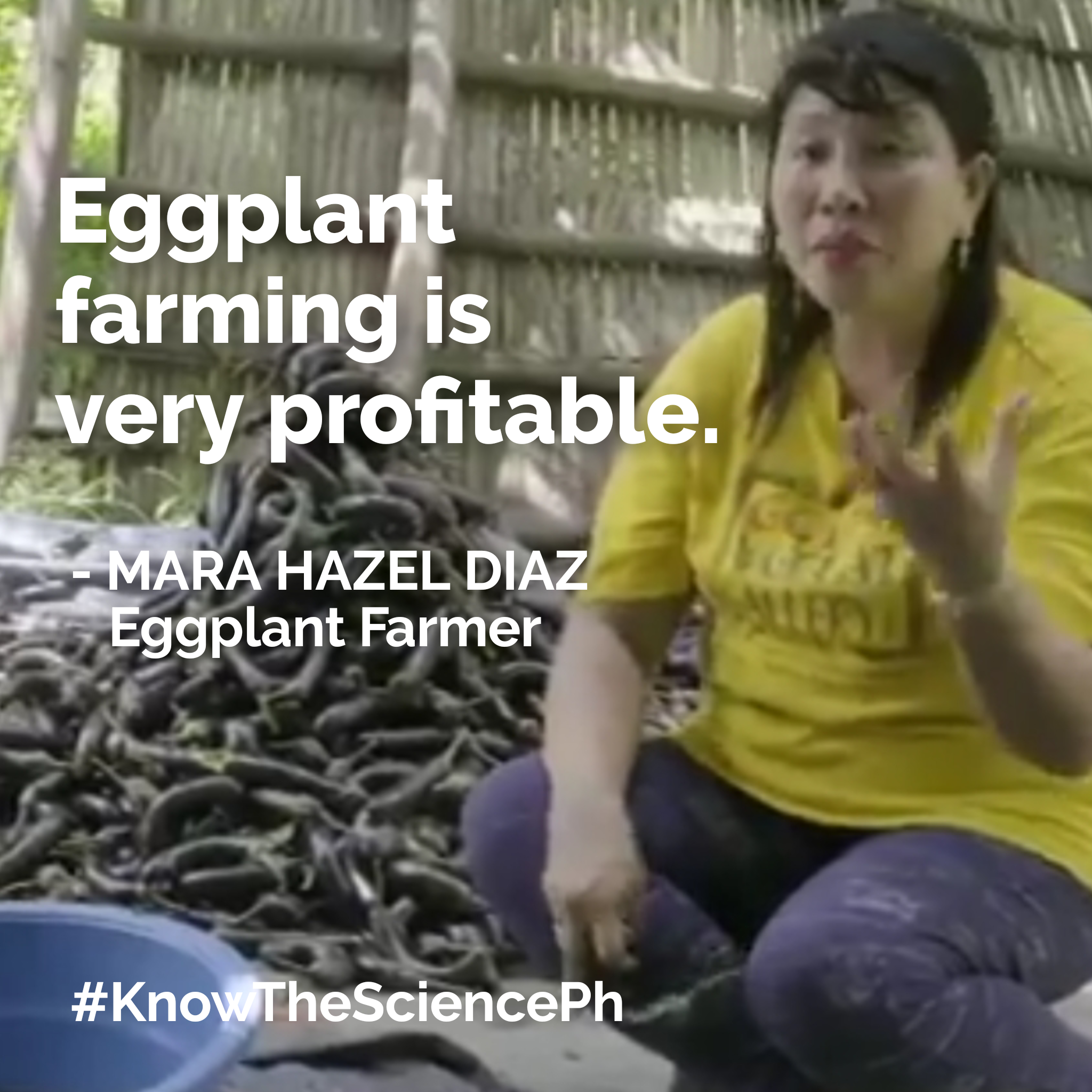 In the first video, Mara Hazel Diaz, eggplant farmer from San Pablo City, Laguna talked about the importance of eggplant to farmers. Hazel said that eggplant farming is highly profitable that even if eggplant is priced at P10/kg, they still profit from it.
Eggplant farming is a massive industry in the Philippines, valued at P5.1 billion in 2017. However, this industry is hounded by EFSB, and Bt eggplant is seen as the answer to this problem. In this video, potential farmer-adoptors from major eggplant-producing provinces (Laguna, Quezon, Pangasinan, and Davao) express their full support for Bt eggplant and its approval for commercialization. "We're hoping it will be released soon so that we can benefit from it already," the farmers voice out their shared sentiment.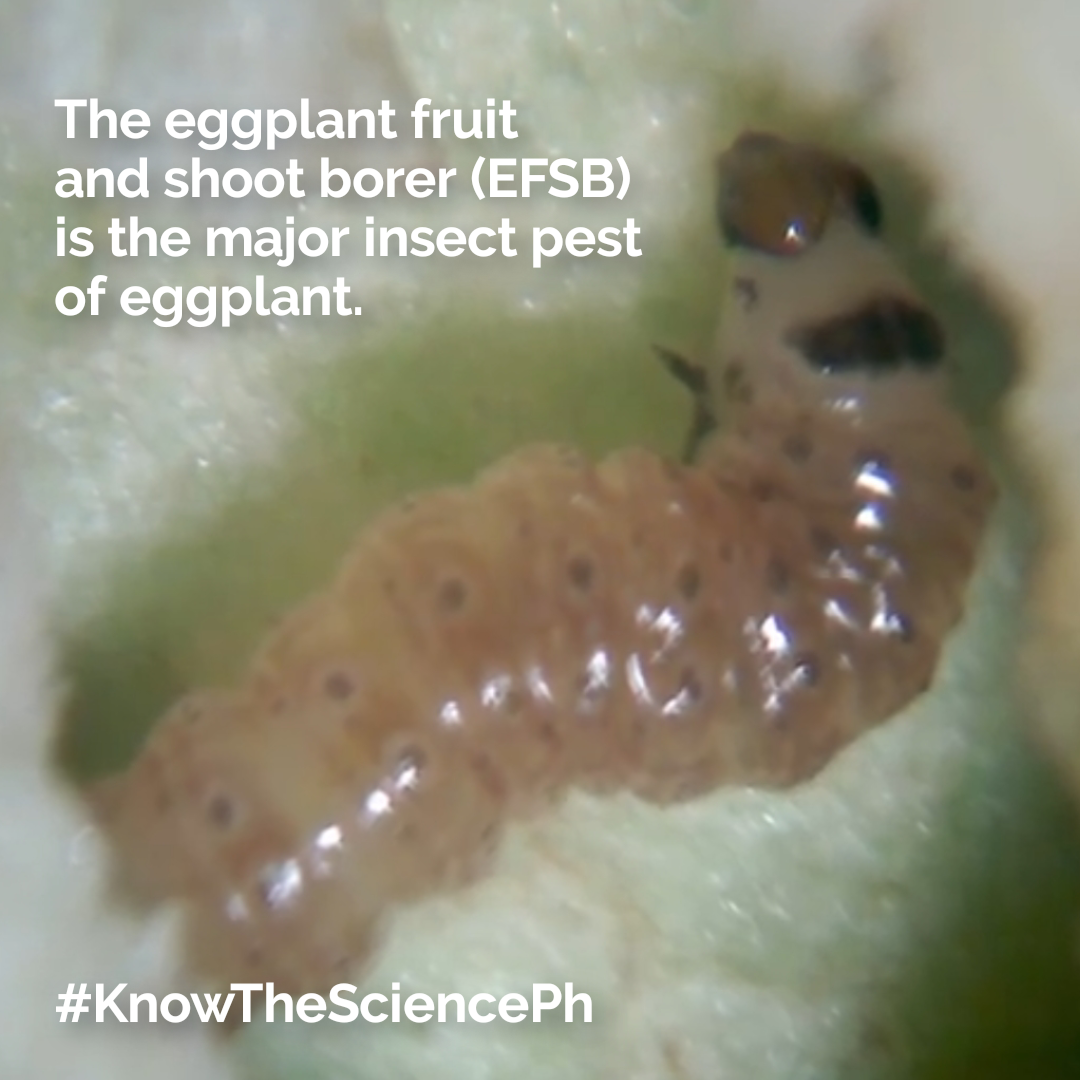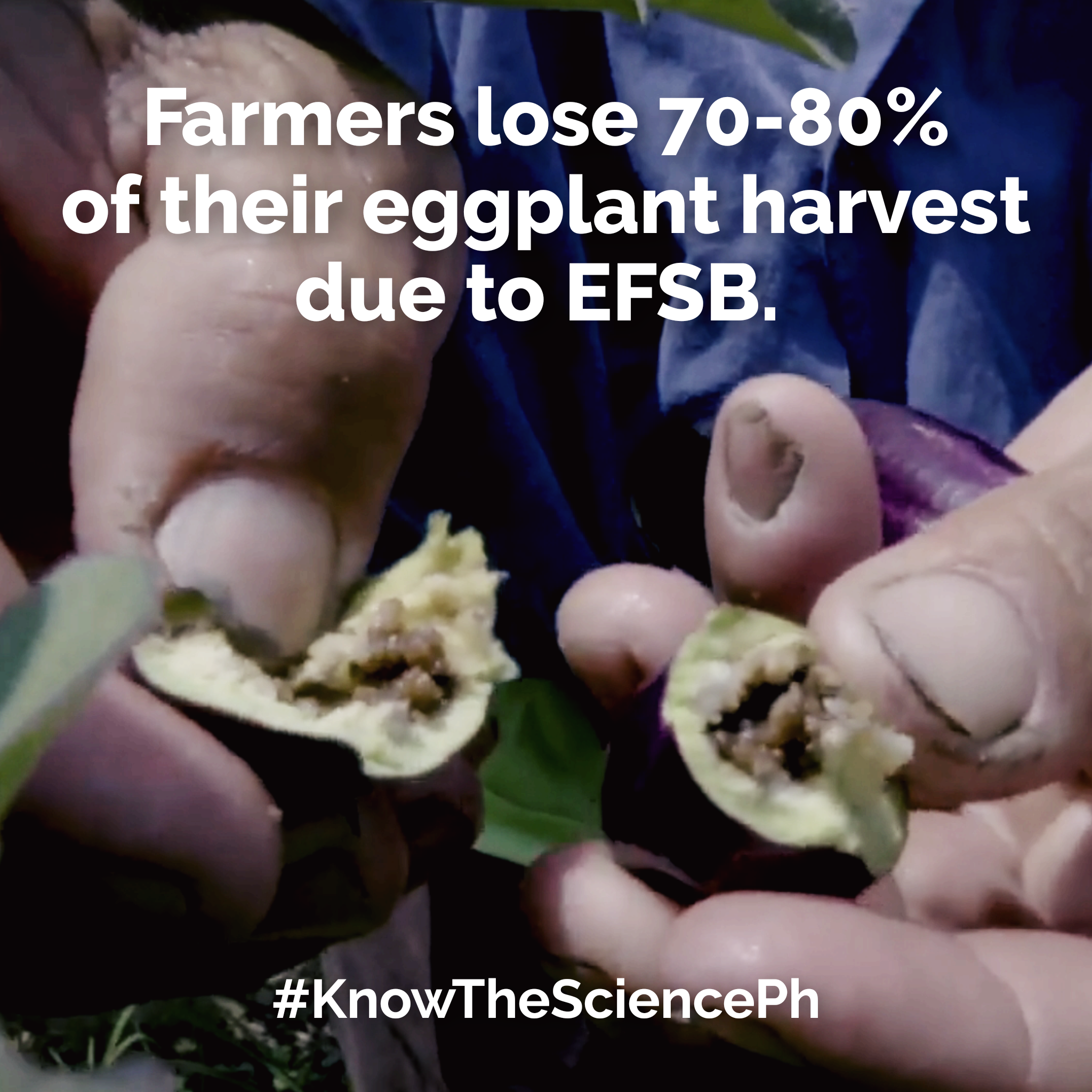 Dr. Lourdes D. Taylo, Study Leader of the Bt Eggplant Project explained EFSB in the second video. Dr. Taylo said that in areas where pest infestation is high, EFSB damage causes up to 90% yield loss.
To control EFSB and protect their crops, farmers rely heavily on pesticides. This practice increases the exposure of farmers, consumers, and the environment to toxic pesticides which are sometimes illegal and unlabeled. "Every time we spray, we mix up around four different pesticides. Around 30% of our capital goes to pesticides. If we don't do this, we lose produce and income," the farmers share.
Dr. Desiree M. Hautea, Project Leader of the Bt Eggplant Project discussed the development of Bt Eggplant along with its health and environmental benefits in the third video. She also described the country's stringent biosafety regulations that ensure the safety of GM crops before their commercial release. "We have the regulation to ensure that products of modern biotechnology are safe before they reach the consumers."
"Bt eggplant is safe as it only targets EFSB. It is safe for humans, animals, and non-target insects," explains Dr. Taylo.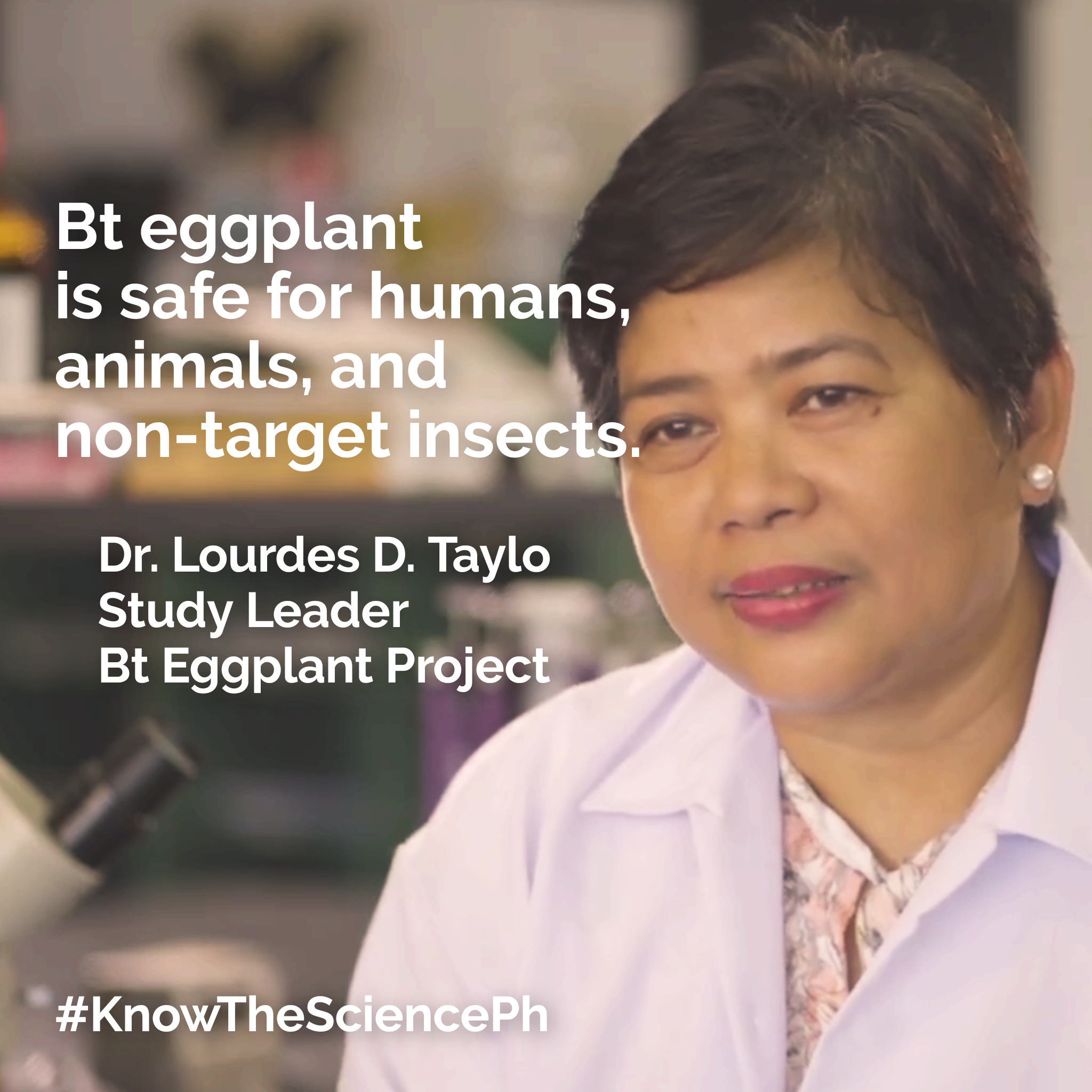 The fourth video shows the experience of Bangladesh in commercializing Bt brinjal/eggplant and how the crop has uplifted the lives of farmers in the country. According to Dr. Hautea, 20 farmers initially planted Bt brinjal in 2013, but this number has grown to more than 27,000 in 2017. She added that farmers in Bangladesh have reduced pesticide applications by 70-80% and had 150% increase in income now that they are planting Bt brinjal.
In the fifth video, experts speak about the safety and benefits of Bt eggplant. Dr. Cesar Quicoy, economist from the University of the Philippines Los Banos College of Economics and Management said that with Bt eggplant, farmers will be able to sell more because there will be no more damaged crops due to EFSB. "Increased production, less costs on pesticides and labor. Farmers earn more than double of what they're getting now."
UPLB nutritionist Dr. Chito Rodriguez who conducted a composition analysis of Bt eggplant said that there is no difference between Bt eggplant and eggplants currently in the market based on their research.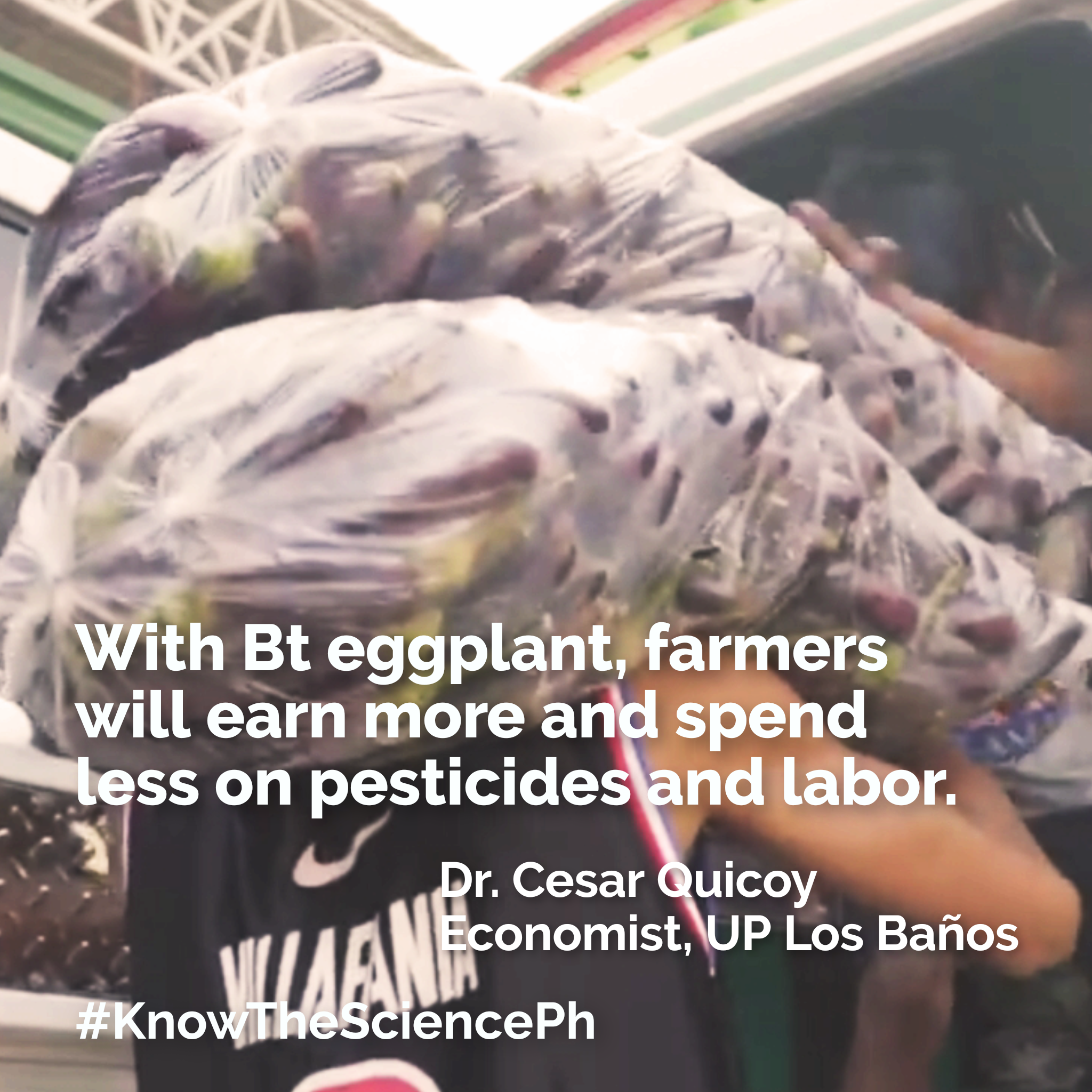 The sixth and last video discussed the rigorous tests and strict regulation set by the Philippine government before the commercial release of GM crops. Dr. Vivencio Mamaril, former Director-Coordinator of the Department of Agriculture-Biotechnology Information Office (DA-BPO) elaborates on the initiatives of the government to effectively regulate products of modern biotechnology. The creation of the DOST-DA-DENR-DOH-DILG Joint Department Circular No.1, Series of 2016, aims to regulate and manage the propagation and sale of biotechnology products in the country.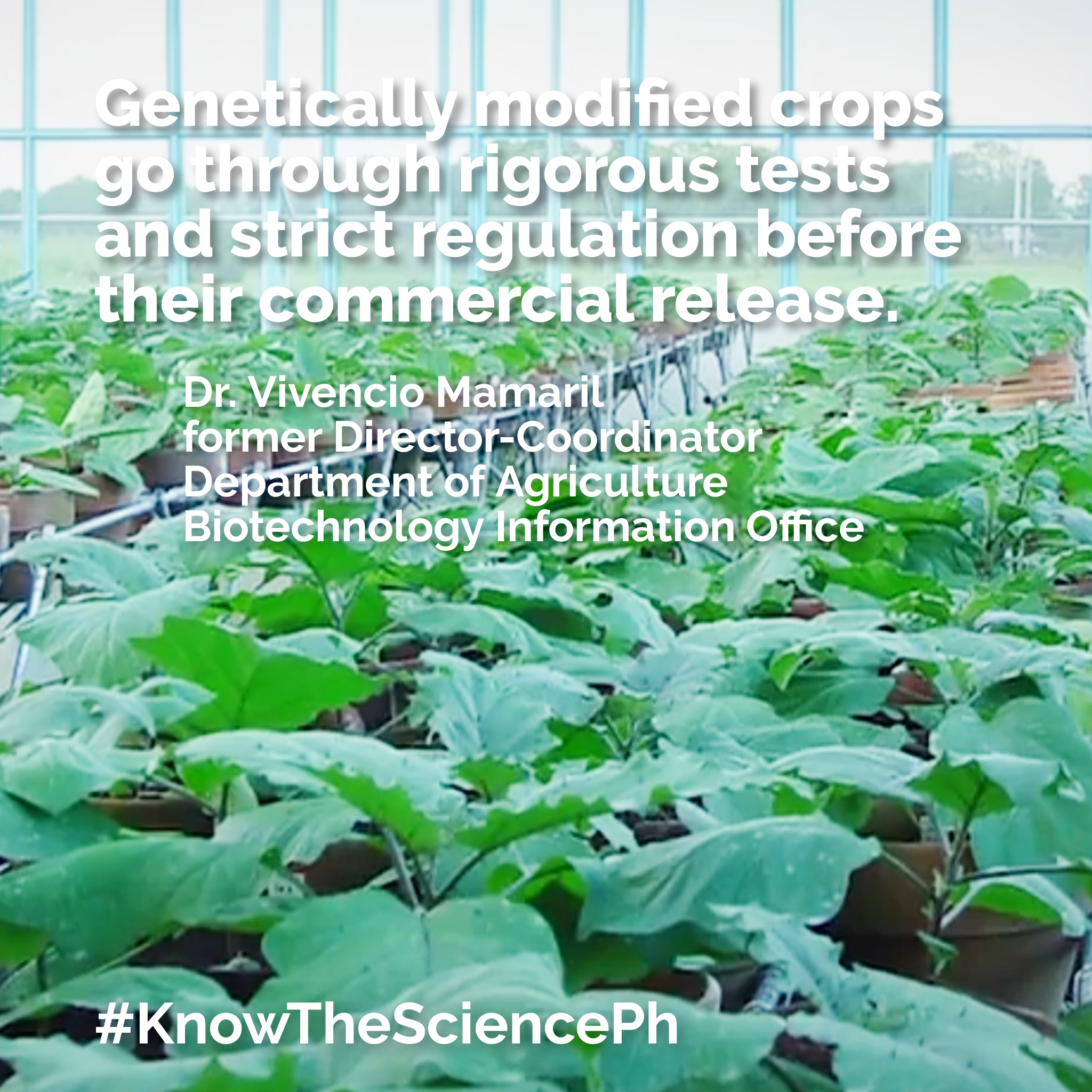 Potential farmer-adoptors from eggplant-producing provinces in the country voiced out their full support for Bt eggplant and its approval for commercialization. Proponents of the Bt Eggplant Project from UPLB-IPB also discussed the development of the crop and along with its health and environmental benefits. Experts from the academe and the government likewise spoke about the country's rigorous biosafety regulatory process which ensures the safety of GM products before being released in the market.
The Bt Eggplant Story was produced in partnership with Feed the Future South Asia Eggplant Improvement, Department of Agriculture-Biotechnology Program Office, and Greenbug Media Productions.
To watch the videos, go to SEARCA BIC's YouTube Channel: https://bit.ly/3atGjsC
Science Speaks is ISAAA's Blog hosted by the ISAAA website and publishes weekly blog articles to help share, disseminate, and promote scientific knowledge and its vital role in achieving global agricultural sustainability and development. Your support to Science Speaks will help us in our goal to promote scientific knowledge. You can help us by donating as little as $10.