ISAAA Holds Asian Virtual Roadshow on Impact of GM Crops
October 26, 2020
ISAAA, in partnership with CropLife Asia and Biotech Information Centers (BICs) in selected Asian countries, conducts a series of webinars on the global impact of genetically modified (GM) crops. The webinars, which serves as a virtual information roadshow, feature the latest report of PG Economics titled GM Crops: Global Socio-economic and Environmental Impacts 1996-2018 authored by Graham Brookes and Peter Barfoot.
For each webinar, Graham Brookes shares the agricultural environmental impact, return on investment for the GM crop farmers, and contribution to global food security of GM crops. Brookes is an agricultural economist and consultant with more than 30 years' experience of examining economic issues relating to the agricultural and food sectors. He is a specialist in analyzing the impact of technology, policy changes and regulatory impact.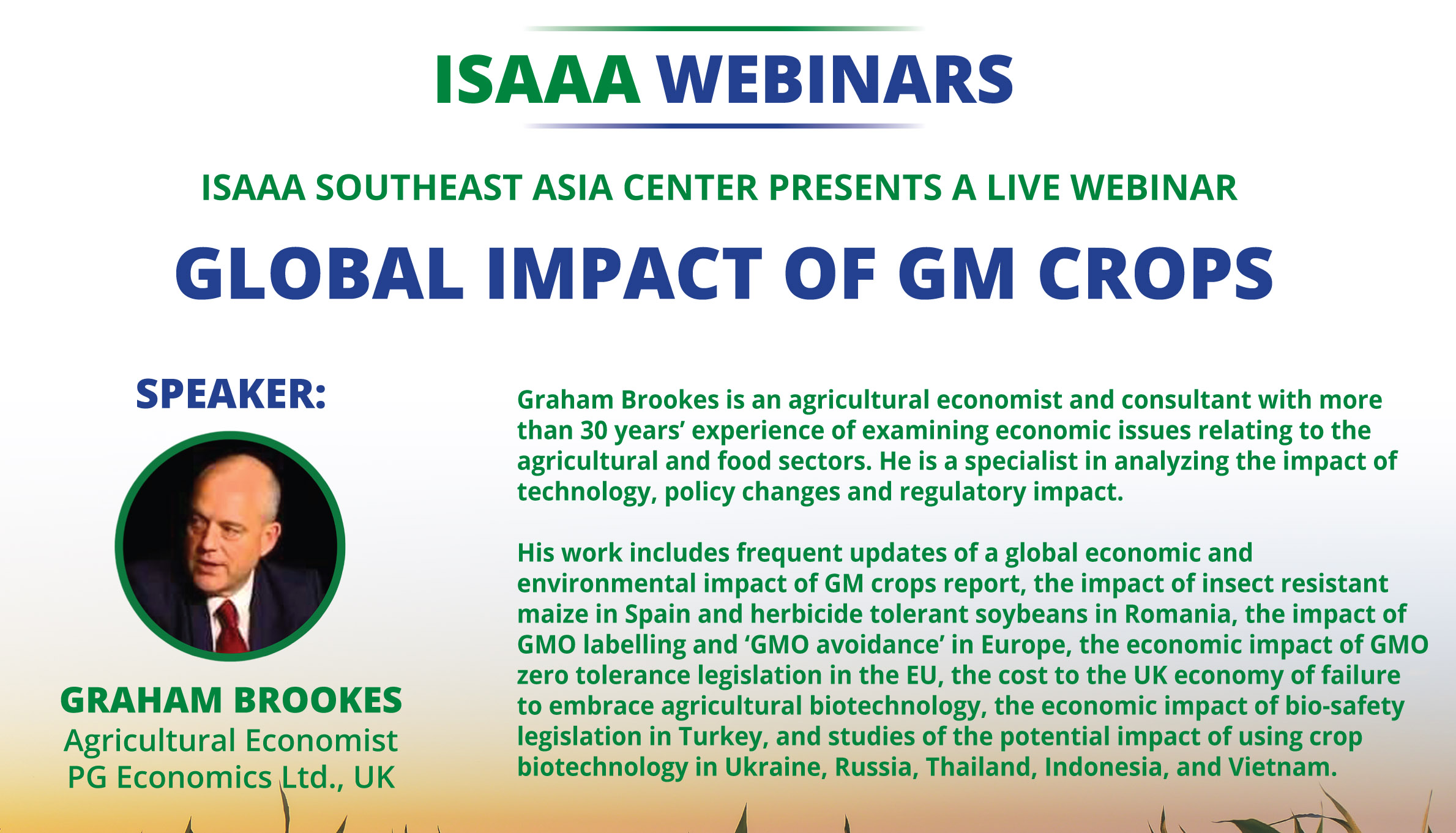 ISAAA SEAsiaCenter Director, Dr. Rhodora Romero-Aldemita, tackles the global adoption of GM crops in 2018. The BICs also invites experts from their respective countries to share about their experiences in GM crop adoption or research and development.
Attendance to the webinars is free of charge.
China
September 21, 2020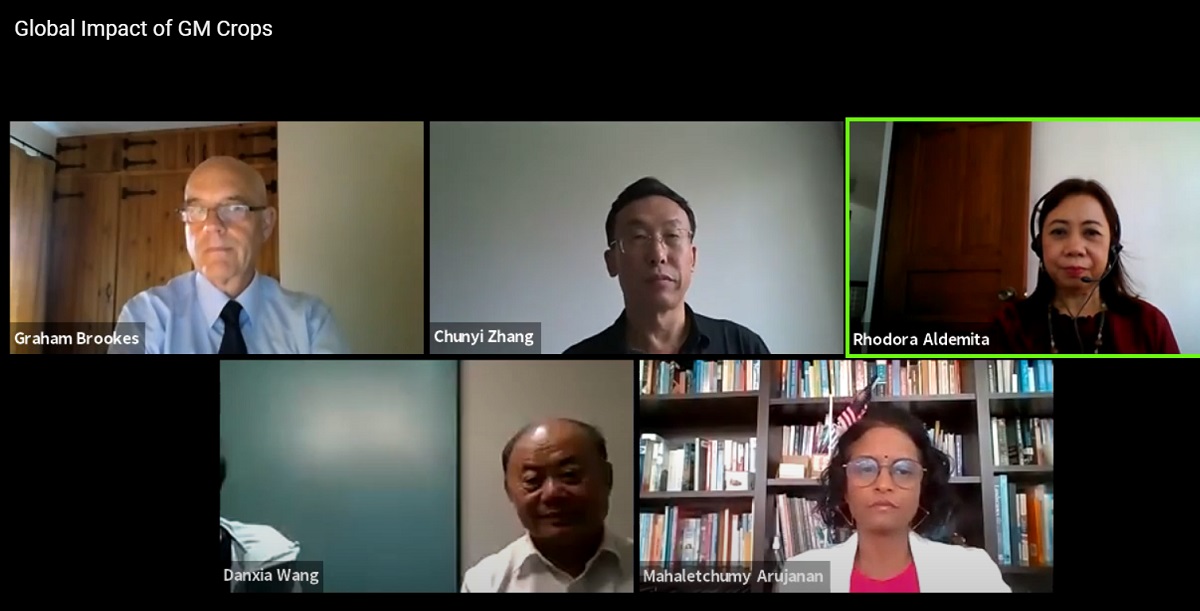 China Biotechnology Information Center co-organized the first webinar which was broadcasted through Zoom, Vhall (a Chinese broadcasting platform), Youtube, and Facebook.
Brookes reported that the Chinese economy has been impacted by insect resistant cotton since it was adopted in 1997. In 2016, 95% of the cotton production in the country was GM.
Mr. Maotang Zu, President of the Farmer Technology Association from the Gaobeidian City of Hebei Province, shared how Bt cotton improved farmers' lives by gaining an average of 10-fold increase in their produce.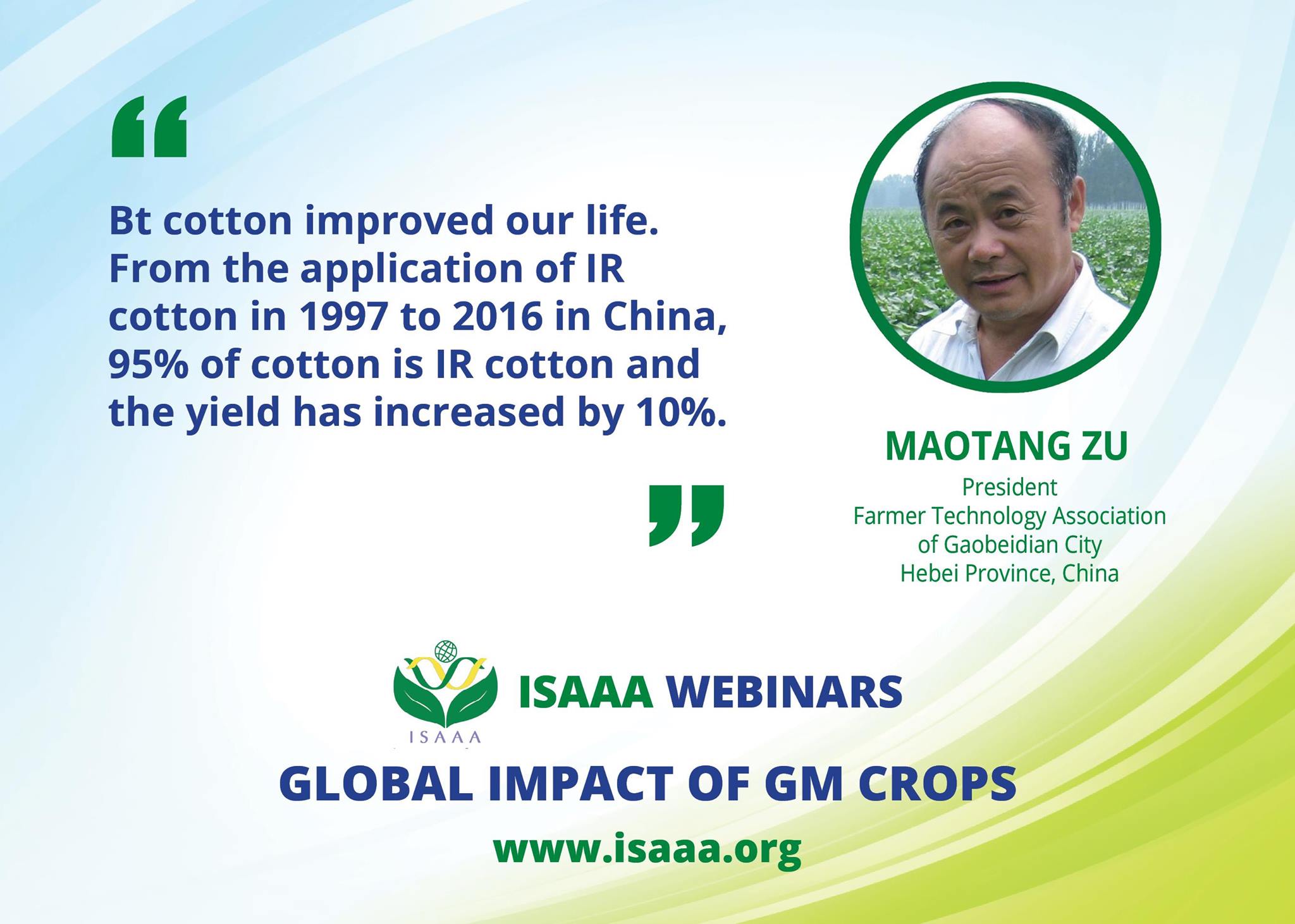 Dr. Chunyi Zang of the Institute of Crop Sciences of the Chinese Academy of Agricultural Sciences moderated the panel discussion, wherein special topics were elaborated such as the impact of the newly-approved GM corn and GM soybeans in China, as well as the importance of GM crop production and its requirements for quality food and natural biodiversity. Dr. Mahaletchumy Arujanan, ISAAA Global Coordinator, closed the webinar by stating China is a key economy in the world, and it is a key country to watch for in terms of its innovations in biotechnology and new breeding technologies.
The webinar reached 26,307 on all the platforms used.
Download the slides:
India
October 15, 2020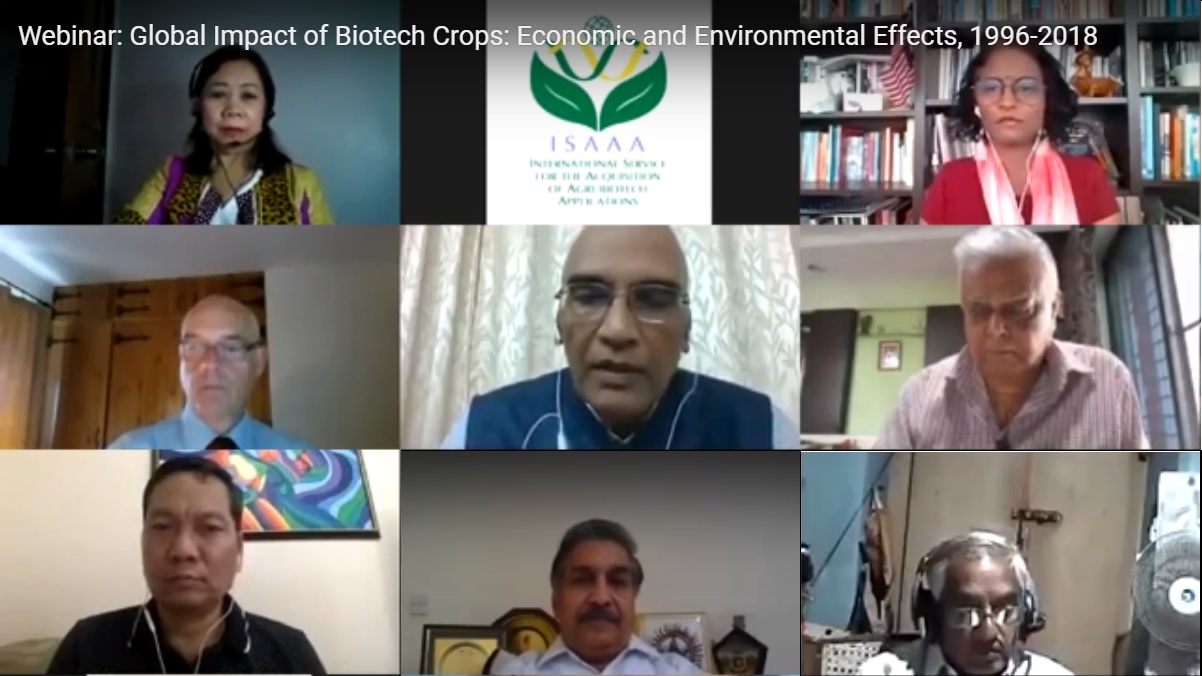 Alliance for Agri Innovation and Federation of Seed Industry of India co-organized the webinar for India.
Brookes reported that insect resistant (IR) cotton has impacted the lives of Indian farmers since it was introduced in 2002. In 2018, 95% of Indian farmers were using Bt cotton technology. PG Economics data show that its yield impact is +29% and the average farm income gain amounts to US$ 193.56 per hectare. In terms of return on investment, a farmer earns an extra US$ 12.95 for every US$ 1.00 spent on IR cotton seed.
The reported socio-economic impact of GM crops was supported by the success story of V. Ravichandran, an influential farmer in India and Director of the Global Farmer Network. Prior to planting Bt cotton, Ravichandran encountered the same problems that other cotton farmers had which led to a cycle that drained his resources. During a meeting organized by the South Indian Cotton Association in 2004, one of the experts suggested to him to plant one acre of Bt cotton and another acre with non-Bt hybrid cotton and compare the results. "I trust science always," he said. He followed the suggestion and added OPV for comparison. He found that Bt cotton planting was the cheapest and most profitable option. Ravichandran continues to enjoy the benefits of GM technology until today.
Dr. C.D. Mayee, President of the South Asia Biotechnology Center, talked about the impact of Bt cotton in India. He stressed that the Bt technology helped revive the cotton industry in India because of the yield advantage with reduced cost. Dr. K.C. Bansal of the Indian Agriculture Research Institute explained the biosafety aspect of biotech crops for Indian Agriculture. He highlighted the importance of employing a science-led approach that can provide a secure, economically and environmentally sound, and sustainable global food system. The webinar was moderated by Ram Kaundinya of the Federation of Seed Industry of India.
Download the slides:
Thailand
October 26, 2020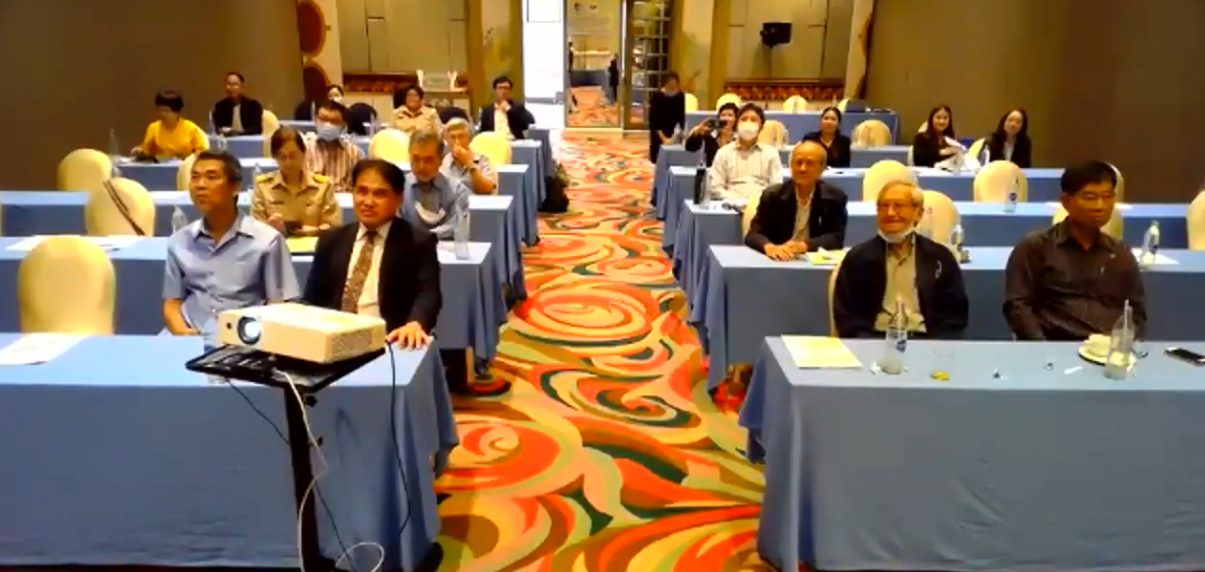 Brookes provided data about the impact of GM maize in the Philippines and Vietnam, countries that are similar to Thailand in terms of climate and agricultural settings. For the Philippines, Brookes reported that GM maize with insect resistance, herbicide tolerance, and stacked traits had an increased yield impact of 5.3%, 18.2%, and 23.5%, respectively. The total farm income gain from 2002 to 2018 is USD 972.6 million with a production impact of 4.29 million tons. Vietnam, on the other hand, adopted stacked maize technology in 2015. As of 2019, 10.2% of maize in Vietnam uses this technology. It brought the farmers' average income gain from USD 195.67 per hectare to USD 329.75 per hectare, and almost doubled their average return of investment from USD 6.84 per hectare to USD 12.55 per hectare for every extra USD 1.00 spent on the seed.
Mr. Danai Narkprasert of the Biotechnology Research and Development Office of the Department of Agriculture reported the status of agri-biotechnology in Thailand and emphasized that Thailand considers biotechnology as an important agricultural opportunity and has included it in its National Science, Technology and Innovation Policy for 2012-2021 with multiple government agencies involved in the regulation of GMOs and its products.
Mr. Sukan Sangwanna of the Federation of Agricultural Safety also gave a presentation on the farmer's view on biotech crops. Sukan, who is a multi-awarded farmer in Thailand, believes that biotechnology is a solution to farmers' problems because it produces better-quality crops faster and more efficiently than conventional crops. Contrary to popular belief, Sukan said that farmers are not afraid of GM crops because they bring more advantages than disadvantages, and that both GM crops and biotechnology are known to be science-based. According to his presentation, it is the GM-opposing organizations, who are not farmers nor agriculture professionals, that object to the farmers' use of GM crops thus hindering Thailand's prosperity. Sukan also appealed to the Thai government to pass the Biosecurity Law of the country so that farmers will finally gain access to GM crop adoption.
The webinar was co-organized by Biotechnology Alliance Association of Thailand.
Download the slides:
Pakistan
November 17, 2020

Download the slides
Upcoming Webinars
The next webinars will be held for Indonesia and Vietnam. Subscribe to the Crop Biotech Update to get updates on the ISAAA Webinars.
Science Speaks is ISAAA's Blog hosted by the ISAAA website and publishes weekly blog articles to help share, disseminate, and promote scientific knowledge and its vital role in achieving global agricultural sustainability and development. Your support to Science Speaks will help us in our goal to promote scientific knowledge. You can help us by donating as little as $10.