Africa
Open Forum on Agricultural Biotechnology (OFAB) Nigeria Chapter held a media award ceremony on August 30, 2017, at the Sheraton Hotels and Towers, Abuja, Nigeria. The event honors media practitioners and distinguished Nigerians who have contributed to raising awareness on biotechnology in the country.
The Chief Guest, Prof. Turner Isoun, Nigeria's former Minister of Science and Technology, said that Nigeria must give priority to funding research and development in order to achieve accelerated development. "No nation can make progress without paying adequate attention to research and development, our position as Africa's largest economy can be consolidated with research and development. We paid attention to science and technology during our stay in office and ten years after we have started seeing its contribution to the nation's GDP," he said.
According to OFAB-Nigeria Coordinator, Dr. Rose Gidado, the media is being celebrated as a result of their contribution to promoting biotechnology in Nigeria. "It is important to give honor to whom honor is due. The media have been our main ally since we set out to promote modern biotechnology in the country," she added.
In his keynote address, Dr. Tonnie Iredia, former Director General, Nigerian Television Authority (NTA), explained the role of science reporting in promoting national development. The panel of media practitioners and science reporters also addressed and suggested ways to improve science reporting in Nigeria.
Winners were drawn from television, radio, and print. An over-all winner for best agri-biotech reporting was also recognized, along with other key personalities that have played a fundamental role in shaping the biotechnology landscape in Nigeria. Former Nigeria President, Chief Olusegun Obasanjo was honored with the Grand Visionary Leadership award, while Prof. Turner Isoun, former Minister of Science and Technology and Prof. Ajayi Boroffice, Chairman, Senate Committee on Science and Technology, were honored for their contribution in setting the necessary foundation for biotechnology in Nigeria.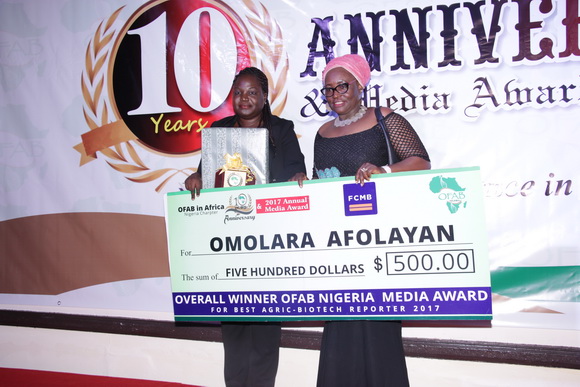 Know more about the OFAB Nigeria Success Story. For more information on the event, contact Dr. Rose Gidado on roxydado91@gmail.com
[ Send to a Friend | Rate this Article ]
---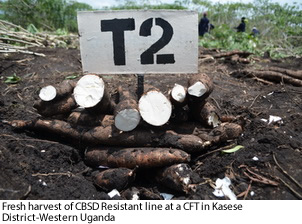 Cassava mosaic disease (CMD) and cassava brown streak (CBSD) are still the most challenging constraints for cassava production in the Sub-Saharan Africa. Some Ugandans describe them as HIV for cassava. Although, there are CMD resistant cassava varieties, it is still a challenge since a good number of farmers have not yet accessed them. Annual losses due to CMD and CBSD are estimated at $60 Million in Uganda alone. There is a great need for both CBSD and CMD resistant cassava.
Uganda is one of the countries working towards eliminating the diseases through several projects including the Virus Resistant Cassava for Africa (VIRCA) Plus. The VIRCA Plus project is a collaborative effort involving the Donald Danforth Plant Science Center; the National Crops Resources Research Institute (NaCRRI) in Namulonge, Uganda; and the Kenya Agricultural and Livestock Research Organization (KALRO) in Nairobi, Kenya.
Using biotech tools, a farmer preferred variety (TME 204) was successfully transformed for resistance against CBSD. However, it did not have significant resistance against CMD. This called for conventional breeding to address the gap, since there are already farmer-preferred varieties that are resistant to CMD. The fourth confined field trial (CFT) was established with a goal to develop farmer-preferred varieties that are resistant to both diseases by crossing the transgenic lines (resistant to CBSD) and non-GM varieties (resistant to CMD). The trial also provided vital data for agronomic performance. VIRCA project has conducted several multilocational CFTs in Uganda and Kenya, the latest harvest being in Kasese district, western Uganda. Since 2010, NARO-Uganda has tested GM cassava with great progress.
For more information, contact UBIC at ubic.nacrri@gmail.com or visit the UBIC website.
Asia and the Pacific
According to the Department of Crop Production, in recent years, the maize area has reached more than 1 million ha/year, the yield is rather low - only 4.6 million tons/ha.

Annually, Vietnam still has to spend a large amount of foreign currency to import corn seeds to serve the needs of animal feed processing in the country.
In 2016, Vietnam imported 8.3 million tons of maize. The Ministry of Agriculture and Rural Development (MARD) said that it would maintain the current area, but increase the value and output per unit of cultivated area, and encourage the adoption of new varieties, advanced farming methods, and accelerated mechanization.
The reasons for low productivity are unfavorable farming conditions and difficult terrain. The application of new varieties with resistance to unfavorable factors will improve the yield and quality of maize after harvesting. The introduction of genetically modified varieties into production in 2015 has initially been a positive signal, as corn yields and farmers incomes have improved remarkably. In 2016, the estimated area of transgenic maize accounted for about 10% of the total maize area in the country.
Read the original article in Vietnamese at SGGP online.
[ Send to a Friend | Rate this Article ]
---
The Food Standards Australia New Zealand (FSANZ) has called for submissions on an application that seeks to allow food from a genetically modified (GM) canola line that produces an omega-3 fatty acid. The GM canola developed by the Commonwealth Scientific and Industrial Research Organisation (CSIRO) and Nuseed Pty Ltd) was modified to produce the long chain fatty acid docosahexaenoic acid (DHA) in the seed.
Mark Booth, FSANZ Chief Executive Officer said, "The applicant has stated that this canola line could provide an alternate source of DHA for food manufacturers in a range of products." He added that FSANZ has conducted a thorough safety assessment of the GM canola, which included a nutrition risk assessment and dietary exposure assessment, and has concluded there are no public health and safety concerns relating to this canola line.
Submissions will be accepted until October 26, 2017. For more details, read the FSANZ news release.
[ Send to a Friend | Rate this Article ]
---
Over the last 20 years, crop biotechnology has significantly reduced agriculture's environmental impact and stimulated economic growth in the 26 countries where the technology is used. The innovative agricultural technology has contributed to preserving the earth's natural resources while allowing farmers to grow more, high quality crops. It has also helped alleviate poverty for 16.5 million, mostly smallholder farmers, in developing countries. This was forwarded by Graham Brookes, director of PG Economics, UK during a talkshow for media practitioners and seminar on September 11-12, 2017, at Arya Duta Hotel, Jakarta, Indonesia.
Brookes delivered a report on the Global Impact of Biotech Crops: Economic and Environmental Effects 1996-2015. He mentioned that in 2015, farmers in developing countries received $5.15 for each extra dollar invested in biotech crop seeds, whereas farmers in developed countries received $2.76 for each extra dollar invested in biotech crop seeds. 

Ms. Ignatia Maria Honggowati of the Coordinating Ministry of Economy Affairs talked about the Roadmap on the Use and Development of Genetically Engineered Product; Prof. Dr. Bambang Purwantara of Indonesian Biotechnology Information Centre (IndoBIC) presented the Global Status of Commercialized Biotech/GM Crops: 2016; while Prof. Dr. Bustanul Arifin of Institute for Development of Economics and Finance (INDEF) and Centre for Strategic and International Studies (CSIS) delivered talks on Prospects of Biotechnology Products for Strengthening the Indonesian Economy; and The Role of Biotechnology to Support Indonesia's Food Security: Potential to Increase Corn Production.
Some 100 participants from the Ministry of Agriculture, the Coordinating Ministry Economy Affairs, Ministry of Environment and Forestry, Ministry of Trade, representative of Biosafety Commission and the Technical Team, media practitioners and private sectors attended the two-day event. The event was conducted by a collaborative effort between IndoBIC and The Coordinating Ministry of Economy Affairs with support from Croplife Indonesia, SEAMEO BIOTROP, and the International Services for the Acquisition of Agri-Biotech Applications (ISAAA).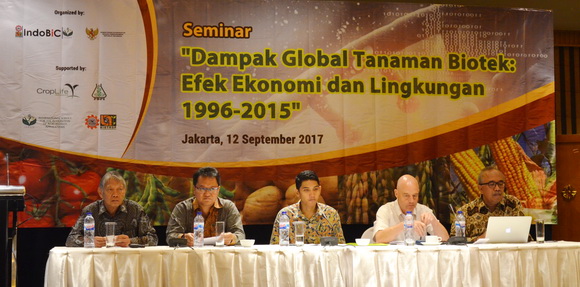 For more details, contact Dewi Suryani of IndoBIC at catleyavanda@gmail.com.
[ Send to a Friend | Rate this Article ]
---
More than a hundred farmers and municipal agriculturists and technicians from the provinces of Pangasinan, Batangas, Quezon, and Davao in the Philippines expressed full support for the commercial planting of Bt eggplant. They hoped that the seeds be made available soon, after learning about its science, safety, and potential socioeconomic benefits during the Public Dialogue on Bt Eggplant held on September 14, 2017 at SEARCA Headquarters, College, Laguna. The activity served as a platform for farmers to clarify issues about the said technology.
Reynaldo Cueto, municipal agriculturist of Balete, Batangas said that his town is open for demo trials of Bt eggplant once it is commercialized, and he hopes that the crop can soon be planted by their farmers so that they can experience its benefits. Bt eggplant project leader, Dr. Desiree Hautea, said that University of the Philippines Los Baños (UPLB) welcomes feedback from the farmers regarding challenges in eggplant farming and other crops, and will continue to develop technologies to cater to their needs.
The other resource persons in the public dialogue were Bt eggplant study leaders and UPLB entomologists, Dr. Lourdes Taylo and Mr. Mario Navasero; and UPLB economics professor, Dr. Cesar Quicoy. The public dialogue was organized by ISAAA and SEARCA Biotechnology Information Center (SEARCA BIC).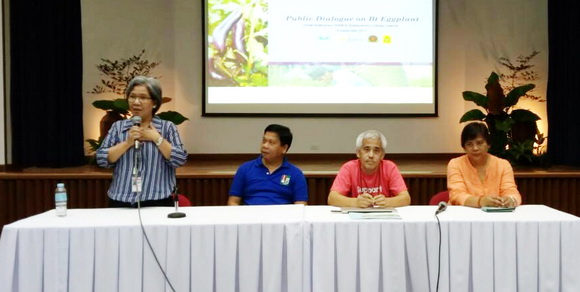 For more biotech updates in the Philippines, visit SEARCA BIC's website.