Americas
More and more farmers in Brazil are adopting genetically modified crops, says the latest report issued by Céleres Ambiental, an environmental consulting firm based in Uberlandia, Minas Gerais, Brazil. A growth of 13.4% over the previous cropping season was registered by soybean farmers who planted 20.8 million hectares or 82.7% of the total forecast area. Farmers are likely to increase their adoption of transgenic soybeans in the 2011/2012 cropping season. The planted area in the Center-West region (8.8 hectares) has surpassed that of the South region for the first time, and now occupies the biggest area planted to transgenic soybeans in Brazil. The South region still remains as the top grower with 90.5% of the total area planted to transgenic varieties.
The report estimates that 606,000 hectares will be planted to transgenic cotton or an increase of 62.7% compared with the previous crop. The area planted to transgenic maize will occupy 9.1 million hectares, or 64.9% of the total area currently forecast for planting in 2011/12.
Details of the report are at http://www.comunique-se.com.br/deliverer_homolog/arq/cli/arq_1198_76582.pdf
[ Send to a Friend | Rate this Article ]
---
Cassava is one of the major sources of calories of 700 million people worldwide, especially in the developing countries. Thus, researchers at the Donald Danforth Plant Science Center have developed a technique that would not only accelerate the reduction of cyanogen during food processing, resulting in a safer food product, but also lead to increased root protein levels and improved nutritional value.
Hydroxynitrile Lyase (HNL) is a protein present in cassava leaves with 50% essential amino acids. It is edible to humans with no allergic side effects. The researches found that transgenic roots with HNL had 53-74% reduction in cyanogen levels, and resulted to nutritionally enhanced cassava with increased protein content and amino acids, when compared with the wild type. Over-expression of NHL also led to reduced time to process and remove cyanogens in the roots.
"This breakthrough demonstrates that it is possible to use genetic modification to deliver enhanced cassava with decreased cyanogenic content as well as increased protein and essential amino acids that will directly benefit children and at-risk populations," said Narayanan N. Narayanan, one of the researchers of the study.
For more information, contact Karla Goldstein of the Donald Danforth Plant Science Center at KGoldstein@danforthcenter.org.
[ Send to a Friend | Rate this Article ]
---
U.S. Department of Agriculture geneticists searched for the sources of tolerance to ozone and other stresses in the American ancestors of soybeans. They found that the Fiskeby soybeans from the northern part of Sweden have outstanding tolerance for salt, high levels of ozone, drought, iron deficiency, and toxic levels of aluminum.
Scientists Tommy Carter and Kent Burkley analyzed thousands of soybean types to generate the family tree of North American soybeans. The Swedish soybeans have the most pronounced resistance to ozone compared to the other stresses. Understanding the ozone effect may be a key to discovering the broad stress resistance of the Swedish soybeans.
Read the media release at http://www.ars.usda.gov/is/pr/2011/110729.htm.
[ Send to a Friend | Rate this Article ]
---
The Christopher Columbus Fellowship Foundation (CCFF) and the American Farm Bureau Federation presented awards to distinguished scientists, academicians, and high school students for their commendable innovation in the field of agricultural science.
Andrew Paterson, a distinguished research professor at the University of Georgia, received the CCFF Agricultural Science Distinguished Scientist Award. He used genomic tools and approaches to research on crop improvement, plant biodiversity, molecular evolution, and biofuel production efficiency.
Bhiravi Rathinasabapathi, a 2011 graduate of Eastside High School in Florida, was one of the semi-finalists in the Intel Science Talent Search. Her research dealt with the biofortification of crops with iron, which may eventually fight anemia.
Read more about the awardees at http://www.fb.org/index.php?action=newsroom.news&year=2011&file=nr0712b.html.
[ Send to a Friend | Rate this Article ]
---
Endoreduplication or the duplication of chromosomes without cell division is not new to molecular biologists. However, a new study conducted by University of Illinois professors Ken Paige and Daniel Scholes searched for the relationship of this process and increase in growth and reproductive fitness of plants after they have been partially grazed. They used Arabidopsis thaliana plants in the study and observed that they repeatedly double their chromosomes in some cell types, starting with 10 chromosomes then reaching up to 320 after several duplications.
According to Scholes, the added DNA content would lead to increased protein levels, which is needed for growth and reproduction. More DNA would also mean bigger cells, thus, the size of the whole plant would increase.
"We've tracked the plants through generations, so we know that the ones that get eaten actually have up to a three-fold reproductive advantage over the ones that are never eaten," Paige said. "Now we are beginning to understand the molecular mechanisms that make this possible."
Read the media release at http://news.illinois.edu/news/11/0801plants_KenPaige.html.
Asia and the Pacific
Media practitioners from eight countries including the Philippines, Thailand, Malaysia, Cambodia, Vietnam, Indonesia, Korea and Pakistan participated in a workshop on "Status, Impacts and Future Prospects of Agri-biotechnology in a Changing Climate: A Regional Workshop for Media Practitioners" on July 20 to 22 in Jakarta, Indonesia. The workshop focused on the products of biotech crops and their potentials in solving the global challenges of feeding a growing population and helping adapt to the damaging effects of climate change. The workshop also tackled accurate and scientific biotech reporting for the media practitioners.
Among the speakers were Dr. Paul Teng, Dean of the Office of Graduate Studies and Professional Learning at the National Institute of Education, Singapore, who highlighted that biotechnology contributes to food security such that it can boost food production, reduce food losses and improve food quality and utilization; Dr. Frank Shotkoski, Director of the Agricultural Biotechnology Support Project II (ABSPII), who said that GM products being developed were based on the demand and solid socio-economic impact assessments. Among the most advanced public sector biotech crops in the pipeline include the Bt eggplant being developed in Bangladesh, India and the Philippines and the Golden Rice being studied by the Philippines, India, and other collaborating countries. Graham Brookes of PG Economics discussed the global socio-economic and environmental impact of biotech crops from 1996 to 2009.
The media participants also visited the Indonesian Center for Agricultural Biotechnology and Genetic Resources Research and Development (ICABIOGRAD) in Bogor and later had a writeshop. Participant Joseph Masilamany, a sub-editor for the Malaysian newspaper, The Sun, appreciated the relationship formed between the scientists and journalists during the workshop. Syatrya Utama from Indonesia noted the success stories of biotech adoption shared by Filipino farmer Rosalie Ellasus. Mr. Utama hoped that Indonesian farmer's would learn more of this first-hand experiences so that they would be able to understand the technology better.
The workshop was organized by SEARCA, SEAMEO Southeast Asian Regional Center for Tropical Biology (BIOTROP), the International Service for the Acquisition of Agri-biotech Applications (ISAAA), and ABSPII. It was also sponsored by Crop Life Asia.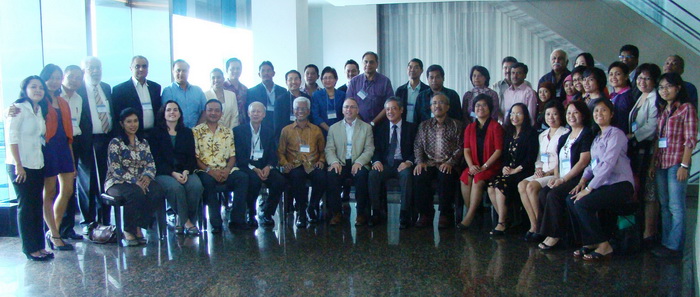 For more information about the workshop, visit http://www.bic.searca.org or e-mail bic@agri.searca.org.
[ Send to a Friend | Rate this Article ]
---
Agriculture Minister of Bangladesh Matia Chowdhury emphasized that genetically modified organisms (GMO) is a must to feed and to alleviate poverty in a developing country like Bangladesh. "Bangladesh is one of the most vulnerable countries for natural calamities due to climate change in addition to its inherent disadvantages of perennial flood, drought and problem soils like salinity. Thus, our food and feed demand is very high and we need resistant and tolerant crops against biotic and abiotic problems," said the Minister.
Chowdhury was the chief guest during a seminar on "Agriculture and Food Security: Emerging Research Initiatives" at Roposhi Bangla Hotel, Dhaka on 24 July 2011. The seminar was organized by The Asia Foundation and funded by USAID. The Minister also shared her experience in visiting Cornell University where scientists have transferred genes to develop temperature and salinity tolerant wheat varieties. She hopes that Bengali scientists will be able to avail of this technology for application in the country once it is available.
Other noted experts include Dr. M A Sattar Mondal, Vice Chancellor, Bangladesh Agricultural University, Mymensingh who gave the keynote address on "Overview of emerging issues on agriculture and food security"; and Drs. KM Nasiruddin, Md Shamsuddin, and Md Kamal on "Synthesis of frontiers in agricultural research" on crop, livestock and fisheries, respectively. Russell Pepe, Chief of Party, promoting democratic Institutions and Practices (PRODIP) explained that the participatory dialogue among scientists and lawmakers will make the government understand the benefits of frontier technologies necessary for informed decision-making.
Around 100 participants including 40 members of Parliament who are the Chairpersons and members of 3 standing committees like Ministries of Agriculture, Livestock and Fisheries, and Labor and Employment attended.
For more information on the seminar and other news on biotechnology in Bangladesh, contact Dr. KM Nasiruddin at nasirbiotech@yahoo.com
[ Send to a Friend | Rate this Article ]
---
China's Ministry of Agriculture launched a Report on China's Agricultural Intellectual Property Creation Index (2010). The report says that under the comprehensive sections of the Outline of National Intellectual Property Strategy and the Outline of Agriculture Intellectual Property Strategy, the capability of Chinese agricultural knowledge creation has significantly improved during the country's 11th Five-Years (2006-2010).
The average annual growth of applications and authorization for new plant new varieties are 4.89% and 29.16% in 2006 and 2010, respectively, while the average annual growth of applications for agricultural patent is 18.03%. These indicate that agricultural knowledge creation capability has become an important support for sustainable development of agriculture in the country. 

The report also said that agri-biotechnology has become the key field in S&T innovation. See the news and download the report in Chinese at http://www.ccipa.org/html/tonggao/2011/0426/3236.html
[ Send to a Friend | Rate this Article ]
---
Thailand's drafting committee for the National Social and Economic Development Plan No. 11 (2012-2016) has agreed to modify the draft version of the plan on strengthening agriculture sector, food safety and energy. The sentence "To promote the production of non-GM food" has been changed to "To promote agricultural production that could conserve plant and animal biodiversity suitable for the country's climatic and environmental conditions and to continue to promote research and development of appropriate technology such as biotechnology and genetic engineering to gain knowledge and keep up with the future of technology development."
The inclusion of biotechnology and genetic engineering in the national plan is a result of the strong support from academics, researchers, and concerned sectors who believe that modern technology could contribute to food and energy security.
For more news about crop biotech developments in Thailand email Dr. Supat Attathom at agrspa@ku.ac.th
[ Send to a Friend | Rate this Article ]
---
Turkmenistan and Pakistan agreed to cooperate in strengthening agricultural research in both countries. An agricultural delegation of Pakistan is expected to participate in the joint commission meeting to be held in Ashgabat in September, 2011.
Ambassador Sapar Berdiniyazov of Turkmenistan said that the two countries can collaborate in cotton research, development and exchange of cotton germplasm, exchange of experience on selection and certification of seeds, as well as registration and quality evaluation of seeds of wheat, cotton, rice and other agricultural crops.
Dr. Muhammad Afzal, chairman of the Pakistan Agricultural Research Council (PARC), assured the ambassador that PARC will provide all possible assistance to Turkmenistan in agricultural research and training in the field of agriculture.
View the original article at http://www.pabic.com.pk/Pak%20and%20Turkmenistan%20will%20work%20together%20in%20agri%20research.html
[ Send to a Friend | Rate this Article ]
---
The Philippine National Academy of Science and Technology (NAST) recently conferred the title of Academician to Dr. Ernesto J. Del Rosario, a distinguished scientist known for his research contributions to physical chemistry and industrial biotechnology. Dr. Del Rosario is one of the country's leading experts in biofuels and recognized through his novel research and development work on bioethanol fermentation processes using saccharine and starch substrates, as well agricultural wastes. Further, he studied the preparation, application and production of important enzymes such as alpha-amylase, glucoamylase, cellulose and xylanase needed for bioethanol production. Notably, he holds two patents for his inventions on low cost fermentation process and the purification and stabilization of alpha-amylase.
Other newly-conferred NAST Academicians were Dr. Aura Matias of the University of the Philippines Diliman (UPD) for her contributions in the field of industrial engineering, and Dr. Agnes Rola of the UP Los Baños (UPLB), for her body of work devoted to agricultural economics and sustainable community development. Dr. Eduardo Mendoza who is based in Germany was conferred the title 'Corresponding Member' for his outstanding scientific achievements in mathematics and systems biology.
The conferment was made during the culminating ceremonies of the 33rd Annual Scientific Meeting of the NAST, the country's highest advisory and recognition body on science and technology, held at the Manila Hotel on 14 July 2011. The latest scientific meeting focused on the challenges of agricultural productivity, competitiveness and sustainability.
For more updates on biotechnology in the Philippines, e-mail bic@agri.searca.org or visit the SEARCA Biotechnology Information Center website, http://www.bic.searca.org/.
[ Send to a Friend | Rate this Article ]
---
This year's National Science and Technology Week held during the last week of July with the theme "Nasa Siyensya ang Pag-asa" (Hope is in Science) featured the recognition of outstanding Filipino scientists in various fields of science and technology. The Order of National Scientist, the highest recognition given to a Filipino scientist for significant inputs in science and technology, was awarded to one university head and one economist during the opening ceremony. Philippine President Benigno Aquino III awarded the title of National Scientist to Fr. Bienvenido Nebres, former president of Ateneo de Manila University, and economist Dr. Raul Fabella, for their notable contributions to Philippine S&T. Dr. Fabella was recognized for his work in the field of Economics as well as his active involvement and impact in many "policy battles" such as the exchange rate policy, tax and public expenditure policy; Dr. Nebres, was awarded for his exemplary work in the field of Mathematics.
Other recognitions given were the Julian A. Banzon Medal for Applied Research to Dr. Lorenza Gonzales-Lirio of the Benguet State University for her work on Job's tears, a tall grain-bearing tropical plant of the family Poaceae which is considered by farmers as weeds. From her research, the medicinal and food uses of Job's tears were rediscovered. In recognition of his development efforts for the University of the Philippines Los Baños (UPLB), its Chancellor, Dr. Luis Rey Velasco, was awarded the 2011 NSTW Outstanding Science Administrator (Dioscoro L. Umali) Medal. DOST cited that "Under his management, UPLB has made major investments in the development of its land endowments for income generation, such as the establishment of citronella plantation, rubber plantation and recently plans for alternative energy-generating projects and water impoundment facilities."
The original article about this story may be found in http://www.philstar.com/Article.aspx?articleId=710699&publicationSubCategoryId=63. For more information or updates about Philippine science and technology, particularly on biotechnology, visit www.bic.searca.org or e-mail bic@agri.searca.org.
[ Send to a Friend | Rate this Article ]
---
Over the last few weeks, around 112 farmers and agricultural workers in three areas in Indonesia (Medan in North Sumatera, Malang and Bali) were briefed on biotechnology breeding of potato. Dr. M. Herman, Dr. Edy Listanto, and Dr. Dinar Ambarwati of Indonesian Center for Agricultural Biotechnology and Genetic Resources Research and Development (ICABIOGRAD) gave presentations on biotechnology products and regulations in Indonesia and biotechnology applications in potato trait improvement. Mr. Kusmana of the Indonesian Vegetables Research Institute (IVRI) shared information on potato variety improvement through conventional breeding.
The heads of agricultural bureaus of these three areas expressed their support and enthusiasm for the introduction of biotech potatoes because of its potential to increase crop yield as they are resistant to the devastating late blight disease. The seminars were co-organized by ICABIOGRAD, IndoBIC and IVRI.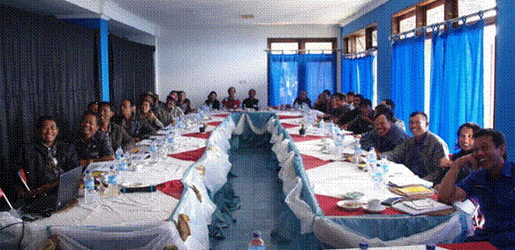 For more information on biotechnology development in Indonesia, email Dewi Suryani of IndoBIC at dewisuryani@biotrop.org.
[ Send to a Friend | Rate this Article ]
---
"Problems in climate change can also be addressed through genetically modified (GM) crops," said Dr. Julian Adams, a professor in the Department of Molecular Cellular and Developmental Biology and Ecology and Evolutionary Biology at the University of Michigan, Ann Arbor, and the Asia Coordinator for the Program for Biosafety Systems. He gave this remark during a seminar entitled "Biology and Genetics of GMO", conducted in Jakarta, Indonesia on July 18, 2011. Indonesia, a developing country predicted to be affected immensely by climate uncertainties can benefit if it adopts GM crops, Adam added. Through the biotechnology approach, climate change can be slowed down using nitrogen use efficient (NUE) varieties since the synthesis and use of nitrogenous fertilizers is one of the principal causes of greenhouse gases. In addition, nitrogen is converted to nitrous oxide which is 30 – 300 times worse that carbon dioxide.
In the same forum, Dr. Roy Sparringa, the Indonesian Deputy Chairman for Food and Hazardous Substance Control of National Agency for Drug and Food Control,highlighted the need for Indonesia to support biotechnology and should not be affected by the regulation impasse. The government has issued several regulations on biotechnology which say that GM crops are safe for food and the environment. However, he admitted that there is a need to continuously work on regulations to allow planting of biotech crops. The seminar was organized by PBS with 35 participants from the academe and government.
For more information, email Dewi Suryani at dewisuryani@biotrop.org.
Europe
In a study conducted by researchers at the John Innes Centre, it was explained how an organism can make a biological memory of certain conditions such as quality of nutrition and temperature. This memory works like a biological switch and can be inherited by the offspring. Professor Caroline Dean, one of the researchers, said "…in some cases the environment of an individual can actually affect the biology or physiology of their offspring but there is no change to the genome sequence."
This phenomenon is called epigenetic memory, which is used by plants to "remember" the length of the cold winter period to delicately time flowering so that pollination, development, seed dispersal, and germination can take place at the right timing.
Through mathematical modeling and experimental analysis, the researchers discovered a key gene labeled as FLC which could be turned on or off in any one cell and also later in its offspring. They found that the longer time of the cold period, the higher the chances that the FLC is turned off, delaying flowering.
For more details, read the article at http://www.jic.ac.uk/corporate/media-and-public/current-releases/110724deanhowardmemory.html.
[ Send to a Friend | Rate this Article ]
---
Dr. Andrew Taylor, a scientist at the University of Warwick's School of Life Sciences, has developed a unique set of information regarding the disease resistance of 96 onion varieties from Europe, Australia, New Zealand, Africa, India, the U.S., and Japan. The data can be used by breeders to produce onion varieties that can resist Fusarium oxysporum which causes basal rot in onions, and at the same time respond well with arbuscular mycorrhizal fungi, which is beneficial to onions. This improved interaction would aid in nutrient uptake of onions, thus decreasing the amount of fertilizer needed. The beneficial fungi also have the potential to increase disease resistance and drought tolerance.
This research funded by the United Kingdom's Department for Environment, Food, and Rural Affairs (Defra) will contribute significantly to global food security, especially in areas experiencing high temperature because basal rot fungi is more active in those areas.
A Defra spokesperson said that "this important research shows how farmers can farm smarter – producing crops that are naturally resistant to rot and disease can help them reduce the amount of fertilizer and pesticides they need in our changing climate."
Read the news release at http://www2.warwick.ac.uk/newsandevents/pressreleases/research_helps_breeders.
[ Send to a Friend | Rate this Article ]
---
The European Food Safety Authority (EFSA) has released a scientific opinion on the Guidance on the post-marketing environmental monitoring (PMEM) of genetically modified plants (GMPs). A holistic and integrative approach for monitoring GMPs in the EU is proposed within a general environmental protection monitoring framework. This scientific opinion repeals the former 2006 scientific opinion of the EFSA GMO Panel on PMEM of GMPs.
The document:
explains the scientific rationale for PMEM, including the concept of developing management and monitoring strategies based on the overall conclusions and assumptions of the Environmental Risk Assessment;
provides examples and guidance to applicants on how to develop and implement their plans for Case-Specific Monitoring (CSM), taking into account the case-by-case character of CSM; and
provides guidance to applicants on the strategy, methodology and reporting of General Surveillance (GS).
Download http://www.efsa.europa.eu/en/efsajournal/doc/2316.pdf for the full details.