News
Global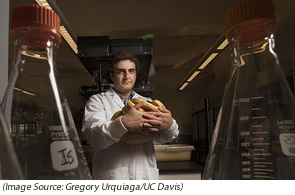 Researchers at the University of California Davis and Wageningen UR have unravelled the DNA of Pseudocercospora fijiensis, the fungus that causes black Sigatoka disease in bananas globally.
The Sigatoka complex's three fungal diseases — yellow Sigatoka (P. musae), eumusae leaf spot (P. eumusae) and black Sigatoka (P. figiensis) — emerged as destructive pathogens in the last century. Eumusae leaf spot and black Sigatoka are now the most devastating, with black Sigatoka posing the greatest constraint to banana production worldwide. Farmers need to apply fungicide at least 50 times per year to control the disease.
UC Davis plant pathologist Ioannis Stergiopoulos and colleagues sequenced the genomes of eumusae leaf spot and black Sigatoka, and compared their findings with the previously sequenced yellow Sigatoka genome sequence. They discovered that Sigatoka Complex has become lethal to banana plants not just by shutting down the plant's immune system, but also by adapting the metabolism of the fungi to match that of the host plants. As a result, the attacking fungi can produce enzymes that break down the plant's cell walls, allowing the fungi to feed on the plant's sugars and other carbohydrates.
For more details, read the news release at the UC Davis website.
Africa
Biotechnology students from different Egyptian universities started a group last year called BioTeam to share knowledge about biotechnology through a series of talks called Egyptian Biotechnology Era Seminars (EBES). On July 30, 2016, they organized an event at Cairo University's Faculty of Medicine, attended by more than 200 students. Three presentations were given during the event: Innovative Ideas not yet Invented presented by Dr. Tahsin Shoala, Misr University for Science and Technology (MUST); Biotechnology Applications in Stem Cells by Prof. Nagwa El-Badri, Founding Chair Biomedical Sciences Program Director, Zewail City of Science and Technology; and Introduction to Bioinformatics: Understanding Secrets of Life by Dr. Sameh El-Sayed Ibrahim, Researcher at AGERI and Assist. Prof. at Faculty of Biotechnology, Misr University for Science and Technology (MUST).
Other topics about biotechnology were covered in discussions led by Prof. Abdel Rahman Zekri, Head of Virology and Immunology Unit Cancer Biology, Department of National Cancer Institute, Cairo University, and Prof. Naglaa Abdallah, Coordinator for BSc Biotechnology Program at Faculty of Agriculture, Cairo University and Director of Egypt Biotechnology Information Center (EBIC).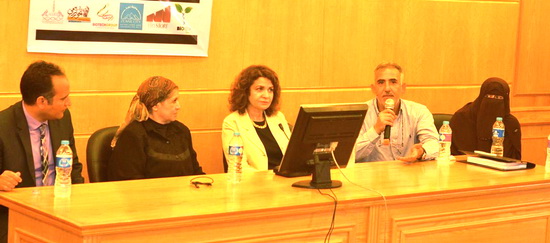 For more information, visit the BioTeam FB page or contact Prof. Naglaa Abdallah at naglaa.abdallah@agr.cu.edu.eg.
Americas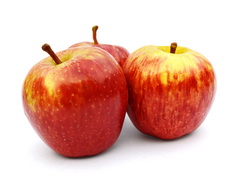 The U.S. Department of Agriculture's (USDA) Animal and Plant Health Inspection Service (APHIS) has announced to the public the final version of Okanagan Specialty Fruits Inc.'s (OSF) petition seeking regulatory approval for Arctic® Fuji apples, a genetically engineered (GE) nonbrowning variety. APHIS has previously reviewed and deregulated this trait in other apples.
In the August 10, 2016 announcement, USDA APHIS stated that they have reached a preliminary decision to extend their determination of nonregulated status to OSF's nonbrowning Arctic® Fuji variety. In addition to publishing OSF's petition, APHIS has also shared their preliminary finding of no significant impact, and preliminary extended determination and plant pest risk assessment.
The documents are available for public review and comment for 30 days, from August 12, 2016 - September 12, 2016, on the APHIS public comment portal. For other details, read the news release at the OSF website.
Asia and the Pacific
In an event organized by the Pakistan Biotechnology Information Center (PABIC), the Federal Minister for National Food Security and Research Sikandar Hayat Khan Bosan said that Pakistan has taken a number of bold steps regarding biotechnology in spite of many challenges.
The two-day event entitled Capacity Building Sessions with the Biosafety Regulators, was organized in collaboration with Pakistan's Department of Agriculture, U.S. Foreign Agricultural Service in Islamabad, Pakistan, and the Pakistan Agriculture Research Council (PARC) and held at the Serena Hotel in Islamabad, Pakistan on August 11-12, 2016. Biotechnology experts and regulators from other countries, including the Philippines, Malaysia, and Austria participated in the event.
The Minister also led the launch of ISAAA Brief 51, 20th Anniversary (1996 to 2015) of the Global Commercialization of Biotech Crops and Biotech Crop Highlights in 2015. The Minister added that 20 years of commercialization showed that the crop biotechnology had enormous prospects, as the technology had far-reaching economic, environmental, social and health benefits. He said that the challenges faced by the country, including energy crisis, food security, rapid urbanization, and climate change can only be covered by the adoption of modern agri-biotech applications.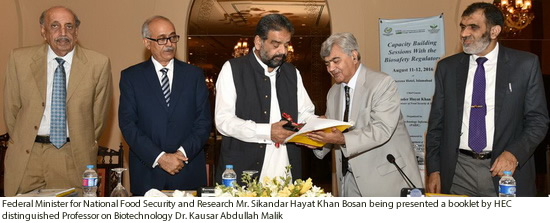 For biotech updates in Pakistan, visit the PABIC website.

[ Send to a Friend | Rate this Article ]
---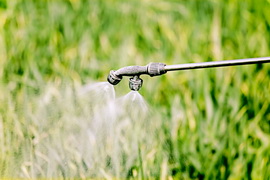 The Environmental Protection Authority (EPA) of New Zealand released the results of their Review of Evidence Relating to Glyphosate and Carcinogenicity. According to the report, "glyphosate is unlikely to be genotoxic or carcinogenic to humans and does not require classification under HSNO as a carcinogen or mutagen." The results are based on the weight of available evidences, taking into consideration the quality and reliability of available data.
In 1993, the U.S. EPA classified glyphosate as Group E carcinogen, which is defined as having "evidence of non-carcinogenicity for humans". Then in 2015, the International Agency for Research on Cancer (IARC) classified the herbicide as Group 2A (probably carcinogenic to humans), which was based on lack of evidence from human data but sufficient evidence in animal-experiments. The latest report of New Zealand EPA used more recent studies and reviews on glyphosate.
Read the report from NZ EPA.
Europe
Scientists at Scotland's Rural College (SRUC), the University of Edinburgh's Institute of Evolutionary Biology and Edinburgh Genomics facility, and Rothamsted Research have sequenced and explored the genome of Ramularia collo-cygni, the pathogenic fungus causing Ramularia leaf spot in barley.
R. collo-cygni lives between the cells of barley plants without causing symptoms for many weeks. It becomes aggressive and secretes toxins when conditions change inside the plant. The mechanism behind this has been unknown, but the new study identified a large number of genes involved in secreting potentially toxic chemicals and proteins.
The genome also supports current ideas about how the fungus evolved. The scientists confirmed the classification of the fungus within the same group as other plant pathogens, and as a close relative of Zymoseptoria tritici, the cause of Septoria tritici (leaf) blotch in wheat. They found common genes thought to play a role in concealing the fungus from the plant's immune system.
For more details, read the news release at Rothamsted Research website.
Research
Astaxanthin is a ketocarotenoid commonly found in crustaceans and is used as a dietary supplement for humans. Gemma Farre of the University of Lleida-Agrotecnio Center in Spain, led a team of researchers from various institutions in Europe in developing a transgenic maize capable of producing this high value carotenoid in its kernels.
The team introduced a β-carotene hydroxylase and a β-carotene ketolase into a white maize genetic background to extend the carotenoid pathway, with astaxanthin as the desired end product. The team then overexpressed phytoene synthase, the controlling enzyme of carotenogenesis, to enhance carotenoid production. On the other hand, lycopene ε-cyclase was knocked-down to direct precursors into the extended carotenoid pathway.
The developed astaxanthin transgenic line was then crossed with a high oil-maize genotype. This was done to develop an astaxanthin-producing line with increased storage capacity for astaxanthin.
For more on this study, read the article in Transgenic Research.
[ Send to a Friend | Rate this Article ]
---
The lack of Isoamylase 1 (Isa1) activity in rice, maize, and barley affects starch composition in their endosperm. Francesco Sestili of the University of Tuscia in Italy and colleagues investigated the effect of this deficiency in durum wheat.
Researchers knocked-down Isa1 in durum wheat using RNA interference. The generated transgenic endosperms were then analyzed. The polysaccharide content of the endosperms was different from the wild type in several ways. There was a reduction in the starch content as well as a moderate enhancement of both phytoglycogen and β-glucan. Alterations were also found in the distribution of amylopectin chain length and amylopectin fine structure. The amylopectin present in the transgenic endosperms was also found to be readily hydrolyzable after treatment with hydrochloric acid.
The results of this study suggest that Isoamylase 1 plays a role in the synthesis and the determination of internal structure of amylopectin in durum wheat.
For more information, read the article in Plant Science.
New Breeding Technologies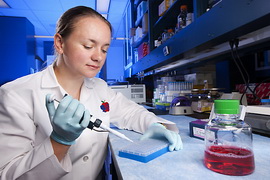 Site-directed mutagenesis (SDM) is used to study the resulting translation product for functional characterization. Meanwhile, homologous recombination (HR) is a process where homologous DNA fragments exchanges nucleotides to repair DNA breaks. This mechanism was eventually used to modify plasmids and is now called recombineering.
The research team led by Ashutosh Trehan from the University of Turku in Finland presents a single-step method, called REPLACR-mutagenesis (Recombineering of Ends of linearised PLAsmids after PCR), for generating site-directed modifications in plasmids by in vivo recombineering. REPLACR-mutagenesis only involves inserting PCR products into bacteria expressing recombineering proteins.
In REPLACR mutagenesis, primers with the desired mutation are designed to target a specific region in the original vector. A linear PCR product with both ends containing similar sequences is then generated. Bacteria expressing the recombineering proteins are transformed with the PCR product and recombination takes place inside the bacteria, yielding a circular plasmid containing the desired mutation.
For more on this promising technology, read the full article in Nature.
Beyond Crop Biotech
Plant MYB transcription factors control various processes, such as differentiation, development and abiotic stress responses. Northeast Forestry University researchers, led by Huiyan Guo, studied BplMYB46, an MYB gene from birch (Betula platyphylla). The team evaluated transgenic birch plants which were either overexpressing BplMYB46 or had a silenced BplMYB46, to study the gene's specific role.
Analysis suggests that BplMYB46 can improve salt and osmotic tolerance by affecting the expression of SOD, POD and P5CS genes to increase reactive oxygen species scavenging. It is also involved in controlling stomatal aperture to reduce water loss. Overexpression of BplMYB46 also increased lignin deposition, secondary cell wall thickness and the expression of genes in secondary cell wall formation.
Further analysis revealed that the BplMYB46 protein binds to MYBCORE and AC-box motifs and directly activates the expression of genes with promoters that contain these motifs, such as those involved in abiotic stress responses and secondary cell wall synthesis.
For more information on this study, read the full article in Plant Biotechnology Journal.
[ Send to a Friend | Rate this Article ]
---
An international team of researchers led by Prof. Gary Blissard of the Boyce Thompson Institute and Prof. Michael Kanost of Kansas State University, has sequenced the genome of the tobacco hornworm, a caterpillar species used in many research laboratories for studies of insect biology.
The tobacco hornworm, or Manduca sexta, develops into the Carolina sphinx moth. The name Manduca comes from the Latin word for glutton because these caterpillars eat so much. M. sexta occurs naturally in North, Central and South America and is a known pest to gardeners because it eats the leaves of tomato plants and also can be found on pepper, eggplant, and potato plants. The sequenced genome can lead to improved molecular biology, physiology, and neurobiology research in insects and also may help in developing future new methods for insect pest management.
The scientists have made the genome sequence available to the public through the National Agricultural Library and the National Center for Biotechnology Information (NCBI).
For more details, read the news releases at Boyce Thompson Institute and Kansas state University websites.
Document Reminders
ISAAA releases the revised series Biotech Country Facts and Trends. The first set in the series features the top five developing biotech countries of Brazil, Argentina, India, China, and Paraguay. Biotech Country Facts and Trends are concise summaries highlighting the commercialization of biotech crops in specific countries.
Data on biotech crop commercialization (hectarage and adoption), approvals and planting, benefits and future prospects for each country are presented in a brief and easily understandable manner. The contents are based on ISAAA Brief 51, 20th Anniversary (1996 to 2015) of the Global Commercialization of Biotech Crops and Biotech Crop Highlights in 2015, authored by Clive James, Founder and Emeritus Chair of ISAAA.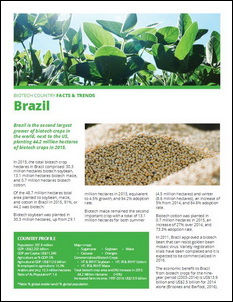 The Biotech Country Facts and Trends are available for download at http://www.isaaa.org/resources/publications/biotech_country_facts_and_trends/
---
Are GMOs seeds of destruction? Dr. Mahaletchumy Arujanan, Executive Director of the Malaysian Biotechnology Information Centre (MABIC) answers this question during a TEDx event in Universiti Putra Malaysia (UPM).
Dr. Arujanan is an award-winning scientist and science communicator. She was hailed as one of the most influential people in biotechnology by Scientific American's Worldview 2015. She was also featured in Mary Ann Liebert's Biotechnology Law Report 2015 as one of the key women with significant contributions in biotechnology law and regulation. In 2010, Dr. Arujanan won the 2010 Third World Academy of Science Regional Prize for Public Understanding of Science for East, Southeast Asia and Pacific Region. Dr. Arujanan also serves as the Editor-in-Chief of The Petri Dish, the first science newspaper in Malaysia.
Watch Dr. Arujanan's talk now!
---
The world seed treatment market is expected to generate a revenue of about US$7.8 billion by 2021, increasing at a prominent compound annual growth rate of 8.3 percent from 2015 to 2021. This projection is according to the latest release of Acute Market Reports on World Seed Treatment Market - Opportunities and Forecasts, 2014 – 2021.
Through the years, seed treatment has emerged as a cost-effective crop protection solution as compared to traditional spraying because it is more efficient and less labor intensive. Seed treatment involves coating of the seeds with treating agent, thus, low amount of active ingredients is needed for protection against diseases and pests. Increasing prices of GM seeds have led to the emergence of crop protection to reduce the risk on investment.
For more details, visit the Acute Market Reports website.
From The BICs
The 7th Annual International Arab Workshop on Biotechnology: Plant Biotechnology & Biodiversity was held on August 1-2, 2106 at Amman, Jordan. The workshop was organized by the Egyptian Academy of Science Research and Technology, Egypt (ASRT), the National Center for Research and Development, the Higher Council for Science and Technology in Jordan and Arab Biotechnology Association, and the Federation of Arab Scientific Research Councils (FASRC). More than 70 participants attended the workshop from different Arab countries including Egypt, Sudan, Kuwait, Tunisia, and Jordan.
At the opening ceremony, Prof. Mahmoud Sakr, President of Academy of Science Research and Technology, Egypt (ASRT) talked about the importance of the Arab collaboration in the scientific fields, especially in the field of biotechnology. He also added that Egypt started a national project for documentation of plant resources using DNA barcoding techniques. Prof. Mubarek Al-Magzoub of FASRC, Sudan emphasized that the Federation is dedicated to coordinate efforts and exchange of scientific information among nations. The workshop included 40 presentations, in addition to the posters.
The two-day workshop covered the following topics: conservation of plant genetic resources and genetic diversity, phenotyping, genotyping for genomics applications, plant cell and tissue culture, plant transformation and biotechnology of medicinal plants. Prof. Naglaa Abdallah, Director of EBIC gave a presentation entitled Next- generation genome engineering: Geminivirus as vectors for precise plant genome engineering. She also presented the global status of biotech crops in 2015 and the use of CRISPR as one of the new breeding techniques. "Targeted genome editing is one of the new breeding techniques (NBT) that has the potential to accelerate genome modification in a precise and predictable manner...CRISPR has many advantages in terms of price, regulation, speed, accuracy, specificity, and simplicity. In addition, it could function in all domains of life and could be used in genetic therapy and personalized medicine," said Dr. Abdallah.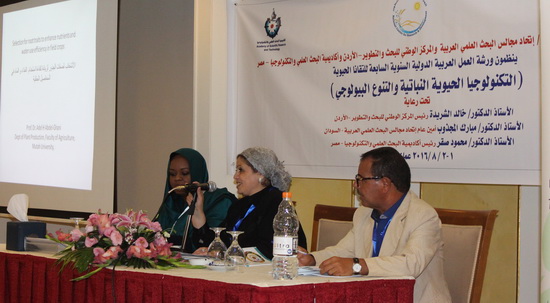 For more information, contact Prof. Naglaa Abdallah at Naglaa.abdallah@agr.cu.edu.eg.