News
Global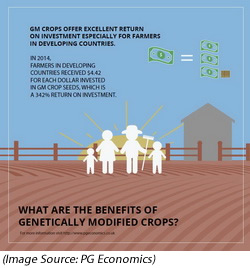 Crop biotechnology has consistently provided important economic and production gains, improves incomes and reduced risk," according to PG Economics report titled GM Crops: Global Socio-economic and Environmental Impacts 1996- 2014 authored by Graham Brookes and Peter Barfoot.
"Where farmers have been given the choice of growing GM crops, the economic benefits realized are clear and amounted to an average of over $100/hectare in 2014" said Graham Brookes, who is also the Director of PG Economics. "Two-thirds of these benefits derive from higher yields and extra production, with farmers in developing countries seeing the highest gains. The environment is also benefiting as farmers increasingly adopt conservation tillage practices, build their weed management practices around more benign herbicides and replace insecticide use with insect resistant GM crops," he added.
The highlights of the report include the following:
GM crops enabled the farmers to grow more without using additional land. Without biotechnology, farmers would have needed 20.7 million hectares or more to get the same yield.
Biotechnology helped farmers produce more yields. Because of crop biotechnology, 321.8M tons of corn, 24.7M tons of cotton and 158.4M tons of soybeans were added in the global production.
GM crops planting practices helped reduce tilling and greenhouse gas emissions equivalent to removing 10 million cars off the road in 2014.
For more details, download a copy of the report from
PG Economics
.
Africa
Potato farmers from the South Western region of Uganda have asked their local leaders to support the passage of the National Biosafety Bill. The farmers also pledged to petition their Members of Parliament (MPs) to urgently re-table and discuss the National Biotechnology and Bisoafety Bill 2012. The Bill provides for regulation to make sure that there is safe development and use of biotechnology products, including genetically modified (GM) crops such as late blight resistant potato. South Western region grows 60% of potato in Uganda and houses potato processing industries which need constant supply of potatoes. However, the effects of late blight disease constrain potato supply to the industries, threaten incomes and livelihoods.
According to Dr. Andrew Kiggundu, a biotechnology scientist from the National Agricultural Research Organisation (NARO), the disease can cause up to 60% farm yield loss and Uganda losses about USD 128 million due to late blight. Farmers also decried the high costs of spraying the potatoes against late blight disease and urged researchers to develop varieties that require less spraying.
The farmers made the appeal to their leaders during a sensitization meeting on agricultural biotechnology and a tour of confined fields of GM late blight resistant potato, held on May 21, 2016 at Kachwekano Zonal Agricultural Research and Development Institute (KaZARDI). The meeting was organized by Program for Biosafety Systems (PBS) in collaboration with Uganda Biosciences Information Center (UBIC) and KaZARDI. Meeting participants included: potato farmers, processors, District Production Officers, District Agricultural Officers, local government officials, representatives of the area Members of Parliament, officials from International Fertilizer Development Corporation (IFDC), Uganda Industrial Research Institute (UIRI), media representatives, and researchers from NARO.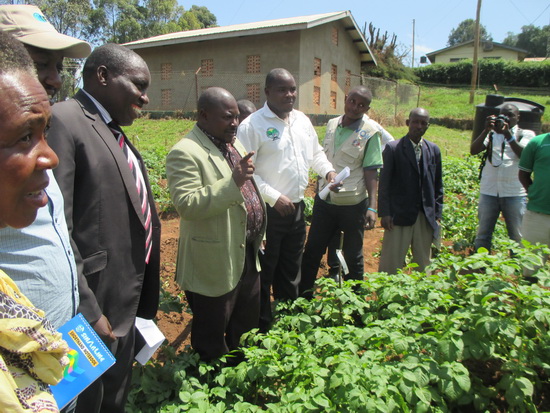 Mr. Patrick Besigye Keihwa, the Chief Guest and LC V Chairman of Kabale district lauded the researchers and cautioned: "If the road to the granary closes, people will die. There are many challenges with our crops and our only hope is in the scientists". Mr. Keihwa urged farmers to change their mindset and be committed to support initiatives aimed at sensitizing farmers and local leaders to address agricultural challenges including relevant products from modern biotechnology.
For more information, send email to ubic.nacrri@gmail.com or visit www.ugandabic.org.
[ Send to a Friend | Rate this Article ]
---
Members of the Parliament (MPs) in Kenya expressed their disapproval of the EU bill urging the Group of 8 (G8) member states not to support biotech crops in Africa. The drafted EU bill was authored and sponsored by the Committee on Development.
"This is very mischievous and it looks like it is intended to make Africa remain in subsistence farming," said MP John Serut from the agriculture committee. Kenyan MPs and biotechnology experts stressed that when the bill is enacted into a law, most Africa based research and development for GM crops will be halted.
"Instead of the EU group simply not funding the research in Africa, they are enacting a law that persuades others to withdraw funding for local development of GM crops. Apart from the United States, many countries across the globe have increased acreage under their GM crops," said Joel Ochieng, Secretary General of Kenya University Biotechnology Consortium. Thus, Ochieng asked for support from the Kenyan policy makers to submit a formal protest letter to the EU Parliament.
Read more from iEthiopia and The Star.
Americas
A team of researchers from the School of Science at Indiana University-Purdue University Indianapolis led by Lixin Wang has identified critical information about the environmental variables and agronomic factors that determine the vulnerability of maize and wheat production to drought.
The researchers collected data from peer-reviewed publications dated between 1980 and 2015 that examined maize and wheat yield responses to drought. The meta-analysis of all available data shows that maize and wheat have a significantly different yield response to drought.
According to the study, wheat has a lower yield reduction, 20.6%, compared to 39.3% for maize at approximately 40% water reduction. Wang said that maize tends to experience greater yield loss due to drought, partly because maize is from the wet region. The researchers also noted that wheat has lower sensitivity than maize during its vegetative and reproductive phases.
The study also found that maize is equally sensitive to drought in dryland and non-dryland regions. While no yield difference was observed among regions or in different soil texture, it was found that wheat cultivation in dryland regions is more prone to yield loss than in the non-dryland regions.
For more information, read the news release at the IUPUI Newsroom.
[ Send to a Friend | Rate this Article ]
---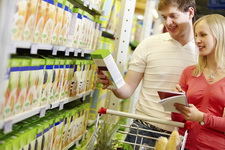 A newly published study from the University of Florida's Institute of Food and Agricultural Sciences (UF/IFAS) reports that while consumers are aware of genetically modified (GM) crops and food, their knowledge level is limited and often at odds with the facts.
Brandon McFadden, assistant professor of food and resource economics at UF/IFAS, and Jayson Lusk, agricultural economics professor at Oklahoma State University conducted the survey to better understand what consumers know about biotechnology, breeding techniques, and label preferences for GM foods. Using an online survey with more than 1,004 participants, they asked questions to measure consumers' knowledge of GM food and organisms. Some questions tried to determine objective knowledge of GM organisms, while others aimed to find out consumers' beliefs about GM foods and crops.
From those sampled, 84 percent supported a mandatory label for food containing GM ingredients, but 80 percent also supported a mandatory label for food containing DNA, which would result in labeling almost all food. "Our research indicates that the term 'GM' may imply to consumers that genetic modification alters the genetic structure of an organism, while other breeding techniques do not," McFadden said.
For more information, read the news release at IFA/IFAS News.
Asia and the Pacific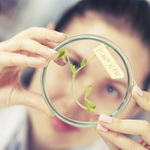 The Agricultural Biotechnology Council of Australia (ABCA) has released a statement of principles on the regulatory oversight of new breeding techniques (NBTs), recognizing their importance in plant and animal breeding. ABCA considers new breeding techniques as innovative improvements and refinements of traditional plant and animal breeding methods. The statement notes that using NBTs can enable breeders to create the same, desired genetic variation with greater precision and efficiency than previous breeding methods.
According to the statement, regulatory oversight of products developed through NBTs, if needed, should be based on sound scientific principles and proportionate to risk. Consistent regulatory oversight of products developed using NBTs would facilitate innovation and allow the uptake of advanced, innovative breeding applications by both private and public sector breeders.
The statement also emphasized that lack of clarity in regulatory oversight of products developed using NBTs hinders innovation and the economic benefits to Australian agriculture.
Read the statement at the ABCA website.
Europe
Scientists at the John Innes Centre (JIC) have discovered an important component in the process of nitrogen fixation in plants. The scientists have identified the protein that facilitates the movement of calcium in plant cells. This movement of calcium signals to the plant that nitrogen-fixing bacteria are close-by and triggers the development of nodules on its roots to house these bacteria.
The calcium movement takes place in the central nucleus of plant cells. The JIC research team led by Dr. Myriam Charpentier and Professor Giles Oldroyd discovered a set of critically important proteins, called cyclic nucleotide gated channel 15s (CNGC15s), which are essential for the movement of calcium into the nucleus. They found that the CNGC15s facilitate the calcium movement into the nucleus, allowing the plant to transfer the information that the nitrogen-fixing soil bacteria are nearby. This enables the plant to initiate the cellular and developmental processes that facilitate bacterial accommodation, allowing establishment of the nitrogen-fixing symbiosis, and thus, nitrogen fixation. Although this calcium movement is limited to the nuclei of plant cells, it has a large impact on how the whole plant will grow.
More details about this research available at the JIC website.
Research
Scientists from University of Ankara, Turkey and partners developed plant expression constructs with cry1Ac gene under the wound-inducible promoter AoPR1 to concentrate Bt gene expression in insect wounding parts of the plants. Four cotton cultivars were transformed through Agrobacterium tumefaciens using the plant expression constructs.
The researchers analyzed the primary transformants for transgene presence and expression standard molecular techniques. The transformants showed significant mortality rates against larvae of Spodoptera exigua and S. littoralis. Results also showed that mechanical wounding of T1 transgenic plants was effective in inducing expression of cry1Ac protein as levels of the protein increased during post-wounding period. Thus it was concluded that use of wound-inducible promoter to drive insecticidal genes is an important insect-resistant management strategy because the promoter activity is focused on the insect biting sites of the plant.
Read the abstract in Plant Biotechnology Reports.
[ Send to a Friend | Rate this Article ]
---
The rice gene OsSRT1 is closely related to the human SIRT6 gene, which plays key roles in genome stability and metabolic homeostasis. Researchers from Huazhong Agricultural University in China, led by Hua Zhang, investigated the role of OsSRT1 in rice seed development.
Down-regulation of OsSRT1 induced expression of Rice Starch Regulator1 (RSR1) and amylases genes in developing seeds. This resulted in a decrease of starch synthesis and an increase of starch degradation, leading to abnormal seed development. Further analysis revealed that OsSRT1 was required to reduce histone H3K9 acetylation on starch metabolism genes as well as transposons in developing seeds. Moreover, OsSRT1 was found to directly bind to starch metabolism.
Results showed that OsSRT1-mediated histone deacetylation is involved in starch accumulation and transposon repression to regulate normal seed development.
For more on the study, read the article in Plant Science.
Beyond Crop Biotech
Scientists are now working on a technology to delay wilting of roses, carnations, and petunias. This new technology involves temporary modification of specific plant genes through spraying of genetic molecules called RNA or feeding the molecules to their roots. The development of the technology started two years ago when Monsanto scientists used RNAi to hinder the ability of cut flowers to produce ethylene. The company is currently applying for patent for the technology and developing another gene spray to kill pests.
Read more from MIT Technology Review.
[ Send to a Friend | Rate this Article ]
---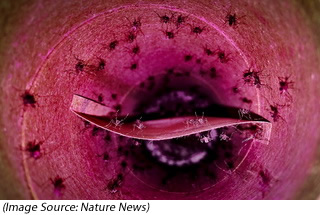 The US Environmental Protection Agency (EPA) is reviewing an application from MosquitoMate to use the bacterium Wolbachia pipientis as a pesticide against the Asian tiger mosquito (Aedes albopictus).
MosquitoMate plans to rear mosquitoes infected with a particular strain of Wolbachia and releasing the males into the environment. When these male mosquitoes mate with wild females who do not carry the same strain of Wolbachia, the resulting fertilized eggs don't hatch, because the paternal chromosomes do not form properly. As infected male mosquitoes continue to be released to breed with wild partners, the pest population dwindles.
MosquitoMate is also using Wolbachia to target the mosquito Aedes aegypti, thought to be the main vector for Zika. The firm began field trials this month of infected A. aegypti mosquitoes in Clovis, California, and has applied to conduct similar tests in Florida and in Orange County, California.
More information available in Nature News.
Announcements
What: 4th International Conference on Biotechnology Engineering (ICBioE'16)
Where: Kuala Lumpur, Malaysia
When: July 25-27, 2016
For more details, visit the conference website.
[ Send to a Friend | Rate this Article ]
---
What: BIO Latin America Conference
When: October 26-28, 2016
Where: Sao Paulo, Brazil
Visit the conference website for more details.
Document Reminders
The updated version of ISAAA Pocket K No. 16 based on 20th Anniversary (1996 to 2015) of the Global Commercialization of Biotech Crops and Biotech Crop Highlights in 2015 authored by Dr. Clive James is now available for download at http://isaaa.org/resources/publications/pocketk/16/default.asp.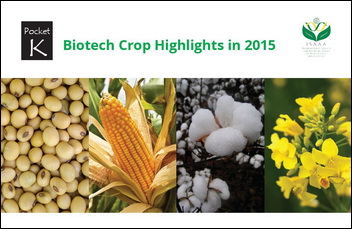 Pocket Ks are Pockets of Knowledge, packaged information about crop biotechnology products and related issues. It is developed by the Global Knowledge Center on Crop Biotechnology to deliver key agri-biotech information in easy-to-understand style and downloadable as PDF for easy sharing and distribution. The new format is optimized for mobile reading using smart phones and tablets.
From The BICs
A workshop was held on May 10-11, 2016 in Jordan to discus how Jordan could benefit from biotechnology and biosafety to enhance agriculture innovation. The workshop was attended by Her Royal Highness Princess Basma bint Ali, Founder of Botanic Garden of Jordan, local scientists and regulators including members of the Parliament from Agricultural committee, National Center for Agricultural Research and Extension (NCARE), Jordan Food & Drug Administration (JFDA), Jordan Institution for Standards and Metrology (JISM), Jordan University of Science & Technology (JUST), and members of the Ministry of Environment. The workshop was organized by Jordanian National Center for Agricultural Research and Extension, Program for Biosafety Systems (PBS) of the International Food Policy Research Institute and U.S. Department of Agriculture/Foreign Agriculture Service.
The workshop was carried out to take stock of global developments regarding agricultural biotechnology and biosafety, to review biotechnology and biosafety status in Jordan and to analyze, and map out the way forward for R&D in agricultural biotechnology and biosafety capacity development. It included two main parts Biotechnology and Biosafety Background and General Information Session and how Jordan could benefit from Biotechnology (the Way Forward). In the opening, Prof. Fawzi AL-Sheyab – NCARE, talked about the situation of biotechnology in Jordan and the importance of implementing new technology for improving agricultural productivity and farmer incomes. He also added that there should be balance between benefits and possible risks from GM crops, therefore biosafety and risk assessment should be applied.
Lindsay Malecha of USDA, USA, talked about the quick adoption of biotech crops by farmers and the importance of communication to deliver the right facts to consumers and decision makers to make informed decision that will benefit their country. In his speech, John Komen – PBS Regional Coordinator, gave an overview about the Program for Biosafety Systems (PBS) and how it supports partner countries in Africa and Asia in the responsible development and use of biotechnology. He also revealed that PBS comprises diverse team with regulatory expertise, legal aspects, socio-economic impact, communications/outreach and it works with countries interested in using biotechnology to enhance agricultural innovation. Biosafety is an international obligation based on assessment and management of environmental & health risks.
Professor Naglaa Abdallah, Director of EBIC & Head Department of Genetics, Cairo University presented the highlights of the annual report detailing the adoption of biotech crops, "20th Anniversary of the Global Commercialization of Biotech Crops (1996-2015) and Biotech Crop Highlights in 2015." She emphasized the status of GM crop research and regulation in Egypt as well as discussed the comparative advantages of CRISPR, as a new powerful genome editing technology, over conventional and GM crops. She added that CRISPR techniques is precision, speed, low cost and required less regulation and could increase crop productivity in a "sustainable intensification" mode on the 1.5 billion hectares of global arable land, and make a vital contribution to global food security.
Jose Falck-Zepeda (PBS) gave a presentation on Socio-economic Impacts of Biotechnology. In his presentation he revealed that systematic formal meta-analysis measuring the performance of GE crops have consistently shown reductions in yield damage from insects, reduced pesticide applications for target pests, decrease in management time and flexibility, and positive gross (in some cases net) margins from the adoption of such crops. While Dr. Laith N. AL-Eitan, Jordan University of Science & Technology (JUST), covered the Biosafety Status in Jordan in his presentation.
Rashmi Nair (PBS) provided two lectures on implementing issues in the marketplace, including co-existence, segregation, traceability and labeling, as well as GMO safety assessment, covering the environmental risk assessment, feed and food safety assessments. Pilar Rickert (PBS) gave an overview of PBS experience on Communication Strategies for Biotechnology and Biosafety.
During the final discussion, HRH Princess Basma made final remarks on the workshop that Jordan will use suitable technology for the benefit of their economy and to make the world a better place for their children. She added that any decision they take will be in transparency, will engage the public, and will follow the safety regulations to insure better health for the future.
For more details, contact Naglaa Abdallah at naglaa_a@hotmail.com.