Scientists Discover Protein which Boosts Rice Yield by 50 Percent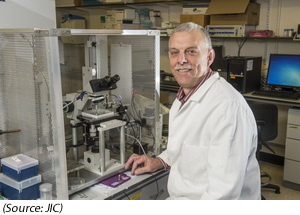 Together with researchers from Nanjing Agricultural University in China, Dr. Tony Miller from the John Innes Centre (JIC) has developed rice crops with an improved ability to manage their own pH levels, enabling them to take up significantly more nitrogen, iron, and phosphorous from soil and increase yield by up to 54 percent.
CropLife Australia releases the report Adoption and Impact of Genetically Modified (GM) Crops in Australia: 20 Years' Experience written by Graham Brookes of PG Economics. The report provides insights into the reasons why many farmers in Australia have adopted crop biotechnology and continue to use it in their production systems since the technology first became commercially available. It draws on the key findings relating to the global impact of biotech crops and focuses on the farm level economic impacts and the environmental effects associated with pesticide use and greenhouse gas (GHG) emissions.
Researchers Crack Genome that May Lead to Development of Allergen-free Peanuts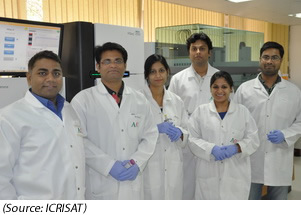 A team of international researchers, including scientists from the International Crops Research Institute for the Semi-Arid Tropics (ICRISAT) decoded the genome of the ancestor of peanut, the diploid A-genome (Arachis duranensis). This breakthrough opens the doors towards developing allergen-free, aflatoxin-free, and nutrition-rich varieties.
The findings, published in Proceedings of the National Academy of Sciences (PNAS), include the draft genome of the groundnut A-genome progenitor containing 50,324 protein-coding gene models. Analysis of the complete DNA sequencing suggests that the peanut lineage was affected by at least three sets of chromosomes since the origin of flowering plants. The findings also provide millions of structural variations that can be used as genetic markers for the development of peanut varieties with improved traits such as increased pod and oil yield, drought and heat tolerance and greater disease resistance through genomics-assisted breeding.
"This study has not just provided the full genome sequence to help plant breeders across the globe to develop more productive and more resilient groundnut varieties in a faster manner, but also provides us an insight to geocarpy, a reproductive process where the flowers grown on the stem go inside the soil and pod formations occur," said Dr. Rajeev Varshney, Co-Coordinator of Genome Sequencing Project and Research Program Director, Genetic Gains program at ICRISAT.
Read the news article from ICRISAT. Read the research article in PNAS.
Biologist Finds Way for New Approaches to Fight Plant Disease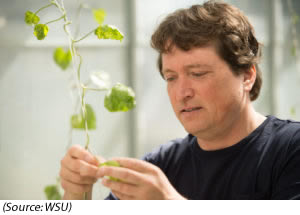 Washington State University (WSU) biologist Michael Knoblauch has found what he calls a very strong support for an 86 year-old hypothesis about how nutrients move through plants. According to Knoblauch, 90 percent of the food we consume at one time went through a plant's phloem, where they are produced by photosynthesis, to roots and fruits. But scientists know so little about how this works.

A biweekly update on gene editing research, regulations, and impact
produced by ISAAA Inc.

A monthly update on gene drive research and development provided by ISAAA in collaboration with the Outreach Network for Gene Drive Research
Biotech Updates is a weekly newsletter of ISAAA, a not-for-profit organization. It is distributed for free to over 22,000 subscribers worldwide to inform them about the key developments in biosciences, especially in biotechnology. Your support will help us in our mission to feed the world with knowledge. You can help by donating as little as $10.