News
Global
Considerable economic and environmental benefits to the farmers and citizens of countries where crop biotechnology is used continue to rise, says the seventh annual report on crop biotech impacts released by PG Economics in the United Kingdom.
"The environment in user countries is benefiting from farmers using more benign herbicides or replacing insecticide use with insect resistant GM crops. The reduction in pesticide spraying and the switch to no till cropping systems is also resulting in reduced greenhouse gas emissions. The majority of these benefits are found in developing countries," says Graham Brookes, director of PG Economics and co-author of the report.
Some of the key highlights of the report GM crops: Global socio-economic and environmental impacts 1996-2010 include:
The net economic benefit at the farm level in 2010 was $14 billion, equal to an average increase in income of $100/hectare. For the 15 year period (1996-2010), the global farm income gain has been $78.4 billion;
The insect resistant (IR) technology used in cotton and corn has consistently delivered the highest increase in farm income, especially in developing countries (notably cotton in India and China);
Of the total farm income benefit, 60% ($46.8 billion) was due to yield gains resulting from lower pest and weed pressure and improved genetics, with the balance arising from reductions in the cost of production.
A majority (55%) of the 2010 farm income gains went to farmers in developing countries, 90% of which are resource poor and small farms;
The cost farmers paid for accessing crop biotechnology in 2010 was equal to 28% of the total technology gains (a total of $19.3 billion inclusive of farm income gains ($14 billion) plus cost of the technology payable to the seed supply chain ($5.3billion);
For farmers in developing countries the total cost of accessing the technology in 2010 was equal to 17% of total technology gains, whilst for farmers in developed countries the cost was 37% of the total technology gains.
View the report at http://www.pgeconomics.co.uk/page/33/global-impact-2012.
[ Send to a Friend | Rate this Article ]
---
Partnerships, broader consultation in the formulation, and implementation of country-led development processes, and long term commitments must be made and maintained to address food security issues. United Nations Rome-based agencies thus welcome G8 commitment to keeping food security high on the global agenda. This was the consensus of Food and Agriculture Organization (FAO) Director General Jose Graziano da Silva, International Fund for Agricultural Development (IFAD) President Kanayo Nwanze, and World Food Prize (WFP) Executive Director Ertharin Cousin.
"Agriculture is a powerful tool for reducing poverty and hunger. Events of recent years - such as food price increases, droughts, growing climate change impacts and other emergencies - have put agriculture high on the international agenda. We should be clear that agriculture is the solution. Economic growth generated by agriculture is more than twice as effective in reducing poverty as growth in other sectors. Agricultural development is also an effective means of assisting developing countries in building capacity and infrastructure as well as introducing innovation and technology," the three leaders said in a joint statement.
In addition, the joint statement noted the promotion of a set of enabling tools related to markets and finance, risk and insurance, and science and technology that can address gaps and strengthen smallholders' position in the value chain.
For the full statement visit http://www.fao.org/news/story/en/item/143409/icode/.
Africa
Government leaders of eight of the world's leading economies have unveiled a new plan of action to achieving global food security. The new initiative dubbed New Alliance for Food Security and Nutrition was unveiled on May 18 at a joint meeting between the G8 leaders and African leaders at the Camp David Summit. A statement presented to the media by the US White House which has been hosting the G8 Summit, summed the goal of the initiative as "to increase responsible domestic and foreign private investments in African agriculture, take innovations that can enhance agricultural productivity to scale, and reduce the risk borne by vulnerable economies and communities."
The initiative also seeks to raise 50 million people out of poverty over the next 10 years by aligning the commitments of Africa's leadership to drive effective country plans and policies for food security. "We're going to hold ourselves accountable. We'll measure results. And we'll stay focused on clear goals: boosting farmers' incomes and over the next decade helping 50 million men, women and children lift themselves out of poverty," said President Obama in his speech during the G8 summit.
In a swift expression of support for the initiative, IFAD President Kanayo Nwanze has also lauded the move. He said "The unveiling of this initiative today sends a strong signal that the world's largest economies are ready to extend and deepen their commitments and deliver on a new level of support for eradicating hunger, and doing so in ways that are sustainable for our planet and our societies – including rural societies in developing countries."
To read more go to http://www.whitehouse.gov/the-press-office/2012/05/18/fact-sheet-g-8-action-food-security-and-nutrition or http://www.ifad.org/media/press/2012/33.htm.
[ Send to a Friend | Rate this Article ]
---
The new President of Malawi, Her Excellency Joyce Banda has endorsed the use of modern biotechnology in the country's plans to spur agricultural productivity. In her maiden "State of the Nation" speech to parliament, on 18 May 2012, she said that her government will encourage technology and innovation adaptation by promoting and supporting genetic modification in agriculture.
"With modern biotechnology, farmers will not be troubled to weed their gardens; they will not have to buy pesticides; and genetic modification will help improve soil carbon and moisture content," she noted. The President also pointed out the fact that genetically modified crops are pest resistant, require fewer chemicals and are normally drought resistant, thereby virtually guaranteeing increased yields for Malawian farmers. At the moment, Malawian scientists are involved in research on Bt cotton and are set to initiate confined field trials in September 2012.
The Government of Malawi has also put in place a functional biosafety regulatory system with a National Biosafety Regulatory Committee (NBRC) to provide oversight over the country's biotechnology sector. Malawi is also among a growing number of African countries with a Biosafety Act passed in 2002 and a functional Biotechnology and Biosafety Policy enacted in 2008.
To read president Banda's full speech, go to http://www.nyasatimes.com/malawi/2012/05/18/malawi-president-bandas-state-of-the-nation-address-in-full/ (Section on agriculture and food security).
[ Send to a Friend | Rate this Article ]
---
The African Agricultural Technology Foundation (AATF) based in Nairobi has signed a license agreement with Japan Tobacco (JT) of Japan for the use of JT's transformation technology to develop new rice varieties for use by smallholder farmers in Sub-Saharan Africa (SSA). Countries such as Burkina Faso, Nigeria, Ghana and Uganda are expected to benefit. The initiative, known as the Nitrogen Use Efficient Water Use Efficient and Salt Tolerant (NEWEST) Rice Project, seeks to address some of the major constraints that face rice production in SSA. It aims to develop and disseminate farmer-preferred and locally adapted rice varieties with enhanced nitrogen-use efficiency, water-use efficiency, and salt tolerance. JT will offer the technology free of charge to the AATF with an aim of supporting humanitarian aid projects.
"The license will enable the project to utilize our plant transformation technology for monocot species, PureIntro®, developing and deploying the nitrogen efficient, water efficient, and salt tolerant rice products, free of royalties," said Mr. Masamichi Terabatake, JT's Chief Strategy Officer.
JT's plant biotechnology is independently managed from its core businesses including tobacco and food. PureIntro® is an Agrobacterium-mediated plant transformation technology that is recognized worldwide as de facto standard for monocot transformation. The technology reduces development cost and time.
For more information, contact Nancy Muchiri at n.muchiri@aatf-africa.org.
[ Send to a Friend | Rate this Article ]
---
Media practioners from broadcast and print media agencies, together with some farmers from the Swaziland Farmers Union, participated in the educational tour of GM crop fields in Mpumalanga, South Africa. The educational tour organized by Swaziland Environmental Authority (SEA) and the University of Swaziland (UNISWA) aimed to inform the media about crop biotechnology, gave them first hand experience on how South Africa has been benefiting from the technology.
UNISWA professor Abednego Dlamini gave a lecture on the benefits of GM crops and explained the issues about biotechnology. SEA legal counsel, Constance Dlamini, informed the participants that a biosafety bill is currently being discussed in Parliament, which will eventually provide the necessary regulations for GM crops in South Africa.
Read the original article at http://www.times.co.sz/News/75675.html.
Americas
AgroSalud, a program that develops nutritious staple food crops for Latin American and Caribbean (LAC) countries, is now united with HarvestPlus, a global program that develops food crops rich in vitamins and minerals through a process called biofortification.
The integration of HarvestPlus and AgroSalud permits expansion and alignment of biofortification in LAC with HavestPlus programs in Sub-Saharan Africa and South Asia, allowing HarvestPlus to work in a "truly global" aspect.
Coordinator of BioFORT, a biofortification program based in Embrapa (Brazilian Agricultural Research Corporation) Marilia Nutti also manages the biofortification program for LAC. Nutti will focus her devotion in areas "which have some of the highest levels of vitamin and mineral deficiencies in the region". These areas are Guatemala, Haiti, Nicaragua, and Panama.
For more details about this new collaboration visit http://www.harvestplus.org/content/harvestplus-extends-reach-latin-america-caribbean.
[ Send to a Friend | Rate this Article ]
---
Evofuel Ltd., an Evogene Ltd. Subsidiary and the T6 Industrial S.A. announced their collaboration for the development of castor bean seeds, due to its potential as sustainable and cost competitive feedstock for biodiesel production.
The collaboration aims to evaluate and develop Evofuel's advanced castor beans varieties for commercial production in Argentina. According to Evofuel's General Manager Assaf Oron, the collaboration is a strategic step towards their expansion into additional markets in Latin America. Meanwhile, T6 Industrial General Manager Gabriel Ríos announced that in the next three years, the company plans to lead the international market of the second generation biodiesel, as they would like to reinforce their worldwide leadership in biodiesel production.
Read Evogene's press release at http://www.evogene.com/News-Events/Press-Releases/2012/Evogenes-Subsidiary-Evofuel-and-T6-Industrial-to-Collaborate-on-Biodiesel-Feedstock-Production-in-Argentina.
[ Send to a Friend | Rate this Article ]
---
President and CEO of Dow Agro Sciences Antonio Galindez announced on May 17 their new variety of corn, POWERCORE™. POWERCORE Corn is the first product with five genes stacked that has been approved in Brazil. It is made to control major corn pests in the country. This new variety will be available for sale in Fall of 2012 in Brazil and Argentina.
Galindez said that POWERCORE will be a "superior option to increase productivity and yield" in the Brazilian region. POWERCORE promises a 5-10 percent increase in corn yield. It provides control of pests such as fall amyworn, sugarcane borer, corn earworn, corn stalk borer, black cutworn, and tolerance in glyphosate and glufosinate herbicides.
For more information about POWERCORE visit this link: http://newsroom.dowagro.com/press-release/dow-agrosciences-launches-powercoretm.
Asia and the Pacific
Farmers from Pakistan visited the Philippines for the Pan-Asia Farmers Exchange Programme organized by CropLife Asia and Biotech Coalition of the Philippines in March 2012. The visiting farmers shared their experiences to a group of journalists in Pakistan, explaining how the visit increased their knowledge about biotechnology. The farmers also said that they were impressed with the Philippines' high-yielding and pest-resistant biotech crops, which have played an important role in developing the country's agriculture.
"We (farmers) did not have much knowledge about biotech crops earlier but now, after practically seeing the biotech crops fields and meeting the scientists as well as farmers in the Philippines, we have learnt a lot about biotechnology," said Zafar Hayat, one of the visiting farmers who is also a member of Farmer Associates Pakistan.
Read more details at http://www.brecorder.com/agriculture-a-allied/183/1191322/.
[ Send to a Friend | Rate this Article ]
---
India has prepared a draft Bill to form the Biotechnology Regulatory Body of India (BRAI). The body will be an autonomous and statutory agency that will regulate research, transport, import, manufacture and use of organisms and products of modern biotechnology.
The BRAI will include a Chairperson, two full-time members, and two part-time members, each with expertise in life sciences and biotechnology applications in agriculture, environment, and general biology. The Bill will also set up an inter-ministerial governing board to oversee the performance of BRAI and a National Biotechnology Advisory Council of stakeholders that will give feedback on the use of biotechnology products.
The draft Bill also provides for a risk assessment process that will involve panels of science experts and representatives of concerned ministries who will evaluate applications prior to final approvals.
More details are available at http://pib.nic.in/newsite/erelease.aspx?relid=84347.
[ Send to a Friend | Rate this Article ]
---
Pratik, a high yielding Bt cotton variety from Krishidhan Seeds, has set a production record in Southern and Central India. Farmers who planted Pratik from Vidarbha in Maharashtra state harvested 25 quintals (1 quintal = 100 kilograms) per acre, when their average production was only 17-19 quintals. In Parbhani region of Maharashtra, farmers planting Pratik harvested 21 quintals per acre, a high record compared to their average produce of 10-16 quintals per acre.
Pratik cotton is tolerant towards all major sucking insects including bollworm and armyworm. These insects cause severe damage to cotton crop and have been responsible for the low production in many parts of India. Sushil Karwa, managing director of Krishidhan Group of Companies said that record production is expected in the country if farmers continue to grow crops that are tolerant to major pests and grow well in both rainfed and irrigated regions.
More details are available at http://www.indiainfoline.com/Markets/News/Pratik-Cotton-Seed-increases-cotton-yield-for-farmers/5417621517.
[ Send to a Friend | Rate this Article ]
---
The Malaysian Bioethics Council was launched on 22 May 2012 by the Minister of Science, Technology and Innovation YB Datuk Seri Panglima Dr. Maximus Johnity Ongkili. The Council is made up of representatives from noted academic experts, and representatives from government and non-government offices and aims to provide advice, as well as resolve and manage bioethical issues in the country.
"The council's main terms of reference is mainstreaming bioethics and disseminating information on bioethical issues among people from all walks of life," said Dr Ongkili. The Bioethics Council will be focusing on the impact of science and technology on the environment, society, public health, culture, laws and religion. One of the expert members, Prof. Dato' Dr. Khalid Yusoff said that the Council will be in charge of bioethical matters that are currently not covered under existing instruments. For example medical bioethics is under the purview of the Malaysian Medical Council and Islamic matters are under the National Fatwa Council. The Council's inaugural chairman is Prof. Datuk Dr. Mahani Clyde from Universiti Kebangsaan Malaysia.
For more information about biotechnology in Malaysia, email Mahaletchumy Arujanan of the Malaysian Biotechnology Information Center at maha@bic.org.my.
[ Send to a Friend | Rate this Article ]
---
Chinese Modernization Research Center of the Chinese Academy of Sciences (CAS) released the China Modernization Report 2012 - Agricultural Modernization Research. The report predicts that China will likely complete its transition from traditional agriculture to modem agriculture by 2030. This period will be characterized by an improved market system, mechanization, improved seed varieties, and adequate irrigation, among others.
In 2050, China will achieve further growth from a state of industrialization of its agriculture to knowledge-based agriculture. The report points out the following opportunities and challenges in the 21st century of Chinese agricultural modernization: population, land, water resources, agricultural labor, and agricultural productivity.
Key strategies for Chinese agricultural modernization include: improving agricultural efficiency, enhancing reforms for agricultural science and technology, improving investment proportion of agricultural science and technology; implementing farmers training programs, and raising farmers' level of education and per capita income.
See the news at: http://news.xinhuanet.com/tech/2012-05/13/c_111940343.htm
[ Send to a Friend | Rate this Article ]
---
The country's cotton production has reached an all-time high level of 14.38 million bales two months ahead of the end of the crop season 2011-2012. It broke the previous high record of 14.31 million bales in 2004-2005 .Cotton production reached 14.81 million bales during this year which is 27 per cent more than that recorded during the previous year.
Ahsan Ullah, executive member of Pakistan Cotton Ginners Association, says that cotton export has also reached a record high at 1.1 million bales.
Read the article at http://www.pabic.com.pk/Record%20Cotton%20Production%20in%20Pakistan%20this%20Year.html.
[ Send to a Friend | Rate this Article ]
---
ISAAA's Global Knowledge Center on Crop Biotechnology released a new educational booklet called Biotech sQuizBox during the convention of the Biotechnology Coalition of the Philippines (BCP) at Traders Hotel, Manila on 17-18 May 2012.
Biotech sQuizBox is an accordion-type cartoon publication that aims to inform secondary school students about crop biotechnology. One side of the booklet contains snippets of basic information about the history, development, and benefits of biotech crops. The other side of the booklet challenges the readers to answer exciting quizzes to further understand the subject matter. The activities include DNA extraction exercise, scientist appreciation activity, puzzles, and word problem, which can be done individually or as a group in science classes.
The publication was illustrated by Stephanie Bravo-Semilla, a cartoonist from the Philippine Daily Inquirer, and second prize winner of BiotechTOONS Contest organized by ISAAA and Southeast Asian Regional Center for Graduate Study and Research in Agriculture – Biotechnology Information Center (SEARCA BIC) in November 2011.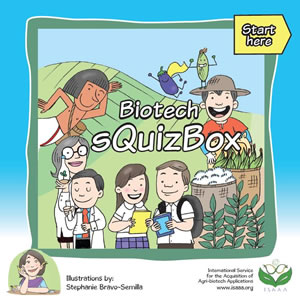 Download a copy of Biotech sQuizBox at http://www.isaaa.org/resources/publications/biotech_squizbox/2012/download/default.asp
[ Send to a Friend | Rate this Article ]
---
Prof. Sangkula A. Tindick, Regional Secretary of the Department of Agriculture and Fisheries of the Autonomous Region of Muslim Mindanao (ARMM) of the Philippines, affirmed his confidence and support to biotechnology to fill the supply gap in food production problems in the Region, during the closing program of a one day seminar on Biotechnology: Harnessing the Power of Life. He further said that "If we do not harness biotech we will not be able to feed the hungry, elevate our people from poverty and continue to destroy our environment and forests."
The one day seminar attended by over 120 participants from ARMM provinces Basilan, Lanao del Sur, Maguindanao, Sulu, and Tawi-tawi was held in Cotabato City last May 22, 20102. It was highlighted with talks from Dr. Rhodora R. Aldemita, technical member of the Applied Biotechnology Committee of the Department of Agriculture Program Implementation Unit on the overview, updates and trend in biotechnology and the DA biotechnology road map; Dr. Carmen Abubakar of the Institute of Islamic Studies, UP Diliman on biotechnology and the Islamic religion; and Dr. Antonio A. Alfonso of PhilRice on biotechnology tools to enhance rice production.
A memorandum of understanding (MOU) was signed at the close of the session among the partners and organizers that include the DAF Secretary Prof. Tindick, Dr. Aldemita, (on behalf of the DA PIU), Mr. Joel Paredes of the Biotechnology for Life, Media and Advocacy Center, Prof. Daud Lagasi, Research Center Director of DAF, and Mr. Godfrey Ramon of the Biotechnology Coalition of the Philippines. The MOU resolved that advocacy and promotion activities on biotechnology in the region be conducted with the local executives taking the lead role in the active participation of various government and private sector groups.
For details on the seminar, contact knowledge.center@isaaa.org
Europe
The European Food Safety Authority (EFSA) rejected the attempt of France to ban the genetically engineered variety of maize (MON810) developed by Monsanto. EFSA explained that they came to that decision because the French authorities failed to submit science-based evidence that would prove that the GM crop could cause harm to human or animal health or to the environment.
The French authorities requested the European Commission on 20 February 2012 to suspend the commercial approval of the insect resistant maize. On 16 April 2012, the Commission requested the EFSA GMO Panel to assess the documents submitted by the French authorities. EFSA released their scientific opinion that the GM maize does not pose any risk which was published in EFSA Journal on 21 May 2012. According to EFSA, the European Commision will decide if banning the GM crop is justified.
Read EFSA's scientific opinion at http://www.efsa.europa.eu/en/efsajournal/pub/2705.htm/.
[ Send to a Friend | Rate this Article ]
---
A team of researchers from Kiel University in Germany and the Umeå Plant Science Centre in Sweden have discovered a gene that will increase sugar beet yields. Known as BvBTC1, the gene determines if and when a beet plant will flower. Early flowering in sugar beet terminates root growth and limits sugar beet yields.
The team looked into sea beet, a wild ancestor of sugar beet which often flowers during the first year of growth and does not produce beet at all. The domestic sugar beet, on the other hand, builds up a large beet which is harvested before it even flowers during the second year. Many European farmers of sugar beet plant from spring to fall to avoid early flowering. If sugar beet is planted before winter, the low temperature during winter will signal flowering and the plants will develop small roots only.
Sugar beet is an economically important crop in Europe for its thickened roots which store large amounts of sugar. Prof. Ove Nilsson of the Umeå Plant Science Centre said that "the characterization of the bolting gene B and the finding that it has a key role in the regulation of flowering is a major achievement both for the sugar industry and for flowering control research."
For more information about this study, visit http://live.rig2012.aperto.de/98842/2012-05-22-newly-identified-gene-helps-to-increase-sugar-beet-yields.html.
[ Send to a Friend | Rate this Article ]
---
A new research by the University of Bristol found that plants grown at high temperature elongate stems to allow their leaves to cool. The research team, led by Dr. Kerry Franklin and Prof. Alistair Hetherington used thale cress (Arabidopsis thaliana) to understand the physiological consequences of such plant response to temperature.
The Bristol team found that crops grown in high temperatures have elongated and spindly architecture and develop fewer leaf pores. However, despite their reduced number of leaf pores, the elongated Arabidopsis thaliana plants had greater water loss and leaf evaporative cooling. The researchers then suggest that the increased spacing of leaves in high temperature-grown plants promotes the diffusion of water vapor from leaf pores, and enhances the cooling process.
Dr. Franklin said that "understanding the relationship between temperature, plant architecture and water use is therefore essential for maximizing future crop production and ensuring food security in a changing climate."
Read more about this research from University of Bristol's website at http://www.bristol.ac.uk/news/2012/8517.html