News
Global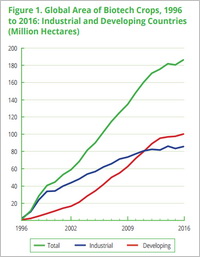 In 2016, the global area of biotech crops reached 185.1 million hectares, according to a research paper authored by Drs. Rhodora Aldemita and Randy Hautea of the International Service for the Acquisition of Agri-biotech Applications (ISAAA). The results of their study are published on February 2, 2018 in GM Crops and Food.
According to the paper, 26 countries planted biotech crops in 2016, and 19 of which were developing countries. Biotech crop plantings increased in several countries, including Brazil, United States of America, Canada, South Africa, Australia, Bolivia, Philippines, Spain, Vietnam, Bangladesh, Colombia, Honduras, Chile, Sudan, Slovakia, and Costa Rica. Decreased plantings of biotech crops were reported in China, India, Argentina, Paraguay, Uruguay, Mexico, Portugal, and Czech Republic. The significant changes in biotech crop area (increase and decrease) are attributed to several factors such as acceptance and commercialization of new products, demand for meat and livestock feeds, weather conditions, global market price, disease/pest pressure, and government's enabling policies.
Read the abstract in GM Crops and Food.
Africa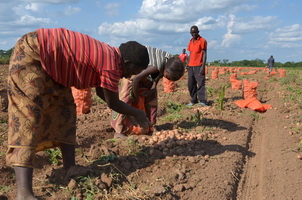 Biotechnology has been recognized as one of the tools to boost food security by several countries, however, some remain to be skeptical about adopting it. Rwanda is one of the latest countries that made actions towards legalizing GM crops. According to an official at the Rwanda Environment Management Authority (REMA), they have drafted a law regulating GM crops. Furthermore, Gérardine Mukeshimana, Minister for Agriculture and Animal Resources, expressed his support to adopt GM technology, saying it would help feed the growing population. "You can't forever stick to crops and methods of farming that our forefathers practiced in 1900," she said. Mukeshimana is a plant researcher and holds both a master's degree and PhD in plant breeding, genetics, and biotechnology from Michigan State University in the United States.
Read more from Genetic Literacy Project.
Americas
A new study by a University of Toronto researcher has found that micro-organisms are critical to the growth and health of plants. The plant's root microbiome is responsible for important functions such as nutrient uptake and signals important to plant development.
Connor Fitzpatrick grew 30 species of plants found in the Greater Toronto Area from seed in identical soil mixtures in the lab. These are plants such as goldenrod, milkweed, and asters. The plants were raised for a full growing season (16 weeks), with each species grown in both permissive and simulated drought conditions. The research explores the commonalities and differences among the root microbiomes of various host plant species, dividing the microbiomes into the endosphere (microbes living inside roots) and rhizosphere (microbes living in the soil surrounding roots). He found variation across the 30 species, with related species having more similarity between microbiomes than diverse species.
Aside from providing deeper understanding of plant evolution and development, Fitzpatrick's research offers further avenues for study, including how and why some plants recruit bacteria that impact drought resistance while others don't.
For more details, read the news release from the University of Toronto.
[ Send to a Friend | Rate this Article ]
---
A group of graduate students from University of Minnesota College of Food, Agriculture and Natural Resources (CFANS) published a petition addressed to U.S. representatives to write a bipartisan bill to deregulate the process for developing genetically modified crops that have the potential to produce sustainable sources of fiber and fuel (not food).
The group specifically asks for the bill so that either the Environmental Protection Agency or the U.S. Department of Agriculture Animal and Plant Health Inspection Service issues the approval, rather than the current requirement of both agencies approving. The graduate students cite that each of them has numerous ideas about genetic modification that could be developed into start-up crop companies and bring more competition into the marketplace dominated by a few mega-companies that can afford the regulatory process.
"Since we are limiting our request to apply to fuel and fiber crops only, avoiding the regulatory framework of the Food and Drug Administration should make it less challenging to write and pass such a bill," they said.
Read the letter published in AGWEEK.
[ Send to a Friend | Rate this Article ]
---
Breeders have always questioned how a fruit ripens. An extensive and fruitful collaboration between Boyce Thompson Institute (BTI), Cornell University, and the U.S. Department of Agriculture (USDA) has produced a spatiotemporal map of gene expression across all tissues and developmental stages of the tomato fruit – the genetic information underlying how a fruit changes from inside to out as it ripens. Their data is available online in the new Tomato Expression Atlas (TEA).
The researchers carefully dissected the tomato tissues by hand and with laser capture microdissection to isolate and sequence RNA, the genetic material that makes each tissue distinct, from individual tissues and even cells. The sequence data were then compiled, parsed, and organized into the TEA, where it can be analyzed to investigate the various biological processes important for fruit development.
The clearer image of the biological processes underlying the development of the tomato fruit will help researchers to quickly identify the genetic basis for the many important traits that are valuable in tomatoes and other fruits.
For more details, read the BTI News, or visit the Tomato Expression Atlas.
[ Send to a Friend | Rate this Article ]
---
The U.S. Department of Agriculture (USDA) and Food and Drug Administration (FDA), which are in charge of enforcing the country's food safety laws, agreed to enhance their cooperation and coordination, review biotech regulations, and apply a new system for farm safety inspections.
According to their formal agreement, USDA and FDA share jurisdiction over food products in interstate commerce. Specifically, USDA regulates certain meat, poultry and egg products under the Federal Meat Inspection Act (FMIA), Poultry Products Inspection Act (PPIA) and Egg Products Inspection Act (EPIA) and implementing regulations. On the other hand, FDA regulates all other foods not within the scope of these statutes and regulations. Under the shared responsibilities of the current framework, a number of food processing facilities fall under the jurisdiction of both FDA and USDA.
USDA and FDA also expressed that they are both committed to modernizing the Coordinated Framework for the Regulation of Biotechnology and the U.S. agricultural biotechnology regulatory system to develop efficient, science-based regulatory practices for products of biotechnology with assistance from other federal agencies, as part of the National Strategy for Modernizing the Regulatory Systems for Biotechnology Products.
Read the formal agreement published by FDA.
Asia and the Pacific
Professionals from public and private sectors in Bangladesh have a favorable attitude towards biotechnology, according to a survey conducted by researchers from Rahman Agricultural University and Patuakhali Science and Technology University. The results are published in Agriculture and Food Security journal.
Bangladesh is one of the highly potential countries for marketing biotechnological products, thus, the attitude and consumption of professionals working in public and private organizations in Bangladesh toward biotechnological products were identified and assessed. Results showed that Bangladeshi professionals have an optimistic viewpoint about biotechnology and its products. The most common biotech products used by the respondents include GM soybean oil, antibiotics, skin care cream, and vaccines. The socio-demographic characteristics of the respondents had no influence on the decision to use and purchase biotech products. Respondents from the private sector had a more optimistic stance to consume biotech products compared to public-sector respondents.
For more details, read the open-access journal article in Agriculture and Food Security.
Europe
Two recent studies describe plant root mechanisms. One of them, published in the journal Molecular Systems Biology, describes the process through which cells stop growing during cell differentiation; the second one, published in Journal of Cell Science, describes plant cell replenishment after being damaged.
The first study used three hypotheses to explain how cells know when to stop growing: is it at a certain period after cells got divided, or they detect the root's position, or cells are able to detect their size. To clarify the correct hypothesis, Irina Pavelescu, first author of the study, created three analytical and computational root growth models. The conclusion is that root cells know when they reached the proper size and stop growing and start the differentiation. They stop growing due to their size.
The second study discovered more details on root growth and post-damaged cell repair capacity. The study reports that when root stem cells die due a genomic stress, a signal of steroid hormones is sent to reservoir stem cells so that these cells divide and replace the damaged ones. Thus, root growth is maintained, and so is the plant's life.
For more details, read the Universitat de Barcelona News.
[ Send to a Friend | Rate this Article ]
---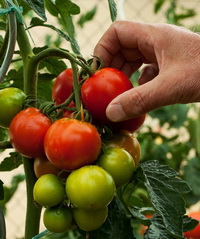 A study conducted by researchers at the Plant Molecular and Cellular Biology Institute (IBMCP), a joint venture of the Universitat Politècnica de València and the Spanish National Research Council (CSIC), reveals how genetically modified tomato plants have increased resistance towards Tuta absoluta insect plagues.
An estimated 40% of the worldwide annual crop production is lost to plagues and pathogens, and 13% to insects. Luis Cañas, researcher of the CSIC at the IBMCP, explains that "the miner insect Tuta absoluta has become one of the main plagues that threaten tomato plantations across the world, and without the appropriate management it can cause losses of between 80% and 100% of their production."
The researchers turned to genetic engineering to strengthen the tomato plant by giving it defensive genes such as the protease inhibitors in barley. A serine proteinase inhibitor (BTI-CMe) and a cysteine proteinase inhibitor (Hv-CPI2) were investigated, isolated from the barley plant, on the Tuta absoluta insect. Both inhibitors were tested separately, as well as together in transgenic tomato plants. The Tuta absoluta larvae which were fed the double transgenic plants showed noticeable weight loss, and only 56% of the larvae reached their adult stage. Those that reached their adult phase had wing deformities and fertility reduction.
For more details, read the news release at R&I World.
Research
Potato (Solanum tuberosum) is a drought- and frost-sensitive crop that is incapable of adapting to cold temperatures. Commerson's wild potato (Solanum commersonii) is a tuber-bearing wild potato species that exhibits greater frost and drought resistance than the common potato. The CBF/DREB transcription factors play important roles in response to a variety of abiotic stresses including cold and drought stresses.
To explore different functions between potato CBF1 (StCBF1) and Commerson's wild potato CBF1 (ScCBF1), Jian Li of Shandong Agricultural University expressed these two genes in two separate Arabidopsis lines. All the transgenic plants exhibited the dwarf phenotypes with delayed flowering and thicker and additional rosette leaves. However, the ScCBF1 transgenic lines showed significant tolerance to freezing and drought stress than the StCBF1 transgenic lines. The expression levels of several cold-responsive and development-related genes, including genes that inhibited plant growth and delayed flowering were also higher in all transgenic plants.
These results suggest that the two CBF1 genes play important roles in the plant response to abiotic stress and in plant growth and development. However, ScCBF1 plays a more pronounced function than StCBF1.
For more information, read the article in Plant Science.
[ Send to a Friend | Rate this Article ]
---
Seedlessness in grapes is one of its desirable traits. In a previous study, VviAGL11 was found to be the main gene responsible for seed morphogenesis in grapevine. Jaiana Malabarba from Federal University of Rio Grande do Sul in Brazil aimed to further study the function of this gene in grapevine.
The team developed two sets of seedless and seeded grapevine cultivars, one set overexpressed VviAGL11 while the other set had a silenced VviAGL11. The team then analyzed the berries, leaves, stems and seeds of these transgenic plants.
Fruits from the seedless cultivar that overexpressed VviAGL11 exhibited small seeds that were not found in the control samples. Mature grapes from seeded cultivar with the silenced VviAGL11 showed reduced number of seeds and increased number of seed traces.
The results of the study confirm that VviAGL11 is a key regulator of seed morphogenesis in grapevine.
For more information, read the article in Plant Science.
New Breeding Technologies
The CRISPR-Cas9 system is a powerful tool for site-directed mutagenesis in crops. The team of Yuhei Kanazashi from Hokkaido University in Japan were successful in performing a simultaneous site-directed mutagenesis in two homoeologous loci in soybean (Glycine max), GmPPD1 and GmPPD2. These two genes are orthologs of Arabidopsis thaliana PEAPOD (PPD) gene.
Most of the T1 plants generated had mutations in at least one of the targeted loci. Analysis of T1 generation indicates that the mutations induced in the T0 plant can be inherited by the T1 generation. The team also induced new mutations in T1 plants, which were then also detected in the T2 generation. This indicates that continuous induction of mutations during T1 plant development could increase the occurrence of mutations in germ cells.
Mutations in both GmPPD loci were also confirmed in at least 33% of the T2 seeds examined. The mutants with mutations in both GmPPD1 and GmPPD2 exhibited dome-shaped trifoliate leaves, extremely twisted pods, and produced few seeds.
These results suggest that continuous induction of mutations in the succeeding generations of genome-edited plants can increase the efficiency of mutagenesis in duplicated loci in soybean.
For more information, read the article in Plant Cell Reports.
[ Send to a Friend | Rate this Article ]
---
Papaya trees are rich in papain, a cysteine protease that has been shown to mediate plant defense against pathogens and insects. However, the pathogen Phytophthora palmivora infects all parts of papaya plants, suggesting that it has evolved cysteine protease inhibitors to counter papain and enable infection.
Out of several cystatin-like cysteine protease inhibitors from P. palmivora, PpalEPIC8 appeared to be unique to P. palmivora and was highly induced during infection of papaya. Analysis revealed that PpalEPIC8 strongly inhibited papain enzyme activity, suggesting that it is a cysteine protease inhibitor. Phytophthora palmivora mutants with knocked-out PpalEPIC8 were the generated using CRISPR-Cas9-mediated gene editing.
The mutant strains exhibited increased papain sensitivity in vitro and had reduced pathogenicity during infection of papaya fruits compared to the wild-type strain. This strongly suggests that PpalEPIC8 indeed plays a role in P. palmivora virulence by inhibiting papain.
This study provides evidence of pathogens secreting cystatins to invade plants. It also established a gene-editing system for P. palmivora using CRISPR-Cas9.
For more on this study, read the article in Molecular Plant-Microbe Interactions.
[ Send to a Friend | Rate this Article ]
---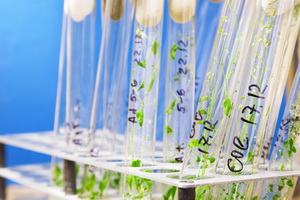 Glutamate:glyoxylate aminotransferase 1 (GGAT1) is a key enzyme in plants' photorespiration pathway. However, the mechanism of its regulation is unknown. With the generation of mutated ggat1 from the Col-0 genetic background, mutated ggat1 from the Ler genetic background should be useful in the study of GGAT1. However, the latter are not currently available.
The team of Yaping Liang from the South-China Agricultural University used CRISPR-Cas9 to generate ggat1 mutants from the Ler genetic background. The team designed two single-guide RNAs (sgRNAs) that target GGAT1. These were then inserted into flowering Arabidopsis (Ler) plants via Agrobacterium tumefaciens-mediated transformation. Thirteen GGAT1-edited T1 lines were generated from the transformed plants. From these T1 plants, two homozygous T2 mutants were generated.
The mutations were found to be stable through generations. In addition, the genetic segregation of the mutations followed the Mendelian segregation, and no off-target mutations were detected. The two independent ggat1 mutants had similar photorespiration phenotypes and downregulated GGAT enzyme activity.
CRISPR-Cas9 was successful in generating genetically stable Arabidopsis ggat1 Ler mutants. These will be useful in further research studies on GGAT1 enzyme.
For more information on this study, read the article in Transgenic Research.
Beyond Crop Biotech
An international group of scientists led by entomologist Sean Schoville from the University of Wisconsin–Madison have sequenced the genome of the Colorado potato beetle to understand its surprising adaptability to new environments and insecticides.
The scientists found a diverse and large array of genes used for digesting plant proteins, helping the beetle thrive on its hosts. The beetle also had an expanded number of genes for sensing bitter tastes, likely because of their preference for bitter nightshade family of plants, of which potatoes are a member.
The researchers were surprised to find that the Colorado potato beetle's genome looked much like those of its less-hardy cousins. The team did not find new resistance-related genes to explain the insect's tenaciousness. Another 100 genomes of the Colorado potato beetle and its close relatives are being sequenced to continue investigating the hardiness and adaptability that have captured so many people's attention for the past 150 years.
For more details, read the University of Wisconsin–Madison News.
[ Send to a Friend | Rate this Article ]
---
The CRISPR-Cas9 system has been widely used for single or multiple gene mutation in a variety of organisms. Disruption of multiple homologous genes, which have similar DNA sequences and function, is required for the study of the desired phenotype. To test whether the CRISPR-Cas9 system works on the mutation of multiple homologous genes Huan Liu from Jilin University in China designed a single guide RNA (sgRNA) that targets three fucosyltransferase encoding genes, FUT1, FUT2 and SEC1 in rabbit (Oryctolagus cuniculus).
The team was successful in achieving triple gene mutation of FUT1, FUT2 and SEC1 simultaneously via a sgRNA mediated CRISPR-Cas9 system. Significantly reduced serum fucosyltransferases enzyme activity was observed in the triple mutation rabbits.
This study provides the first evidence of multiple homologous gene knockout achieved efficiently via CRISPR-Cas9 system in mammals. This would greatly assist genotype to phenotype studies of homologous genes in the future.
For more on this study, read the article in Gene.
Document Reminders
The Independent Women's Forum released a video highlighting why consumers should not be scared of genetically modified organisms (GMOs). They also mentioned the scientific and medical associations that declared the safety of GMOs. Watch and share their video now.
---
ISAAA in 2017: Accomplishment Report has been released. The report showcases the programs implemented by ISAAA through the Global Knowledge Center on Crop Biotechnology, and its regional centers SEAsiaCenter and AfriCenter.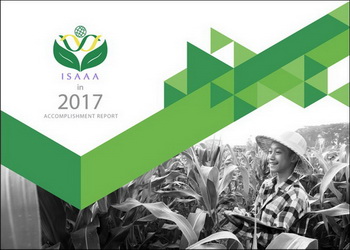 Get a copy of the Accomplishment Report from ISAAA.