News
Global
Delegates from Public Research and Regulation Initiative (PRRI) and the International Service for the Acquisition of Agri-biotech Applications (ISAAA) held a half day forum on December 3 at the Cancun Convention Center, to prepare for COP13 Conference of the Parties to the Convention on Biological Diversity. Piet van der Meer of PRRI provided an introduction on the Biodiversity Convention and Biosafety Protocol and the Conference and Meetings of the Parties (COPMOPs), as well as the Topics of COP13, COPMOP8 and COPMOP2.
The forum was participated by 45 delegates composed of scientists, communicators, regulators and students from 16 countries. For the first time, the forum included students from universities in the U.S., Belgium, and Mexico to name a few, to provide an understanding about the COP, its importance, and on how to conduct effective engagement during the MOP.
The Conference of the Parties on its 13th meeting (COP13) is the highest governing body of the Convention on Biological Diversity (CBD) that runs from December 3 to 17. Mexican President Enrique Peña Nieto gave a message in a plenary declaring his commitment to providing a propitious space and facilitate the development of the work of the countries party to support the fulfillment of the objectives of the CBD, the Strategic Plan for Biodiversity 2011-2020 and the Aichi goals.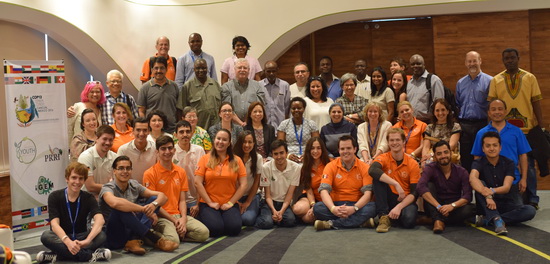 For details about the event, contact knowledge.center@isaaa.org.
Africa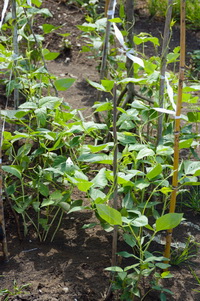 Nigeria's National Biotechnology Development Agency (NABDA) head announced that genetically engineered (GE) cowpea will be commercially available in the country on or before 2019. Prof. Lucy Ogbadu, NABDA Director General, mentioned this during the November meeting of the Open Forum on Agricultural Biotechnology (OFAB). Prof. Ogbadu said that GE cowpea is currently under field trials and has shown positive results.
"Rules are being followed in its production. Our Ethical Committee is working day and night to ensure that no rule is breached. Nigerians should be assured that the GM beans and other crops which will be available later in the country would be safe for consumption. In 2-3 years' time, cowpea should be ready in commercial quantity in the country," Prof. Ogbadu said. She also stressed that GM foods are not unhealthy, highlighting the initiative of 100 Nobel Laureates who signed a petition to guarantee the safety of GE crops.
For more details, read from Daily Trust and NABDA.
Americas
Plant aging, or what is called senescence, is an important process in the life cycle of a plant. This process has critical implications for biological success: premature aging could result in yield reduction, while late senescence delays reallocation of nutrients, which may impact the viability of the next generation.
In a new paper published in eLife, University of Wisconsin-Madison researchers describe how an epigenetic protein complex acts as a link between the environment and the genome to promoting the onset of aging in plants. That complex is a specific histone deacetylase (HDAC) called HDA9 and it helps translate environmental signals, like darkness, into epigenetic change.
The researchers looked at the genome of Arabidopsis thaliana for locations where HDA9 binds, and found evidence that it is a key player in senescence. It acts on previously identified genes that code for different components of plant aging. The researchers said that this information will provide a foundation for developing a new strategy to manipulate plant aging processes to improve crop productivity, which could prove beneficial for agricultural improvement.
For more details, read the news release at UW-Madison website.
[ Send to a Friend | Rate this Article ]
---
Genetically engineered (GE) sugarcane will soon hit the markets in Brazil, according to the Sugarcane Technology Center CEO, Gustavo Leite. He said that the first variety of GE sugarcane will be commercially available in early 2017. The approval of the GE crop will come from the National Technical Biosafety Commission (CNTBio), which is responsible for regulating the research and commercial use of the crop.
Read more at the Genetic Literacy Project.
[ Send to a Friend | Rate this Article ]
---
The USDA FAS Global Agricultural Information Network released updates on the status of agricultural biotechnology in several countries in Latin America.
According to the report, Chile is the fifth largest producer of seeds (biotech and non-biotech seeds) globally. It does not require GE products labeling. If Chile could produce GE products commercially, it could be a viable producer of transgenic sugar beets, corn, and alfalfa.
Colombia continues to adopt biotech crops. However, the area planted with biotech crops was reduced due to high production costs and lower international prices.
In Ecuador, the field trial of GE corn was announced by the Ministries of Agriculture and Industries in October 2016. The National Institute for Agricultural Research INIAP will be in charge of conducting the research.
GE corn field trials have been completed in El Salvador. However, no regulatory framework is in place to allow commercialization of the crop in the country.
Guatemala continues to allow field trials of GE crops and seed production for export, but not for food use in the country. Even with high malnutrition rates and low corn production, Guatemala still does not have a comprehensive regulation for food products improved through biotechnology .
Honduras continues to adopt biotech crops, which have increased in hectarage by 13 percent.
Read the reports on Ecuador, Colombia, Chile, Guatemala, El Salvador, and Honduras from USDA FAS.
[ Send to a Friend | Rate this Article ]
---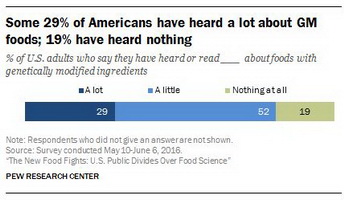 A new survey conducted by the Pew Research Center finds that U.S. public opinion is divided over how people assess the health effects of organic and genetically modified (GM) foods.
Drawn from a nationally representative panel of 1,480 randomly selected U.S. adults living in households, the survey found that half of Americans (48%) say GM foods are no different than other foods, 39% say GM foods are worse for one's health, and 10% say such foods are better for one's health. However, 55% of U.S. adults believe organically grown produce is healthier than conventionally grown varieties.
The new survey also found that 16% of U.S. adults say they care a great deal about the issue of GM foods, 37% care some about the issue, 31% do not care too much, and 15% do not care at all about the GM foods issue.
Three-in-ten (30%) Americans say research on GM foods is often based on the best available evidence. Public trust in information about the health effects of GM foods is higher for scientists than it is for food industry leaders, the media, and elected officials.
For more details, read the full report at the Pew Research Center website.
Asia and the Pacific
Australian researchers discovered that common Panic grasses could help improve the yields of staple food crops and help feed the world with increasing temperature, and a population of nearly 10 billion people by 2050. The researchers aim to enhance the growth and yield of crops such as wheat and rice by transplanting an enzyme from Panic grasses into them.
The researchers focused on the Rubisco enzyme from Panic grasses, and identified enzymes that are best suited to crops in hotter and cooler temperatures.
"We are aiming to enhance the growth and yield of crops such as wheat and rice by transplanting this more efficient enzyme into them," said lead researcher Dr. Robert Sharwood from The Australian National University.
For more details, read the news release at the Western Sydney University website.
[ Send to a Friend | Rate this Article ]
---
The field trial of GM maize at Trung Son Commune (Do Luong district) in 2015 with 0.5 Acre (1,800 m2) area has gained high productivity and economic efficiency. Trung Son commune has 560 ha of agricultural land, in which 80 ha is specialized for maize. In 2016, Trung Son has expanded the area of GM maize in 6 ha for 55 farmers.
The result of evaluation has shown that GM maize is high yielding. Forty eight tons of grain were harvested in 6 ha of GM maize area in Trung Son commune this year.
The advantage of GM maize is its insect resistance. However, the price of GM maize seeds is higher compared to others, which refrains farmers to purchase and apply. On average, non-GM maize seed price range is between 90,000-130,000VND/kg, while GM maize is priced at 210,000VND/kg. Although farmers might have to pay more for this seed, they will save money from needing less inputs, such as pesticides and herbicides.
The Department of Agricultural and Rural Development in Nghe An plans to expand the GM maize cultivation area to enhance maize productivity and quality.
Read the original article in Vietnamese at Baonghean.vn.
Europe
Scientists from University of East Anglia working at the John Innes Centre have identified the cluster of genes responsible for reproductive traits in the Primula flower, first noted by Charles Darwin more than 150 years ago.
Darwin hypothesized that plant species with two distinct forms of flower evolved that way to promote out-crossing by insect pollinators. His insight coined the term 'heterostyly', and subsequent studies contributed to the foundation of modern genetic theory.
The research team sequenced the Primula genome to find the specific gene cluster responsible for creating the differing flower morphs. They identified the supergene directly responsible for the phenomenon noted by Darwin as the S locus. They realized that the S locus gene was a close relative of another gene identified six years ago as responsible for controlling the identity of petals on the same plant. This gene duplicated at some point, inserted itself in the S locus, and mutated to control the position of the anther in the flower. Finding this duplicated gene allowed the team to identify the date when the first mutation occurred.
For more information, read the news release at the University of East Anglia website.
Research
Tomato fruit borer (Helicoverpa armigera) is one of the most damaging pests in tomato production, especially in India. Tomatoes do not have genes that confer resistance against the borer and conventional efforts to manage the pest were ineffective. Thus, a team of Indian scientists used Bt technology to develop fruit borer resistant tomatoes.
Through Agrobacterium mediated transformation, Arka Vikas tomatoes expressed Cry2A proteins for built-in resistance against tomato fruit borer. Transgene integration was confirmed through PCR and ELISA. Transgenic plants exhibited extensive resistance to the pest. An average of 95 percent mortality of fruit borers was observed in 24 hours of bioassays.
Based on the findings, Bt technology could be an effective means to develop pest resistant tomatoes.
Read the research article in Journal of Horticultural Sciences.
[ Send to a Friend | Rate this Article ]
---
Cell wall fortification is one of the best resistance mechanisms in wheat (Triticum aestivum) against Fusarium graminearum, which causes Fusarium head blight (FHB). Analysis of FHB resistant near-isogenic lines (NIL-R) led to the identification of various resistance-related (RR) metabolites, including hydroxycinnamic acid amides, such as coumaroylagmatine and coumaroylputrescine.
Using these metabolites, the team of Udaykumar Kage from McGill University in Canada identified a gene encoding agmatine coumaroyl transferase, named TaACT, as a candidate gene for FHB resistance. TaACT was found to be located within a FHB quantitative trait loci on chromosome 2DL (FHB QTL-2DL).
Sequence analysis of TaACT in resistant and susceptible lines also led to the identification of several single nucleotide polymorphisms (SNPs) and two inversions in the gene that could be important for gene function. The role of TaACT in FHB resistance was proven through virus-induced gene silencing (VIGS) in wheat as well as via complementation studies in Arabidopsis act mutants.
For more on this study, read the full article in Plant Biotechnology Journal.
New Breeding Technologies
Genome editing techniques allow precise modifications of DNA sequences and offer a great potential for crop improvement. The manipulation of plant genomes relies on the initiation of DNA double-strand breaks by sequence-specific nucleases (SSN) to start DNA repair reactions, either by non-homologous end joining (NHEJ) or homology-directed repair (HDR).
Genome modification through SSNs-mediated HDR for gene targeting enables gene replacement or introduction of precise point mutations, as well as integration of foreign genes at specific locations. The advent of programmable SSNs, such as zinc finger nucleases (ZFNs), transcriptional activator-like effector nucleases (TALENs), and the clustered regularly interspaced short palindromic repeat (CRISPR) systems has transformed genome modification in plants in a more controlled manner. However, the potential of gene targeting still has not been well realized for trait improvement in crops, since NHEJ predominates DNA repair process in somatic cells and competes with the HDR pathway. The team of Yongwei Sun from the Chinese Academy of Agricultural Sciences reviewed recent development and applications of precise gene targeting in plants using the three SSN systems.
The team also addressed the challenges and proposed future perspectives to facilitate the realization of precise genome modification through SSNs-mediated gene targeting for crop improvement.
For more on this review, read the full article in Frontiers in Plant Science.
[ Send to a Friend | Rate this Article ]
---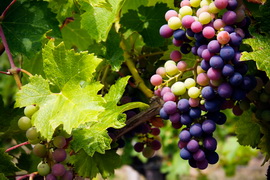 The availability of genome sequences and genome editing tools is set to revolutionize the field of fruit biotechnology through the introduction of targeted genetic changes. While plasmid-mediated delivery of genome editing components is very efficient, it presents some drawbacks. Furthermore, it may be cut-off by current process-based GMO regulations, complicating its path to commercialization.
Mickael Malnoy of the Foundation Edmund Mach in Italy, together with colleagues from various institutions explored the direct delivery of purified CRISPR/Cas9 ribonucleoproteins (RNPs) to the protoplast of grape cultivar Chardonnay, and apple cultivar, such as Golden delicious, for efficient targeted mutagenesis.
The team targeted MLO-7, a susceptible gene, in order to increase resistance to powdery mildew (PM) in grapes. On the other hand, the team targeted DIPM-1, DIPM-2 and DIPM-4 in apple, in hopes of increasing resistance to fire blight disease. The targeted mutagenesis insertion and deletion (indel) rate was analyzed using targeted deep sequencing.
Their results show that direct delivery of CRISPR/Cas9 RNPs to the protoplast system enables targeted gene editing in grapevine and apple plants. This study is the first report of successful use of CRISPR/Cas9 RNPs-mediated protoplast transformation in grapevine and apple cultivars.
For more information on the study, read the article in Frontiers in Plant Science.