News
Global
An independent global Commission on Sustainable Agriculture and Climate Change composed of senior scientists in agriculture, climate, food and nutrition, economics, and natural resources has released a report on food security policy recommendations. The commission is supported by the Consultative Group on International Agricultural Research (CGIAR) Research Program on Climate Change, Agriculture and Food Security (CCAFS) and the Global Donor Platform for Rural Development.
"This report provides an urgent call to action," says U.S. commissioner Molly Jahn of the University of Wisconsin-Madison. "Global demand is growing for food, fodder and bioenergy crops, food prices are rising to historic levels, and extreme weather events around the world further erode food security. The good news is that there are concrete steps, supported by the best available scientific research, that we can take now."
Seven recommendations for policy makers are:
Integrate food security and sustainable agriculture into global and national policies; ·
Significantly raise the level of global investment in sustainable agriculture and food systems in the next decade; ·
Sustainably intensify agricultural production while reducing greenhouse gas emissions and other negative environmental impacts of agriculture; ·
Target populations and sectors that are most vulnerable to climate change and food insecurity; ·
Reshape food access and consumption patterns to ensure basic nutritional needs are met and to foster healthy and sustainable eating habits worldwide; ·
Reduce loss and waste in food systems, particularly from infrastructure, farming practices, processing, distribution and household habits; and ·
Create comprehensive, shared, integrated information systems that encompass human and ecological dimensions.
The summary presents actions that the Commission suggests be implemented simultaneously by governments, international institutions, investors, agricultural producers, consumers, food companies and researchers.
See the full media article at http://www.news.wisc.edu/20040
[ Send to a Friend | Rate this Article ]
---
The genome of Medicago, a relative of alfalfa and a model for the study of legume biology, has been sequenced by an international team of scientists. Results of the endeavor were published in the journal Nature. They provide a better understanding into the evolution of the Papilionoid subfamily of legumes, which includes peas, soybean and all legumes grown as crops.
"The details of the genome shed new light on Medicago, the plant model that will help unlock the workings of nitrogen fixation we hope within our lifetime," said Professor Giles Oldroyd from the John Innes Centre on Norwich Research Park.
The scientists found in the Medicago genome more NBS-LRR genes, a class of resistance genes, than in any other plant genome to date. "This is potentially a useful resource to exploit," said Oldroyd.
View the feature article at http://www.tgac.ac.uk/news/14/68/Genome-sequence-sheds-new-light-on-how-plants-evolved-nitrogen-fixing-symbioses/
[ Send to a Friend | Rate this Article ]
---
There is urgent need to protect traditional food crops and other plant varieties worldwide from climate change and other environmental stresses. Countries need to develop specific policies to conserve and make wider use of plant varieties. Food and Agriculture Organization (FAO) Director-General Jacques Diouf made this call during the tenth anniversary of the international treaty to protect and share plant genetic resources.
"The conservation and sustainable use of plant genetic resources for food and agriculture are key to ensuring that the world will produce enough food to feed its growing population in the future," Diouf said. He mentioned that the International Treaty on Plant Genetic Resources for Food and Agriculture is an important tool for adapting agriculture to climate change. Its Benefit-sharing Fund supports farmers and breeders in 21 developing countries to adapt key crops to the new conditions brought on by climate change, floods, droughts, plant pests, plant diseases and other factors.

"The effects of climate change on agriculture do not respect national borders, they cover entire agro-ecological zones," said Shakeel Bhatti, Secretary of the International Treaty. "For this reason, this portfolio of projects is taking a pioneering approach in generating a global knowledge base. Some of these projects will help us to establish clear priorities and action plans across borders for future actions."
View the FAO release at http://www.fao.org/news/story/en/item/94530/icode/.
[ Send to a Friend | Rate this Article ]
---
New global collaborative projects were announced during the 6th International Conference on Genomics (ICG-6) held in Shenzhen Meisha Interlaken OCT Hotel, China on November 13-15, 2011. These projects include the 10,000 Rice Genome, Three Million Genomes Projects, and Earth Microbiome Project.
Genomics-assisted plant breeding has been an important technique used in agriculture to improve the yield and quality of crops. Thus, the International Rice Research Institute, Chinese Academy of Agricultural Science (CAAS) and BGI came up with the 10,000 Rice Genome Project.
Aside from the launching of the projects, updates were also provided by experts about the ongoing research on agriculture, ecology, synthetic biology, human diseases, and biomedicine. The conference was attended by more than 500 participants including leading scientists and experts from universities, research institutes, academic organizations, and enterprises in the biotechnology and pharmaceutical fields.
Read more at http://www.genomics.cn/navigation/show_news.action?newsContent.id=100296.

[ Send to a Friend | Rate this Article ]
---
BASF Plant Science and Cargill are hoping that by 2020 they will be able to market genetically modified canola oil rich in omega-3 forms EPA and DHA.
In a statement, Jenny Verner, president, Cargill Specialty Canola Oils, said: "By addressing stability and cost, we are confident that EPA/DHA canola oil will be embraced by food, pharmaceutical and nutritional supplement manufacturers globally." The vegetarian source has a potential to lower input and environmental costs and approved EPA-DHA health claims.
Andy Beadle, BASF polyunsaturated fatty acid (PUFA) project leader at BASF Plant Science, explained that lab results were promising and 'end-of-the-decade' timeframe in bringing a high-yield DHA-EPA ingredient to market was more regulatory than scientific. "We are still working on different varieties of canola but we need to get all this through the regulatory systems," he said. "Detailed experiments need to be performed and then dossiers compiled and submitted and this can take a long time," Beadle added.
For more information, visit http://www.nutraingredients.com/Product-Categories/Phytochemicals-plant-extracts/BASF-and-Cargill-partner-on-ambitious-150m-GM-plant-omega-3-project.
[ Send to a Friend | Rate this Article ]
---
On November 15, 2011, Argentina signed the Nagoya Protocol on Access to Genetic Resources and the Fair and Equitable Sharing of Benefits Arising from Their Utilization to the Convention on Biological Diversity (CBD), becoming its 67th signatory.
According to Ahmed Djoghlaf, Executive Secretary of the Convention on Biological Diversity, "the signing of the Nagoya Protocol by Argentina is further testimony to the growing global commitment and support for efforts to secure a more sustainable future for generations to come." He also invited other countries that have not signed to the Protocol participate in the agreement.
The Nagoya Protocol aims to create new incentives to conserve biodiversity, sustainably use its components, and improve the role of biodiversity in sustainable development and human well-being. It will take effect 90 days after the deposit of the 50th instrument of ratification.
Read the media release at http://www.cbd.int/doc/press/2011/pr-2011-11-16-abs-en.pdf.
Africa
Cassava Brown Streak Disease (CBSD) is on the verge of becoming an epidemic in East Africa. Experts of the Food and Agriculture Organization (FAO) say that the disease has been found in previously unaffected areas particularly where cassava is a major food crop. People in Burundi, Rwanda, and Uganda depend on the crop for food.

"None of the cassava varieties currently being distributed to farmers seem to be tolerant to the effects of CBSD. We urgently need to get information on the extent and severity of the outbreak, and to support investments to identify disease-tolerant varieties and coping strategies for farmers," said Jan Helsen, leader of FAO's European Union-funded Regional Cassava Initiative in Eastern and Central Africa.

Helsen says National Cassava Steering Committees have been set up to manage the response to the disease."Thanks to the foresight of, and the scientific support from, the International Institute of Tropical Agriculture (IITA), efforts are underway to understand the epidemiology of the disease, but more support will be needed for this work, and to select and bring on CBSD-tolerant varieties," Helsen added.
The FAO media release is at http://www.fao.org/news/story/en/item/94313/icode/.
[ Send to a Friend | Rate this Article ]
---
I heard it on the radio: Challenges and opportunities in engaging farmers on agricultural biotechnology through the media is the first issue of Research Brief published by the International Service for the Acquisition of Agri-biotech Applications (ISAAA) AfriCenter.
The publication is based on a study entitled Assessing utility of radio in communicating agricultural biotechnology in Africa: Case studies of Burkina Faso and Kenya conducted by Africenter and partners from 2008 to 2011. The two countries have recorded increased activity and growth in research, development and policy formulation in agricultural biotechnology over the last 5 years.
The findings emphasize the need to address the issue of language and terminologies for effective use of vernacular radio stations, the most popular media with rural communities. This would enhance the confidence of the radio journalists and experts, thus improve the quality of agri-biotechnology communication programs. Availability and access to other ICTs such as mobile phones, internet and support services like batteries and/or electricity highly reinforces farmer interactions with experts and radio presenters for informed choices on the technology.
For more information contact AfriCenter at africenter@isaaa.org. You can download the Research Brief at http://www.isaaa.org/resources/publications/researchbrief/what_role_for_radio/download/default.asp
Americas
The U.S. Department of Agriculture's (USDA) Animal and Plant Health Inspection Service (APHIS) will streamline and improve several programmatic processes including the agency's process for making determinations on petitions for nonregulated status for genetically engineered (GE) plants. APHIS grants such petitions when it determines that a GE product does not pose a plant pest risk and should not be subject to APHIS regulation.
"APHIS will significantly reduce the average length of the petition process while maintaining strong oversight," said Ed Avalos, undersecretary for marketing and regulatory programs. "The new process will also provide the opportunity for earlier input from the public on petitions for deregulations, allowing USDA to better serve all its stakeholders. This change is part of our commitment to improving the customer experience by streamlining processes, accelerating delivery and using innovative technologies."
The improvements in the regulatory processes will reduce by more than 50 percent the length of the petition process. APHIS explained that "a more predictable timeframe will enable developers to bring products granted nonregulated status to market more quickly and provide growers with more choices and access to new technologies sooner, while enabling APHIS to maintain its mission to protect U.S. agriculture and the environment from plant pests."
In addition, APHIS will streamline and improve its processes for conducting risk assessments and rulemaking. "Risk assessment and rulemaking are at the heart of APHIS' efforts as a regulatory agency," said Ed Avalos, undersecretary for marketing and regulatory programs. "Our ambitious review, however, found ways to capture significant time-savings while protecting agriculture and supporting trade."
For additional details visit http://www.aphis.usda.gov/newsroom/2011/11/ge_petition_process.shtml.
[ Send to a Friend | Rate this Article ]
---
Scanty knowledge on modern biotechnology and inadequate flow of information from experts to journalists has hindered understanding and hence effective reporting on agricultural biotechnology in Brazil. This was the verdict of more than 40 journalists from EMBRAPA - Brazilian Agricultural Research Corporation, who attended a biosafety and risk communication training course in Brasilia, Brazil on 8-9 November 2011.
The training was organized by the Latin America – LAC Biosafety (www.lacbiosafety.org) project and provided a unique opportunity for journalists from EMBRAPA, who serve as liaison between the institution and the various stakeholders served. It aimed at enhancing risk communication capacities on research and commercialization of biotech crops in the country.
The journalists called on EMBRAPA scientists and researchers to be more open and share research findings on both benefits and risks associated with the technology throughout the project phases. Sandra Zambudio, one of the journalists said, "We do not want to do public relations on the technology but to communicate objectively about its products, we however do not get all the information from experts." The journalists recommended the need for training on basics of biotechnology to enable them put into context stories about the various projects in the country. They also proposed that EMBRAPA scientists should reach out to the journalists and familiarize themselves on how media operates, for mutual benefit in communicating effectively about modern biotechnology.
Dr. Margaret Karembu of ISAAA Africenter served as the resource person for the biosafety communication session and was complemented by Drs. Olivia Nagy Arantes and Deise Maria Fontana Capalbo of EMBRAPA, LAC-Biosafety, Brazil.
In September 2011, the National Technical Commission on Biosafety (CTNBio) approved a genetically modified (GM) bean resistant to the golden mosaic virus, the first transgenic plant that is entirely produced by public research institutions.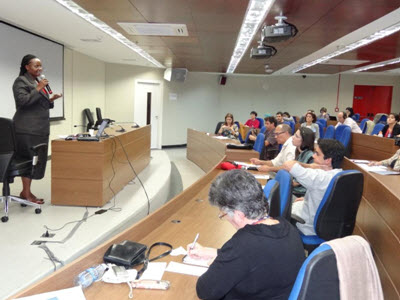 For more on the training and other news on biosafety in Brazil email Deise M. F. Capalbo, LAC Biosafety Project Coordinator for Brazil at deise@cnpma.embrapa.br.
[ Send to a Friend | Rate this Article ]
---
Archeologists led by Gyoung-Ah-Lee of the University of Oregon report that contrary to the belief that China was the first site of human domestication of soybeans, other cultures in earlier times and locations already adopted the legume. The research team which moves domestication back to perhaps 5,500 years ago makes this assertion in the online journal PLoS ONE. It uncovered evidence for a cultural selection for larger sized soybeans at 3,000 years ago in South Korea and Japan.

The new archaeological evidence may lead to developing a better soybean variety through the collaboration of archaeologists, crop scientists and plant geneticists. "I think one contribution that archaeologists can make is how peoples in ancient times contributed to our heritage of this viable crop and how we can trace their efforts and the methods to help guide us to make even better crops today," Lee said.
View the University of Oregon news at http://uonews.uoregon.edu/archive/news-release/2011/11/adoption-soybeans-was-earlier-thought-and-widespread-archaeologists-say.
[ Send to a Friend | Rate this Article ]
---
IBISWorld, publisher of industry research, reports that prices of principal products such as corn and wheat are expected to increase through 2011 in the U.S. This scenario is expected to be the trend due to the federal mandate for biofuel increases as outlined in the Energy Policy Act of 2005. Farmers, according to IBISWorld, will increase production and genetically modified crops are expected to meet this goal.
The growth in demand for ethanol increased demand for corn and soybeans; hence prices and production of these crops also went up. The weakened US dollar during the economic recession made domestically grown crops more affordable to international markets. In addition, global shortages of food grains caused prices of key commodities (including corn and wheat) to spike significantly. The interplay of these factors is expected to push revenue in the Corn Wholesaling industry.
For more information visit http://www.prweb.com/releases/2011/11/prweb8952375.htm or download IBISWorld Reports at http://www.ibisworld.com/industry/default.aspx?indid=981&partnerid=prweb
[ Send to a Friend | Rate this Article ]
---
Monsanto's Genuity® VT Double PRO® RIB Complete™ has received registration from the U.S. Environmental Protection Agency (EPA), accomplishing federal regulatory authorization in the U.S. However, commercialization is still pending until individual state authorizations and notifications have been completed.
Genuity VT Double PRO RIB Complete is a combination of Genuity VT Double PRO (95%) and refuge seed (5%). According to Monsanto, the product provides the lowest refuge in the corn-growing area for above-ground insect protection, with the aim of simplifying the planting process for farmers.
Read the news release of Monsanto at http://monsanto.mediaroom.com/index.php?s=43&item=995.
Asia and the Pacific
How have mega-biotech countries (those growing 50,000 hectares or more of biotech crops) such as Australia, China, India, and Philippines as well as potential biotech countries addressed communication challenges? The book Communication Challenges and Convergence in Crop Biotechnology authored by Drs. Mariechel Navarro and Randy Hautea of the International Service for the Acquisition of Agri-biotech Applications (ISAAA) presents case studies of eight countries and regional initiatives on biotech science communication. It highlights communication strategies that have enabled increased understanding and or adoption of the technology. Lessons are forwarded to guide science communicators in making appropriate interventions through a better understanding of specific audiences, message formulation, communication planning, and impact evaluation.
In addition to the first three chapters of the book, three additional chapters on Australia, China and India will now also be available for download at http://www.isaaa.org/resources/publications/communication_challenges_and_convergence_in_crop_biotechnology/default.asp
[ Send to a Friend | Rate this Article ]
---
HarvestPlus China, in partnership with the Chinese Academy of Agricultural Sciences, is developing and distributing high micronutrient and locally-adapted varieties of rice, wheat, maize, and sweet potato to help improve the lives of farming families in China. This was discussed during the Maize Field Day, a field trip that aimed to educate participants about the high vitamin A maize, and the Annual Harvest Plus-China Meeting held in Yunnan Province, China.
The maize was tested by HarvestPlus-China for the past two years and they expect that it will be the first high yielding vitamin A maize in China. HarvestPlus-China will continue to work with local farmers and promote the adoption of this nutritious crop.
For more details about Vitamin A maize in China, visit http://www.harvestplus.org/content/vitamin-maize-southern-china.
[ Send to a Friend | Rate this Article ]
---
A study on the development of a rapid PCR-based detection method of black leaf streak disease in Indonesian banana crops caused by M. fijiensis has been carried out in BioTrop. Also known as black sigatoka the disease was first recorded in 1964 in Fiji. The disease causes extensive defoliation, and yield reduction due to premature and uneven ripening of bananas.
Different specimens of the causal pathogen have been collected and characterized morphologically. Through restriction enzymes used in the RFLP analysis such as AluI, HaeIII, and TaqI, black streak disease pathogens, Mycosphaerella. eumusae, M. fijiensis, and M. musicola were identified. Two species-specific primer pairs, namely, MfijF/MfijR and MmusF/MmusR have been successfully developed to detect and to diagnose for the presence of M. fijiensis and M. musicola, respectively.
See the abstract of the research at http://www.biotrop.org/res.php?act=resdet&id=160&kat=6 For information on biotechnology in Indonesia, contact Dewi Suryani of IndoBIC at catleyavanda@gmail.com.
[ Send to a Friend | Rate this Article ]
---
Researchers at Plant and Food Research in New Zealand are now testing a new product that could improve the immunity of kiwifruit plants to vine disease (Pseudomonas syringae pv actinidiae). About 20 percent of the orchards in New Zealand are now infected by the disease. According to the Kiwifruit Vine Health (KVH) statistics, 698 orchards are already infected with the virulent strain of the disease.
Tony Reglinski, one of the scientists, said that an injection production is now under trial which will be used together with other protective sprays, while researchers are still developing new resistant varieties.
"With control of most plant disease your long term goal is to come up with a more resistant breed, however that's a longer term strategy so what we're really trying to develop here is a management strategy that can be applied to deal with varieties that are currently in the ground, so that we can slowdown the disease progress and give the breeders time to come through with the next breed," said Reglinski. "There are some treatments that are coming through that are showing potential to reduce the susceptibility of the plant," he added.
For more details, visit http://www.freshfruitportal.com/2011/11/04/nz-new-product-to-boost-immunity-to-kiwifruit-vine-disease/.
Europe
The Society for General Microbiology (SGM), a registered charity in the United Kingdom, has released a position statement on food security and safety. It was launched on November 1, 2011 at the House of Lords, UK.
SGM presented nine research themes where the role of microbiological research is crucial to meet the challenges of ensuring global food security and safety. These include soil health and nutrient cycling, plant-microbe dynamics, crop pathogens, and novel methods.
While recognizing that any proposed solutions to the challenges of food security and safety will require multidisciplinary, multinational teams, SGM sees the need to:
Support microbiology research programs and to procure the necessary resources required to deliver the proposed research.
Support the training and development of skilled microbiologists.
Provide world-class research facilities, including those needed to study microbes in the animal, crop or environmental systems where they act rather than surrogate laboratory-based models.
Check out http://www.sgm.ac.uk/news/PositionStatements.cfm for the original news. Download the Position Paper at http://www.sgm.ac.uk/PA_Forms/FoodPS_Web.pdf

[ Send to a Friend | Rate this Article ]
---
Nine European agrifood organizations working with the latest technologies formed the European Food Alliance with the common objective of providing agrifood companies the best service and network contacts from all over Europe in order to attain innovation and growth at an accelerated rate.
"In recent years we have experienced a considerable increase in the number of questions from companies approaching us through clusters from other European countries", says Roger van Hoesel, Director of Food Valley. "At the same time, we are increasingly being commissioned by Dutch companies to collaborate with other European food clusters. And so intensifying the collaboration and opening up networks to one another feels like a logical step in enhancing the European agrifood world."
European Food Alliance is composed of the following organizations: Agrofoodpark Aarhus (Denmark), Flanders' FOOD (Belgium), Food Processing Initiative FPI (North Rhine-Westphalia, Germany), Institute of Food Research IFR (United Kingdom), NiekE/DIL (Lower Saxony, Germany), PdC Nutrition, Health and Longevity NSL (France) , Food Valley, Skåne Food Innovation Network SFIN (Sweden) and Wagralim (Belgium).
The press release is posted at http://www.ifr.ac.uk/info/news-and-events/NewsReleases/111010europeanfoodalliance.html.
[ Send to a Friend | Rate this Article ]
---
The Court of Justice of the European Union issued a press statement on Honey and food supplements containing pollen derived from a GMO are foodstuffs produced from GMOs which cannot be marketed without prior authorization. It came out with a directive on its decision regarding the complaint filed by two beekeepers from Germany regarding the "presence of residues of GM maize which made his products unsuitable for marketing and consumption."
The Court concluded that "pollen derived from a variety of genetically modified maize which has lost its ability to reproduce and is totally incapable of transferring the genetic material which it contains, no longer comes within the scope of that concept. Nevertheless, products such as honey and food supplements containing such pollen constitute foodstuffs which contain ingredients produced from GMOs within the meaning of the regulation."
This directive implies that honey producers may be forced to test for exposure to GM pollen. If interpreted broadly, according to an article in Nature Biotechnology, the decision could have widespread consequences for testing requirements for other agricultural products.
The EU Court of Justice press release is at http://curia.europa.eu/jcms/upload/docs/application/pdf/2011-09/cp110079en.pdf. The Nature Biotechnology article abstract is available at http://www.nature.com/nbt/journal/v29/n11/full/nbt1111-958b.html.