Gene-edited Rice Shows BIG Gene Vital for Seedling Viability
December 5, 2018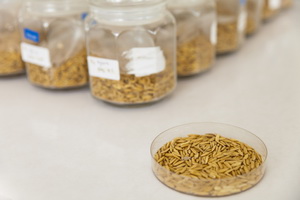 Arabidopsis BIG (AtBIG) gene encodes a large protein necessary for auxin transport and when turned off leads to changes in plant structure and adaptability to environmental stimuli. A similar gene (OsBIG) is present in rice, but its function is yet to be revealed. Thus, scientists from Wuhan University in China conducted a study to characterize the gene structure and function of OsBIG.
Analyses showed that versions of the OsBIG have high amino acid conservation in several domains in different species. For further analysis of loss of function, CRISPR-Cas9 system was used to develop transgenic rice plants with disrupted OsBIG. The transgenic plants exhibited several symptoms of seedling lethality such as cell death, reduced chlorophyll content, and high electrolyte leakage.
The results showed that OsBIG is vital for normal growth and development of rice plants.
Read the research article from the Journal of Plant Physiology.
ISAAA shares, disseminates, and promotes science-based information to help in achieving global agricultural sustainability and development. During this time of COVID-19 pandemic, we monitor research on treatments, vaccines and keep track of the pandemic's effect on food security and agriculture. We help the public make informed decisions and actions to mitigate and recover from the impact of COVID-19. At this crucial time, we need your help. Please support our efforts today from as little as $10  
See more articles:

News from Around the World

Research Highlights

Plant Breeding Innovations

Beyond Crop Biotech

Resources


Subscribe to CBU: