Infographic: How do GMOs Help Preserve H2O?
August 31, 2016
For World Water Week 2016, GMO Answers celebrated the theme Water for Sustainable Growth with the release of a new infographic to educate consumers on how genetically modified organisms (GMOs) help in conserving water usage in agriculture.
The infographic, How do GMOs Help Preserve H2O, presents how GMOs help conserve water and prevent soil erosion. It also states that drought tolerant crops increase yield, while reducing irrigation requirements.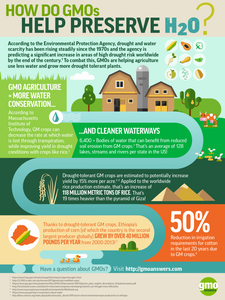 Download the infographic at the GMO Answers website.
ISAAA shares, disseminates, and promotes science-based information to help in achieving global agricultural sustainability and development. During this time of COVID-19 pandemic, we monitor research on treatments, vaccines and keep track of the pandemic's effect on food security and agriculture. We help the public make informed decisions and actions to mitigate and recover from the impact of COVID-19. At this crucial time, we need your help. Please support our efforts today from as little as $10  
See more articles:

News from Around the World

Research Highlights

Plant Breeding Innovations

Beyond Crop Biotech

Resources


Subscribe to CBU: