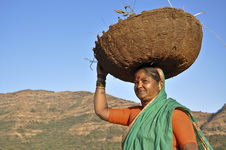 In an exclusive interview, renowned agricultural scientist and geneticist Professor MS Swaminathan, Father of Green Revolution in India, has shared his views on stalled field trials of GM crops and the current scenario of agriculture in India. Stressing the need for GM crops in the country, Professor Swaminathan said, "GM technology helps us to produce varieties which are climate-smart. Green Revolution involves the use of new plant architecture."
Ten Kenyan parliamentarians drawn from various house committees have assured scientists of their support in biotech research. They said this after touring various agri-biotechnology research facilities during a biotechnology travelling workshop in Nairobi organized by ISAAA AfriCenter, the African Agricultural Technology Foundation (AATF) together with Kenya Agricultural and Livestock Research Organization (KALRO) and the National Commission for Science Technology and Innovation (NACOSTI) with partners.
New research led by Michigan State University (MSU) and the Van Andel Research Institute has revealed the molecular secrets of plants' defense mechanisms at the atomic level. The study focuses on the plant hormone jasmonate and its interaction with three key plant proteins, MYC, JAZ, and MED25. Jasmonate plays a crucial role in regulating defenses when plants come under attacks from pests or pathogens, but takes a significant amount of energy to produce, severely affecting plant growth.

A biweekly update on gene editing research, regulations, and impact
produced by ISAAA Inc.

A monthly update on gene drive research and development provided by ISAAA in collaboration with the Outreach Network for Gene Drive Research
Biotech Updates is a weekly newsletter of ISAAA, a not-for-profit organization. It is distributed for free to over 22,000 subscribers worldwide to inform them about the key developments in biosciences, especially in biotechnology. Your support will help us in our mission to feed the world with knowledge. You can help by donating as little as $10.