Using genetic engineering, the researchers were able to transport one gene and activate it in the endosperm section which is the central part of the wheat seed. The endosperm is responsible for the production of white flour and normally has low iron content. At present, white flour is fortified with iron powder or iron salts to regulation levels of 16.5 micrograms per gram. Should the field trials go smoothly, it is expected to produce a new variety of wheat with increased iron content of 20 micrograms per gram.
UC Professor Emerita Emphasizes on Gene Editing to Achieve Sustainability Needs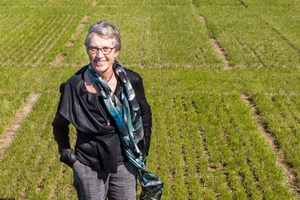 University of Canterbury's (UC) newest Professor Emerita Paula Jameson has spoken about how important it is to consider gene editing as a tool to improve crop production to meet the sustainability demands of New Zealand. A UC alumna who holds double majors in plant physiology and chemistry and a PhD on wheat and cytokinins, Prof. Jameson sees gene editing as one technique that has a lot of potential to achieve the Aotearoa New Zealand's targets towards zero carbon in its agronomic systems.

A biweekly update on gene editing research, regulations, and impact
produced by ISAAA Inc.

A monthly update on gene drive research and development provided by ISAAA in collaboration with the Outreach Network for Gene Drive Research
Biotech Updates is a weekly newsletter of ISAAA, a not-for-profit organization. It is distributed for free to over 22,000 subscribers worldwide to inform them about the key developments in biosciences, especially in biotechnology. Your support will help us in our mission to feed the world with knowledge. You can help by donating as little as $10.