Agri-Biotech Project Featured in Farm Tourism Field Immersion in PH
April 25, 2018
In an effort to showcase one of the current agricultural trends in the Philippines, the Southeast Asian Regional Center for Graduate Study and Research in Agriculture Biotechnology Information Center (SEARCA BIC), in collaboration with the Department of Agriculture (DA) Region 11 Press Corps, conducted a field immersion in Terra Verde Eco Farm and Resort in Maragondon, Cavite. The activity was part of the Training-Writeshop on Communicating Trends and Innovations in ASEAN Agriculture, held on April 18 to 20, 2018 at SEARCA, UPLB, Los Baños, Laguna.
Terra Verde's owner and president, Mr. Ericson Atanacio, spoke at length about his views on farm tourism and how their family farm came about. According to Mr. Atanacio, their main goal when they ventured into the business was to bring consumers to the farmers and give them a relationship opportunity. They also wanted to build a culture of social enterprise and community agriculture, hence, their partnerships with other farms and community members in managing Terra Verde.
Mr. Atanacio also mentioned their proposed '4Ps of Sustainability' which stands for Profit, People, Planet, and Purpose. In line with this, he highlighted their project with the DA-Bureau of Agricultural Research (DA-BAR), DA-Cavite Agricultural Research and Extension Station (DA-CARES), and the University of the Philippines Los Baños - National Institute of Molecular Biology and Biotechnology (UPLB-BIOTECH) to research the "Synergistic Effect of Actinomycetes, Bacillus and Azospirillum as Biofertilizers and Biocontrol Agent against Ralstonia solanacearum of Tomato and Eggplant". The project aims to study the effectiveness of Bacillus and Azospirillum in combating Ralstonia solanacearum, the soil-borne bacterial pathogen that causes bacterial wilt in crops.
With this joint effort between the private and public sector, he hopes that more farms will be encouraged to team up with research institutions to develop new technologies. Mr. Atanacio added, "At the end of the day, the ultimate objective is to bring those practical technologies to our ordinary farmers, not just to cure bacterial wilt but to improve their lives."
The training-writeshop was organized in partnership with the Feed-the-Future Initiative of Cornell University and ISAAA.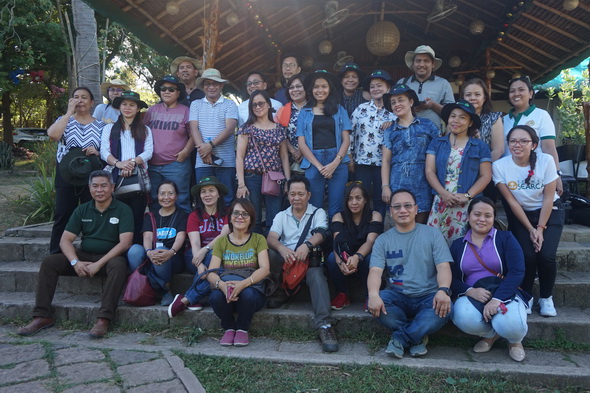 For more information about biotech in the Philippines, visit the SEARCA BIC website.
Biotech Updates is a weekly newsletter of ISAAA, a not-for-profit organization. It is distributed for free to over 22,000 subscribers worldwide to inform them about the key developments in biosciences, especially in biotechnology. Your support will help us in our mission to feed the world with knowledge. You can help by donating as little as $10.