African Stakeholders Study Tour Strengthens India-African Collaboration in Cotton and Textile Sector

April 6, 2016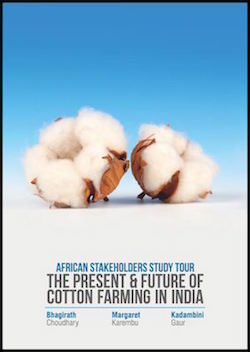 The African Stakeholders Study tour report The Present & Future of Cotton Farming In India, captures the experiences and lessons learned from a week-long seeing-is-believing study tour by a delegation of six East and Southern African cotton growing countries to Bt cotton hybrid fields in India from September 27- October 2, 2015. The study tour was aimed at allowing the delegates to visit and witness the performance of Bt cotton hybrids in farmers' fields and study the cotton value chain in India. Participants included policy makers, regulators, chief executives of cotton boards, researchers, journalists, consumer representatives and private sector players who interacted with officials from both public and private sector institutions within the cotton sub-sector value chain and witnessed first-hand the exemplary performance of Bt cotton hybrids in farmers' fields. They learned about the benefits and challenges those charged with the responsibility of deploying the technology in India have encountered.
The strong collaboration and stewardship measures put in place, managed by the Government of India, Universities and private sector players were impressive. Among the take-home messages were the need for a strong extension service to support Bt cotton farmers, the concerted efforts of different players to sustain adoption and the wide range of varietal choices of Bt cotton hybrids that Indian farmers have at their disposal due to an elaborate breeding program. It is our hope that the Indian model of holistic technology application in the cotton sector that has made India number one in world cotton production will inform decision makers in Africa for the benefit of millions of farmers who depend on the crop for their livelihood.
The visit was organized by the ISAAA AfriCenter and the South Asia Biotechnology Center (SABC-India) in partnership with COMESA/ACTESA, the Open Forum on Agricultural Biotechnology (OFAB-Kenya) and the Program for Biosafety Systems (PBS). Partial support was also received from the United States Department of Agriculture (USDA) and Mahyco Seeds Company.

For more on the report and future biotech study tour inquiries, contact: Dr. Margaret Karembu at mkarembu@isaaa.org and Mr. Bhagirath Choudhary at bhagirath@sabc.asia.
Biotech Updates is a weekly newsletter of ISAAA, a not-for-profit organization. It is distributed for free to over 22,000 subscribers worldwide to inform them about the key developments in biosciences, especially in biotechnology. Your support will help us in our mission to feed the world with knowledge. You can help by donating as little as $10.