ISAAA Policy Brief Highlights Importance of a Responsive Regulatory Framework for GE Crops
July 20, 2022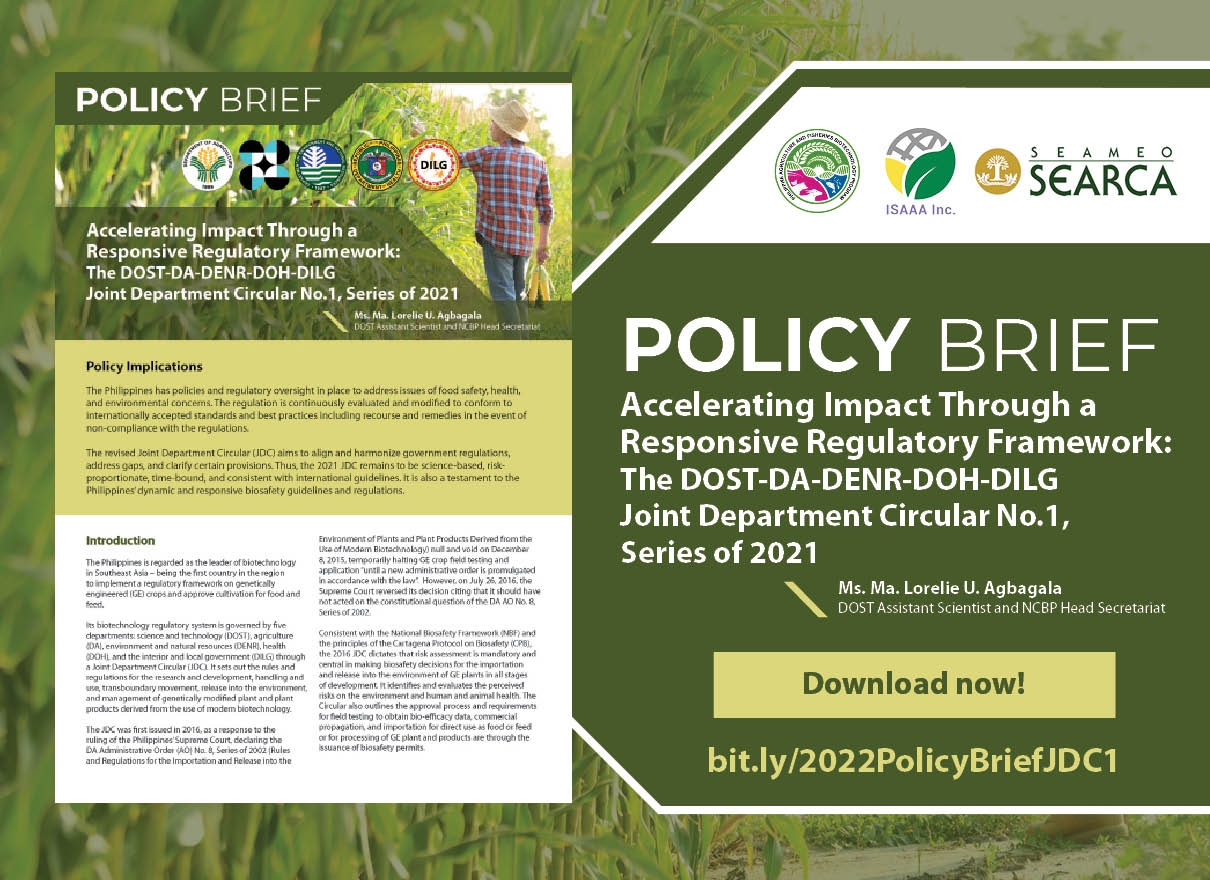 ISAAA, in partnership with the Philippine Agriculture and Fisheries Biotechnology Program and the Southeast Asian Regional Center for Graduate Study and Research and Agriculture (SEARCA), published a policy brief on Accelerating Impact Through a Responsive Regulatory Framework: the DOST-DA-DENR-DOH-DILG Joint Department Circular No. 1, Series of 2021. The policy brief, authored by Ms. Ma. Lorelie U. Agbagala, Assistant Scientist at the Department of Science and Technology (DOST) and Head Secretariat of the National Committee on Biosafety of the Philippines, presents the recent changes in regulatory guidelines for genetically engineered (GE) crops.
The Philippine regulatory system
The Philippine biotechnology regulatory system is governed by the Departments of science and technology, agriculture, environment and natural resources, health, and the interior and local government through a Joint Department Circular (JDC). The JDC, issued in 2016, contains the rules and regulations for the research and development, handling and use, transboundary movement, release into the environment, and management of genetically modified plant and plant products derived from the use of modern biotechnology.
Three years after the implementation of the JDC, the Competent National Authorities (CNAs) from the 5 government departments recommended to review the JDC to address the challenges in implementation and consider the Ease of Doing Business Law that promotes faster timeframes for government transactions. Applicants of biosafety permits from the private and public sectors have been experiencing delays in the issuance of permits, which was caused by conflicting interpretations of the Biosafety Committees.
After a thorough review by the concerned entities, a revised version of the Circular was implemented in March 2022.
Changes in the JDC
The policy brief outlined the revisions made in the JDC, which include the following:
shortened approval process;
formation of a Joint Assessment Group (JAG) for every application;
consideration of data set generated on field trials conducted in other countries;
optional consideration of social, economic, ethical, and cultural factors; and
biosafety permits to remain valid unless revoked.
It is commendable that the stakeholders in the Philippines pushed for changes in the regulatory framework, which was acted upon by the government departments. It is expected that the improvements in the regulatory system would help accelerate the safety evaluation of GM crops and its products, which are developed to contribute towards food security.
Download the policy brief for more information.
Science Speaks is ISAAA Inc.'s official blog. Weekly blog articles, authored by ISAAA writers, partners, and invited contributors, aim to help share, disseminate, and promote scientific knowledge and its vital role in achieving global agricultural sustainability and development. Your support to Science Speaks will help us achieve this goal. You can help us by donating as little as $10.