ISAAA and DA Biotech Release Biotech Crop Annual Update on Eggplant
May 31, 2023
ISAAA and the Philippine Agriculture and Fisheries Biotechnology Program are working together to raise awareness, understanding, and acceptance of Pinoy Biotek products derived from conventional and modern biotechnology. This goal is further achieved by strengthening capacities in biotech communication; developing information, education, and communication (IEC) materials on various Pinoy biotechnologies and products for public information dissemination, and understanding the media perspectives on agri-biotech to define future communication needs. One of the IEC materials that ISAAA Inc. developed is the Biotech Crop Annual Updates series for commercially approved crops in the Philippines.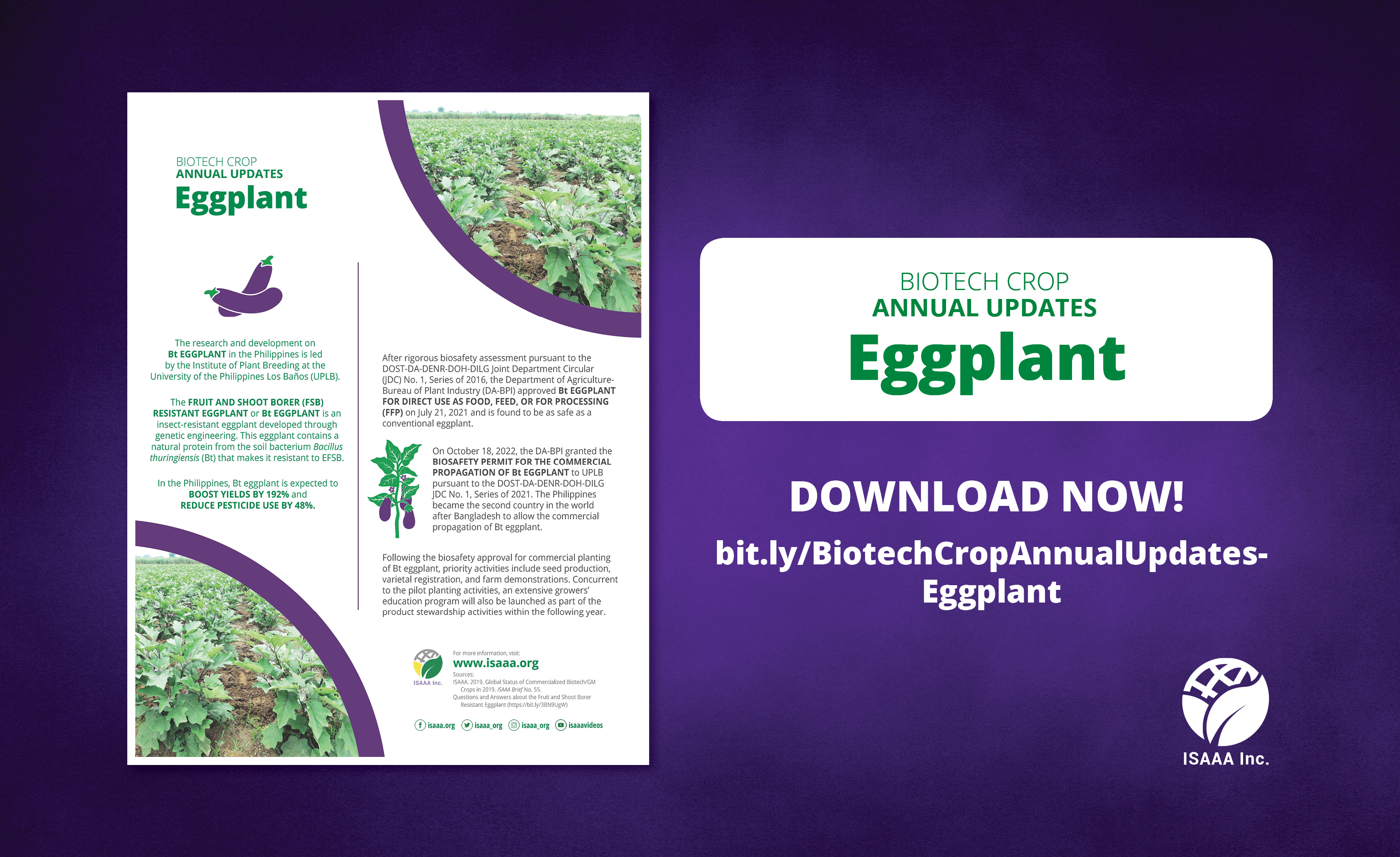 ISAAA has previously published Biotech Crop Annual Updates for the top five biotech crops grown in the world, including soybeans, maize, cotton, canola, and alfalfa. The first in the Pinoy Biotek series is Biotech Crop Annual Updates for Eggplant.
Bt eggplant has been found to be as safe as a conventional eggplant and received approval for direct use as food, feed, or for processing in July 2021 and was granted a biosafety permit for commercial propagation in October 2022. The one-page Biotech Crop Annual Updates for Eggplant contains brief and concise information on Bt eggplant research and development in the Philippines and also presents the current status of the crop.
The Biotech Crop Annual Updates for Eggplant is now available to download for free on the ISAAA website.
Science Speaks is ISAAA Inc.'s official blog. Weekly blog articles, authored by ISAAA writers, partners, and invited contributors, aim to help share, disseminate, and promote scientific knowledge and its vital role in achieving global agricultural sustainability and development. Your support to Science Speaks will help us achieve this goal. You can help us by donating as little as $10.