National Biotech Week Holds Technical Forum on Environmental Impact of GM Crops
November 18, 2020
To help stakeholders understand the impact of genetically modified (GM) crops on the environment, SEARCA, the Biotechnology Coalition of the Philippines, CropLife Asia, the Program for Biosafety Systems, IRRI, the Philippine Rice Research Institute, the DA-Biotechnology Program Office, and the International Service for the Acquisition of Agri-biotech Applications will be holding a technical forum entitled Greener Greens: Environmental Impact of Biotech Crops on November 23, 2020, 2-4 PM (GMT+8) via Zoom. The technical forum is one of the activities for the 16th National Biotechnology Week (NBW2020) in the Philippines.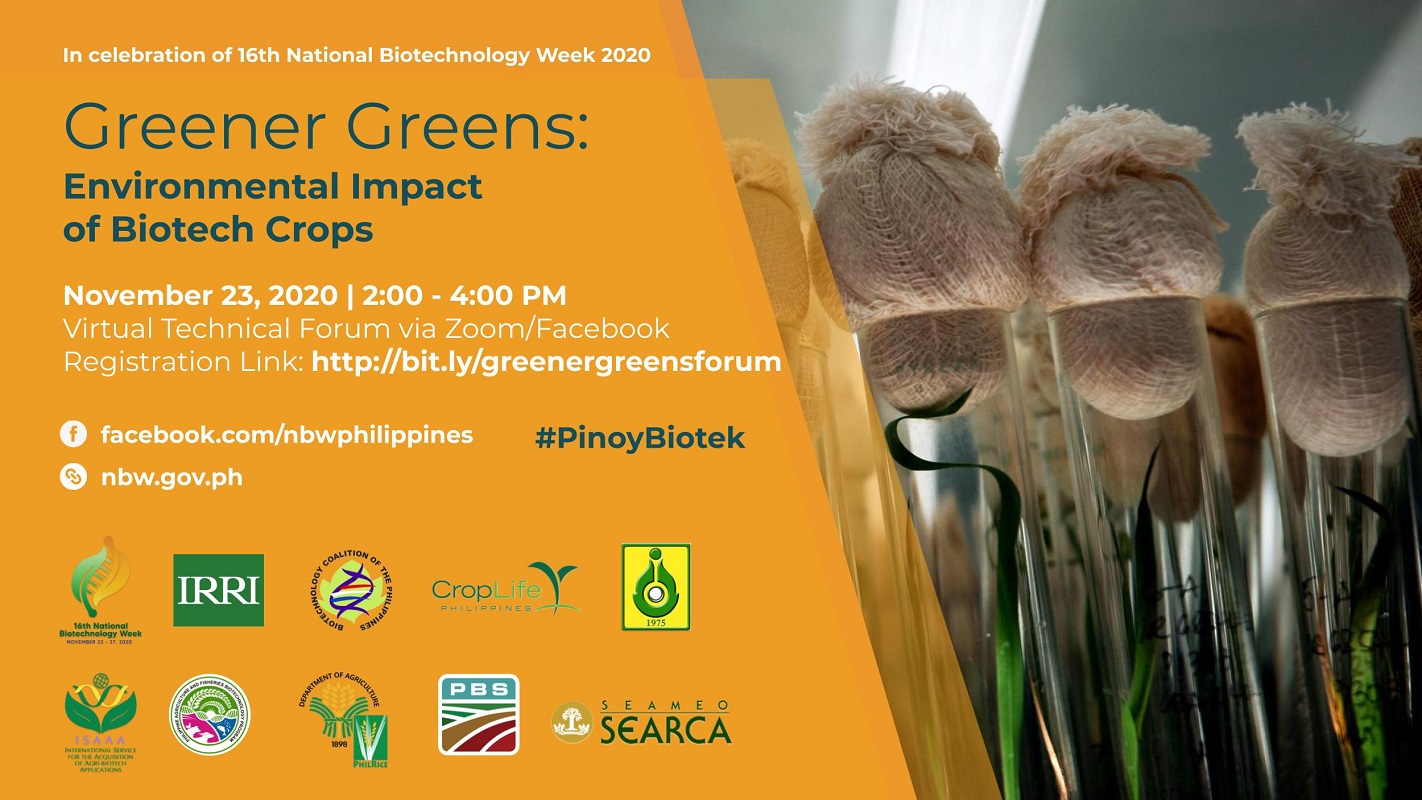 This year's NBW is led by the Department of Environment and Natural Resources, in collaboration with other government agencies and partner institutions. This year's theme Bioteknolohiya: Pagbangon at Pag-asa Tungo sa Matatag na Komunidad, Kapaligiran, at Ekonomiya (Biotechnology: Recovery and Hope Towards a Resilient Community, Environment, and Economy) directs the focus of the NBW initiatives towards actions to adapt and respond to the impact of current global crises, such as climate change, food insecurity, and the COVID-19 pandemic. The technical forum is expected to equip the stakeholders with evidence-based knowledge on the environmental impact of GM crops to guide them in informed decision making related to technology acceptance and applications.
During the forum, Graham Brookes, an agricultural economics expert and one of the Directors of PG Economics, will tackle the highlights of their report on the environmental impact of GM crops from 1996 to 2018. He has more than 30 years' experience in examining economic issues relating to the agricultural and food sectors.
"GM crop technology continues to make an important contribution to reducing the environmental footprint of agriculture and securing global food supplies in a sustainable way. It has also helped lift many small, resource-poor farmers and their families in developing countries out of poverty," said Graham Brookes.
Dr. Merdelyn Lit, newly appointed Vice Chancellor for Research and Extension of the University of the Philippines Los Baños (UPLB), will discuss the results of a series of studies on the topic. With research conducted by a team from UPLB, data showed that due to a reduction in pesticide use, there has been a positive impact on insect diversity in agroecosystems in the Philippines.
Registration to the virtual technical forum is open to the public and free of charge. Register now at bit.ly/greenergreensforum.
Science Speaks is ISAAA Inc.'s official blog. Weekly blog articles, authored by ISAAA writers, partners, and invited contributors, aim to help share, disseminate, and promote scientific knowledge and its vital role in achieving global agricultural sustainability and development. Your support to Science Speaks will help us achieve this goal. You can help us by donating as little as $10.