News
Global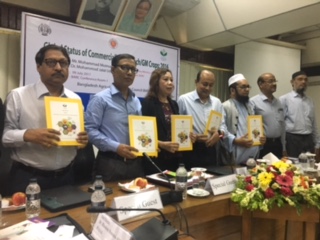 Bangladesh, the first country to plant biotech eggplant, is ready to adopt biotech cotton. This was expressed by the research and development leaders of the country during the seminar launch of ISAAA's Global Status of Commercialized Biotech/GM Crops for 2016, held on July 9, 2017 at the Bangladesh Agricultural Research Council (BARC) in Dhaka.
Chief Guest Additional Secretary of Agriculture Ministry Fazley Wahld Khandoker and heads of various government institutions expressed their appreciation to ISAAA for the valuable information provided by Dr. Rhodora R. Aldemita and Mr. Bhagirath Choudhary on the status, impact, and prospects of agri-biotechnology in 2016. Reactions imparted by panelists focused on the country's success in Bt brinjal adoption in the past three years, developments on the Golden Rice and late blight potato projects and more notably, the immediate interest in adopting biotech cotton.
Executive Director Dr. Farid Uddin of the Cotton Development Board opined that Bangladesh has been importing up to 6 million bales of cotton annually and planting biotech cotton in the country is the best solution to save the valuable monetary resources. He also added that logistical support for testing Bt cotton varieties will be put in place to expedite possible adoption. Consumers and farmers in Bangladesh are looking forward to the benefits of Bt cotton planting being experienced by neighboring Bt cotton countries, India and China.
The seminar was attended by some 75 heads and members of the government's agricultural R&D sector, regulators, and media. The seminar was organized by BARC with Executive Chairman Dr. Mohammad Jalal Uddin and Dr. Mustafizur Rahman as chair and moderator, respectively.
For more details on the seminar, contact knowledge.center@isaaa.org.
Africa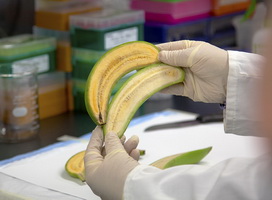 Queensland University of Technology (QUT) researchers developed genetically engineered bananas enriched with vitamin A to save thousands of lives in Africa who are at risk of having vitamin A deficiency.
According to Professor James Dale, the lead scientist, they have boosted the vitamin A concentration of banana up to four times their target. They initially tested the genetic modifications on Cavendish banana in Queensland, Australia, then on highland or east African cooking variety of banana in collaboration with researchers at the National Agricultural Research Organization. The scientists were concerned about possible decline in the amount of pro-vitamin A produced over generations but were thrilled it did not occur even after five generations.
It is expected that it will take six years before the vitamin A-enriched banana will be available in Uganda due to regulatory testing.
Read more from QUT.
[ Send to a Friend | Rate this Article ]
---
"Together with conducive and harmonized regulations, crop biotechnology innovations can help increase food production to address the needs of the growing global population, especially those in the developing countries like Uganda," said the Minister of State for Agriculture—Hon. Christopher Kibazanga. This was at the launch of the 2016 Global Status of Commercialized Biotech/GM Crops report on July 6, 2017 at Hotel Africana, in Kampala Uganda.
The ISAAA report highlights the trends of adoption of GM crops since their first commercialization in 1996, the global economic impact of GM crops, progress of GM crops research and commercialization, as well as prospects for the future of biotech crops in Africa and beyond.
Hon. Kibazanga reiterated the government's commitment to pass the National Biotechnology and Biosafety Bill into law, in order to facilitate safe development and application of biotechnology in Uganda. The Minister engaged the Members of Parliament to speed up the process of passing the National Biotech and Biosafety law so that farmers can access products of regulated biotechnology. "Any resistance against science in any field means that you are only telling your people to remain poor," Hon. Kibazanga said.
The event was attended by media, scientists, and policy makers. The launch happened at a time when the country is still dealing with a precarious food security situation due to unpredictable rain patterns and an unprecedented refugee crisis from neighboring South Sudan.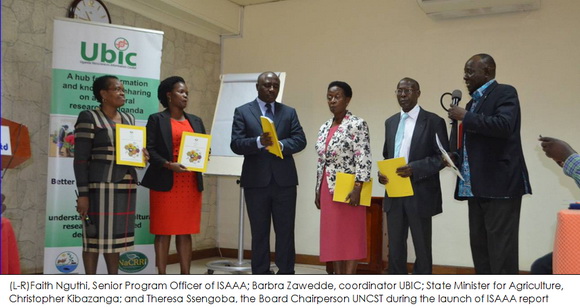 For more details, contact the UBIC Coordinator: ubic.nacrri@gmail.com.
Asia and the Pacific
Through combined high-resolution image-based phenotyping with functional mapping and genome prediction, a new research conducted at the Australia Plant Phenomics Facility (APPF) provides insights into the complex genetic architecture and molecular mechanisms underlying early shoot growth dynamics in rice.
The timing of developmental 'triggers' or switches that initiate tiller formation and rapid exponential growth in rice are a critical component of early vigor trait which is important in aerobic rice environments. However, the search for the switch that initiates this growth has proven challenging due to the complex genetic basis and large genotype-by-environment effect, and the difficulty in accurately measuring shoot growth for large populations.
The APPF team led by PhD student Malachy Campbell phenotyped a panel of ~360 diverse rice accessions throughout the vegetative stage (11-44 day old plants) at APPF. A mathematical equation was used to describe temporal growth trajectories of each accession. Regions of the genome that may regulate early vigor were inferred using genome-wide association (GWA) mapping. Many loci with small effects on shoot growth trajectories were identified, indicating that many genes contribute to this trait. GWA, together with RNA sequencing identified a gibberellic acid (GA) catabolic gene, OsGA2ox7, which could be influencing GA levels to regulate vigor in the early tillering stage.
For more details, read the APPF News.
[ Send to a Friend | Rate this Article ]
---
A global team of researchers led by Dr. Assaf Distelfeld of Tel Aviv University has published the first-ever genome of Wild Emmer wheat, the original form of nearly all domesticated wheat in the world, including durum and bread wheat.
Together with researchers and scientists from institutions around the world, the team has created a 'time tunnel' that can be used to examine wheat from before the origins of agriculture. The new resource has enabled the team to identify a number of genes that control the main traits that early humans selected in domesticating wheat. The genes will be used in future wheat breeding efforts.
The team has assembled the very large and complex genome found in Wild Emmer's 14 chromosomes, and for the first time, the sequences are collapsed into a refined order. Dr. Distelfeld concludes, "We now have the tools to study crops directly and to make and apply our discoveries more efficiently than ever before."
For more details, read the Tel Aviv University News.
Europe
On July 4, 2017, the European Commission has granted five authorizations for genetically modified (GM) crops for food/feed use. The GM crops are cotton 281-24-236 x 3006-210-23 x MON 88913; cotton GHB 119; maize Bt11 × 59122 × MIR604 × 1507 × GA21; maize DAS-40278-9; and the renewal of maize MON 810.
The approved GM crops had gone through the full authorization procedure, including a favorable scientific assessment by the European Food Safety Authority (EFSA). The crops also received "no opinion" votes from the Member States in both the Standing and Appeal Committees and the Commission adopted the pending decisions.
The authorizations do not cover cultivation, valid for 10 years, and any products produced from these GM crops will be subject to the EU's strict labelling and traceability rules.
More details are available at the website of the European Commission.
[ Send to a Friend | Rate this Article ]
---
Researchers from the John Innes Centre (JIC) have developed a variety of wheat that has high levels of iron. This new biofortified variety could help decrease the number of people with iron deficiency around the world.
Wheat contains iron in parts that are removed however, before it is produced as white flour. With the use of the published wheat genome, Dr. James Connorton and colleagues located two genes involved in iron transport. Then, one of the genes was used to direct more iron into the endosperm, leading to a variety that produces twice the amount of iron present in commercial varieties.
"This breakthrough means that higher levels of iron from the wheat itself could replace added iron in everyday items such as white flour and breakfast cereals, helping the estimated 1 billion people that suffer from iron deficiency worldwide," said Dr. Janneke Balk, one of the researchers.
Know more from JIC.
Research
Previous studies have revealed that the WUSCHEL-related homeobox (WOX) gene superfamily regulates several pathways in plant development. The WOX family member STENOFOLIA (STF), is known to be involved in leaf expansion in the dicot alfalfa Medicago truncutula. The research team led by Meiyan Liu from Jiangsu Normal University in China investigated the STF gene and expressed it in winter wheat (Triticum aestivum).
The transgenic plants expressing STF showed widened leaves as well as accelerated flowering and increased chlorophyll content. These desirable traits were also found to be stably inherited in the progeny. The STF protein was found to bind to wheat genes that have the (GA)n/(CT)n DNA cis element suggesting a mechanism for pleiotropic effects.
These results show that the STF gene from a dicot can be used to regulate leaf width, flowering time and chlorophyll content in the monocot wheat.
For more on this study, read the article in Plant Biotechnology Journal.
[ Send to a Friend | Rate this Article ]
---
Physiological responses of plants to salinity stress require the coordinated activation of many genes. Alex San Martín-Davison from Universidad de Talca in Chile, led a team of scientists and isolated a salt-induced gene from the roots of the wild tomato, Solanum chilense, named SchRabGDI1.
Analysis found that the protein from SchRabGDI1 are regulators of the RabGTPase cycle and play key roles in intracellular vesicular trafficking. The expression patterns of the gene showed early upregulation in roots and leaves under salt stress. Expression of SchRabGDI1 in Arabidopsis thaliana plants resulted in increased salt tolerance. Furthermore, root cells of transgenic plants showed higher accumulation of sodium in vacuoles under salt stress than wild types.
These results suggest that SchRabGDI1 from the salt tolerant species such as S. chilense can be used for improving salt tolerance in plants.
For more on this study, read the article in Plant Science.
New Breeding Technologies
The CRISPR-Cas9 system depends on a guide RNA (gRNA) to specify its target. By co-expressing multiple gRNAs, the CRISPR-Cas9 system can perform multiple gene editing. The team of Bastian Minkenberg from Pennsylvania State University identified the rice genes MPK1 and MPK6, homologs of Arabidopsis genes AtMPK6 and AtMPK4, respectively, in rice (Oryza sativa) as essential genes for rice development via CRISPR-edited mutants.
The team found that MPK1 knock-out mutants were severely dwarfed and sterile, and the homozygous mpk1 seeds from heterozygous parents were defective in embryo development. Meanwhile, heterozygous mpk6 mutant plants failed to produce homozygous mpk6 seeds. Both these findings prove the importance of MPK genes in rice embryo development. However, unlike Arabidopsis MPK genes where individual MPK genes can be turned off and have no distinguishable effect on the phenotype, a knockout of an individual MPK gene in rice has lethal consequences to the embryo.
This study revealed the importance of MPK1 and MPK6 in rice development. It enables future functional studies to specify the function of each MPK gene.
For more information on the study, read the article in The Plant Journal.
[ Send to a Friend | Rate this Article ]
---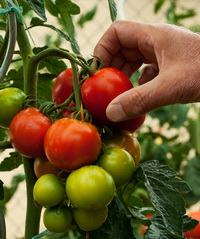 In tomato (Solanum lycopersicum), there are sixteen Mlo genes, with SlMlo1 being the major contributor to the susceptibility to the powdery mildew caused by Oidium neolycopersici. Natural loss-of-function slmlo1 mutants are available in tomato, however, introgression of such mutations is a lengthy process. The team of Vladimir Nekrasov from the Sainsbury Laboratory, Norwich Research Park in the UK aimed to generate a transgene-free genetically edited slmlo1 tomato using the CRISPR-Cas9 system.
The team targeted the SlMlo1 locus using the double sgRNA strategy. Transformants were analyzed and eight out of ten tested T0 transformants indicated the presence of mutations. Assays using the powdery mildew fungus revealed that all the generated T0 slmlo1 mutant plants were resistant to the pathogen, while wild-type plants were susceptible.
Furthermore, the slmlo1 mutant plants were morphologically similar to the wild type and also produced harvested fruit weight similar to the wild types. The team named the generated variety Tomelo. This study presents evidence for CRISPR-Cas9 being a highly precise tool for genome editing in tomato.
For more on this study, read the article in Nature.
Beyond Crop Biotech
The U.S. Department of Agriculture's (USDA) Animal and Plant Health Inspection Service (APHIS) has announced the availability of a final environmental assessment (EA) and finding of no significant impact (FONSI) and will concurrently issue a permit for the field release of genetically engineered (GE) diamondback moths.
The moths are genetically engineered for repressible female lethality and to express red fluorescence as a marker. The field release will assess the feasibility and efficacy of these moths in reducing populations of diamondback moth, a known plant pest and serious threat to agriculture. Based on its FONSI, APHIS has determined that an environmental impact statement need not be prepared.
The final EA and FONSI are available at the USDA APHIS website.
[ Send to a Friend | Rate this Article ]
---
Borage (Borago officinalis) is an annual herb that produces a high level of gamma-linolenic acid (GLA) in its seed. Due to the recognized health benefits of GLA, borage is now commercially cultivated worldwide. However, an herbicide tolerant variety for effective weed management has not yet been developed. The team of Dongyan Song from the University of Saskatchewan in Canada developed mutant borage lines tolerant to the herbicide imidazolinone.
The team used ethyl methanesulfonate (EMS), a substance capable of producing random mutations, on mature borage seeds to produce a mutant population. The population was then screened using an herbicide treatment and two imidazolinone-tolerant lines were identified. Analysis of the two acetohydroxyacid synthase (AHAS) genes, AHAS1 and AHAS2, in the mutant (tolerant) and wild type (susceptible) borage plants showed that single nucleotide substitutions occurred in both genes in the two tolerant lines.
A marker was also developed to differentiate the homozygous susceptible, homozygous tolerant and heterozygous borage plants. A final herbicide dose response test indicated that lines with the AHAS1 mutation could tolerate four times the normally used field concentration of imidazolinone herbicide.
For more information on this study, read the article in Plant Science.