News
Global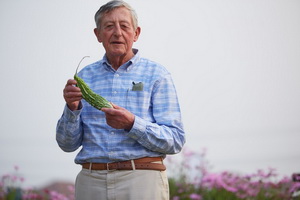 Simon N. Groot, vegetable breeder from the Netherlands and founder of East-West Seed is the 2019 World Food Prize Laureate. The announcement was made at a ceremony at the U.S. Department of Agriculture on June 10, 2019. Mr. Groot won the award for empowering millions of smallholder farmers in more than 60 countries to earn greater incomes through enhanced vegetable production, benefitting hundreds of millions of consumers with greater access to nutritious vegetables for healthy diets.
The prize honors Mr. Groot's unparalleled achievements as the founder and leader of East-West Seed. His initiative over the past four decades helped develop a dynamic, smallholder-centric tropical vegetable seed industry, starting in Southeast Asia and spreading through Asia, Africa, and Latin America. East-West Seed now serves over 20 million smallholder farmers in more than 60 tropical countries.
Commercial vegetable breeding was unknown in the tropics when Mr. Groot started East-West Seed in the Philippines with business partner Benito Domingo. Through this partnership, Mr. Groot introduced the first locally developed commercial vegetable hybrids in tropical Asia. Mr. Groot also created East-West Seed's innovative Knowledge Transfer program which trains farmers in good agricultural practices for vegetable production.
"The awarding of the World Food Prize to a vegetable seedsman is reason for excitement and gratitude," Groot said. "But the ultimate recognition is for the millions of smallholder farmers that stepped up farming from a way of living to building a business. Partnering modern science with a long tradition of Dutch seedsmanship has contributed mightily to the growth of the vegetable farming industry of tropical Asia in the last 35 years. Now it is the turn for tropical Africa where again quality vegetable seeds combined with major farmer knowledge transfer programs can create sustainable income for the next generation of African farmers," said Mr. Groot.
Read more details about Mr. Groot in The World Food Prize website.
Americas
Scientists from the Agricultural Research Service (ARS) led by plant molecular geneticist Guihua Bai have identified a key gene that could be used as an important genetic resource by wheat breeders worldwide to address the constant challenge posed by Fusarium head blight (FHB). Also known as scab, FHB has caused an estimated US$2.7 billion in losses, in the state of Minnesota alone since the 1990s, and forced many wheat and barley farmers there into bankruptcy.
FHB thrives in warm and moist conditions and is now an increasing threat worldwide due to unpredictable weather patterns brought on by climate change. Bai and his colleagues showed that the gene TaHRC plays a key role in conferring wheat resistance to FHB. The researchers confirmed the role played by the TaHRC gene by "switching it off," which modified the production of key proteins and significantly increased FHB resistance.
For more details, read the ARS news release.
[ Send to a Friend | Rate this Article ]
---
In an op-ed article in UConn Today, University of Connecticut Program Specialist Stacey Stearns writes about the benefits of GMOs, citing that while most people associate GMOs with food products, they actually began in the medical field with insulin, an important part of diabetes treatment.
Stearns writes that despite documented benefits of GMOs, 80% of respondents to the 2018 Food and Health Survey Report from the International Food Information Council Foundation are confused about food, or doubt their choices because of conflicting information. The report found that the context of GMOs influenced consumer judgment. Also in 2018, the Pew Research Center found that 49% of Americans think genetically modified foods are worse for one's health. These studies reveal that many people fear or are suspicious of GMOs, but there is a history of important effects that most people would applaud, and insulin is one such case.
Recognizing the fact that consumer acceptance and decision on GMOs must be based on facts, the University of Connecticut established a website, Science of GMOs, to provide science-based information to help the public make their own decisions about GMOs. The website's content is generated from faculty and staff in the College of Agriculture, Health and Natural Resources who believe it can be difficult to find science-based information that is understandable. Science of GMOs is intended to help bridge the information gap, and provide real answers to questions concerning people today.
For more details, read the article in UConn Today or visit the Science of GMOs.
[ Send to a Friend | Rate this Article ]
---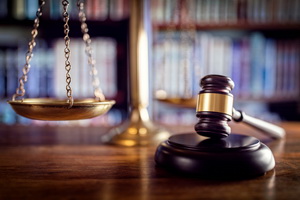 The United States Department of Agriculture (USDA) announced that they are proposing to modernize biotechnology regulations in such a way that the efficient agricultural production to address sustainability is incorporated while also considering the responsible and predictable regulatory oversight to protect the ecology and plant health.
USDA made the proposal based on the following principles: Sustainable, Ecological, Consistent, Uniform, Responsible, Efficient or SECURE. The new proposed rule allows plant health to be protected while agricultural innovation thrives at the same time. It features regulatory flexibility for genetic engineering (GE) improvement that lets regulators oversee plant pest risk based on the best available science.
In the past, USDA has actively asked stakeholders to participate in making changes to the existing regulations through a transparent review process. This was done to foster public confidence without hindering scientific innovation. SECURE incorporates some provisions of the 2008 Farm Bill and recommendations from the 2015 USDA Inspector General report on GE organisms. The proposal will be up for public review and comments will be accepted in a two-month time frame. This will be the first significant revision of USDA's biotechnology regulations since 1987.
Read more from USDA.
Asia and the Pacific
The South Asia Biotechnology Centre (SABC), in collaboration with the University of Agriculture and Horticulture Sciences (UAHS), has started a "mega campaign" on fall armyworm under the project Safeguarding Agriculture and Farmers against Fall Armyworm (Project SAFFAL) at Shivamogga, Karnataka, India on June 8, 2019. The UAHS Shivamogga was first to report the fall armyworm infestation in India in July 2018.
More than 250 farmers, input dealers, and retailers from major maize-growing areas in the country joined the workshop on Management of Fall Armyworm on Maize organized jointly by SABC and UAHS, Shivamogga. Around 350,000 hectares of maize are cultivated intensively for three seasons a year in Shivamogga, Devanagari, and Chitradurga districts of Karnataka, and fall armyworm has been a grave threat during the Kharif and Rabi seasons in 2018.
During the event, SABC released four posters on fall armyworm in Kannada languages. The Department of Agriculture of Karnataka also released a poster along with a booklet developed by UAHS, Shivamogga to provide farmers, dealers, and retailers with information and control measures of fall armyworm.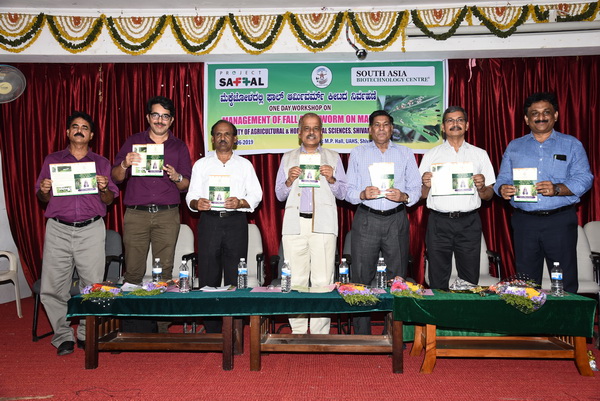 Project SAFFAL is supported by FMC Corporation and implemented in collaboration with key stakeholders in the maize value chain in India. For more information, visit the SABC website or send an email to saffal@sabc.asia.
[ Send to a Friend | Rate this Article ]
---
Around 300 new strains of saltwater-tolerant rice have been planted on 670 hectares of experimental alkali fields in China to identify viable varieties that can be grown on formerly barren lands, according to the Saline-Alkali Tolerant Rice Research and Development Center.
Initial tests with different strains already revealed a significant difference in average yields. Crops in test fields in Qingdao, Shandong province produce around 10 metric tons per hectare in a single harvest year whereas crops planted in salty-alkaline land in Daqing, Heilongjiang province produced only 3.1 tons per hectare.
According to Zhang Guodong, the Center's Deputy Director, lower yields can be attributed to factors such as the impact of natural disasters and the incompatibility of some varieties with the local environment. He also emphasized that a strain of rice has to produce about an average of 4.5 tons per hectare for it to be considered for mass cultivation.
The Center plans to submit seven qualified rice strains to the Ministry of Agriculture and Rural Affairs this year. Should the strains pass evaluation, certificates will then be obtained for large-scale cultivation nationwide. The commercial cultivation of saltwater-tolerant varieties will cover around one-fifth of the 100 million hectares of saltwater soil in the country, which has the potential for rice cultivation.
For more information, read the news article in China News Service.
Europe
Research teams at the Sainsbury Laboratory Cambridge University (SLCU) and the University of Bordeaux have discovered Phloem Unloading Modulator (PLM), a novel gene affecting nutrient trafficking by altering the channels connecting neighboring plant cells also known as plasmodesmata. These nanoscale membrane-lined channels link plant cells together and enable the transfer of essential substances.
The study shows that Arabidopsis plants without the PLM gene released more substances from the phloem (specialized tissue for long distance transport) at the tips of their roots. With the help of a fluorescent protein as a proxy for macromolecules, the scientists saw that the PLM gene had a controlling effect on the amount of phloem unloading. To find out how the PLM gene did this, they looked at different cell interfaces in the roots of seedling plants.
According to lead author Dr. Dawei Yan from SLCU, they found mutating PLM relieves a trafficking bottleneck that was previously reducing the outward movement of nutrients from the vascular system to the rapidly growing tissues in the roots. Further tests revealed that PLM is involved in the biosynthesis of sphingolipids, a class of lipids associated with plant development and response to the environment.
For more details, read the news article in the Sainsbury Laboratory.
[ Send to a Friend | Rate this Article ]
---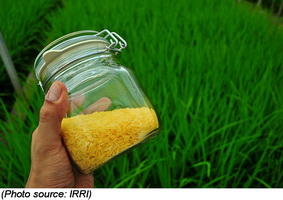 Professor Johnathan Napier, a leading pioneer in plant biotechnology who led the development of plants that produce heart-healthy omega-3 fish oils, says that "misinformation and over-regulation are stopping or slowing several GM foods with the potential to save lives from making it to consumers."
In a paper published in Nature Plants, Professor Napier and fellow authors wrote that using genetic modification (GM) to enhance the nutritional composition of crops (for either direct human consumption or as animal feed) has been recognized since the dawn of the GM era, with 'output' traits being considered as distinct, if not potentially superior, to 'input' traits such as herbicide tolerance and insect resistance. The authors point out that while input traits have successfully been used and now form the basis of GM agriculture, output trait GM crops is still lagging behind after 20 years.
Professor Napier points the example to Golden Rice. "The technology is proven, the rigorous safety studies have been done, the nutritional research shows Golden Rice is an excellent source of vitamin A – but still it is not being produced, despite having been formally approved for feed or food use in USA, Canada, and New Zealand and Australia," he said. He added that Golden Rice has been stuck in development limbo for far too long now, and not available to the people who would benefit from it.
For more details, read the news article on the Rothamsted Research website.
Research
Photosynthesis is an important physiological process in plants. It plays a crucial role in plant growth and development. Vietnam Academy of Science and Technology reports the impact of zerovalent cobalt nanoparticles on the expression of genes linked to photosynthesis in soybean leaves at different growth stages.
The results showed that treatment of zerovalent cobalt nanoparticles made in Vietnam and USA (with two doses of 0.17 and 16.67 mg/kg of soybean seed) enhanced the photosynthesis of soybean by increasing the content of chlorophyll a and the ratio of Fv/Fm compared with the control (without treatment of zerovalent cobalt nanoparticles). These values tended to increase and reached the maximum value at 40 days and then decreased at 70 days. The expression level of photosynthesis-related genes of soybean leaves also changed depending on the soybean's growth stage and concentration of zerovalent cobalt nanoparticles being treated. The genes psaA, Lhca, psaB, Cytb6f (belonging to photosystem I) and psbA, psbB, psbC, psbD, psbE (belonging to photosystem II) in the experimental formulas were expressed higher than that in control group at 20 and 70 days. However, at 40 days, the expression levels of these genes were significantly different.
The obtained results supplied the basis for understanding the active mechanism of the above genes to control the photosynthetic activity of plants with and without the presence of zerovalent cobalt nanoparticles as well as under stress conditions.
For more information, read the full article in Vietnamese from Vietnam Academy of Science and Technology.
[ Send to a Friend | Rate this Article ]
---
Insect resistant corn (MON810) has been shown to be non-toxic to mammals based on several rodent feeding studies which were conducted following the OECD Guidelines. Though whole animal studies were still deemed as the "gold standard" for safety assessment, the results only show changes at the cellular, tissue, and organ level. Thus, scientists from the University of Newcastle, UK, and partners conducted a proteomic-based study to understand the mechanisms that occur at the cellular/receptor level. Their findings are reported in Transgenic Research.
Differential gene expression in the epithelial cells of the small intestine of rats fed formulated diets containing MON810, its near isogenic line, two conventional corn varieties, and a commercial corn-based control diet were studied using comparative proteomic profiling. Results showed that most of the proteins were differentially expressed in the small intestine epithelial cells as response to the various feeding diets. Regardless of the designated diet, a few of the stress-related proteins exhibited variations in expression. There were no significant clinical or behavioral effects or biomarkers of adverse health found in rats fed with GM corns, compared to other diets.
Based on the results, MON810 has negligible effects on the small intestine of rats at the cellular level.
Read more from Transgenic Research.
New Breeding Technologies
Proline-rich proteins (PRPs) play several important physiological and biochemical roles in growth and stress response of plants. A study published in 3 Biotech reported that the knockout of rice PRP induced cold sensitivity in rice.
A total of 26 To generation and 16 T1 generation of mutant plants were generated using CRISPR-Cas9 to explore the role of OsPRP1 in cold stress. The conserved amino acid sequence was altered and the OsPRP1 expression level was decreased in mutant plants. The mutant plants exhibited more sensitivity to cold stress and showed low survival rate with reduced root biomass than wild-type rice plants. The homozygous mutant line with large fragment deletion showed higher sensitivity to low temperature. The mutant lines accumulated less antioxidant enzyme activity and lower levels of proline, chlorophyll, abscisic acid (ABA), and ascorbic acid (AsA) content relative to wild-type under low-temperature stress. Furthermore, the expression of three genes encoding antioxidant enzyme activities was significantly down-regulated in the mutant lines as compared to wild-type.
The findings suggest that OsPRP1 enhances cold tolerance by modulating antioxidants and maintaining cross talk through signaling pathways. Thus, OsPRP1 gene can be used to enhance the cold tolerance trait in rice.
Read the research article in 3 Biotech.
[ Send to a Friend | Rate this Article ]
---
One of the vital target traits in improving rice production is the duration of rice growth phase. Identifying mutations in rice that change these processes to cause shorter growth phase could have potential benefits for crop production. A study published in the Journal of Agricultural and Food Chemistry presents an early-aging rice mutant, pe-1.
The researchers isolated pe-1 using γ-mutated Indica rice cultivar and subsequent screening methods. The pe-1 has decreased chlorophyll content, manifested by its light green leaves; enhanced photosynthesis; and decreased pollen fertility. Analysis of expression patterns showed that PE-1 was mainly present in roots, stems, leaves, leaf sheaths, and young panicles. CRISPR-Cas9 was used to knockout PE-1, leading to decreased chlorophyll content and down-regulated expression of PE-1 related genes.
The results suggest that PE-1 work as a master regulator in controlling chlorophyll biosynthesis and photosynthetic pathways.
Read the abstract in Journal of Agricultural and Food Chemistry.
[ Send to a Friend | Rate this Article ]
---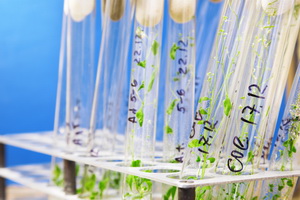 Russia has declared support to gene-editing technology by launching a US$1.7 billion federal research program that will develop 10 new varieties of gene-edited crops and animals by 2020 and another set of 20 gene-edited varieties by 2027.
Alexey Kochetov, director of the Siberian Branch of the Russian Academy of Sciences (RAS) Institute of Cytology and Genetics in Novosibirsk, lauded this new effort stressing that the country has been "chronically underfinanced" for decades. The research program also suggests that gene-edited products will be exempted from a law passed in 2016 that bans planting of genetically modified crops in Russia, except for research use.
Molecular geneticist Konstantin Severinov, who helped develop the research program, emphasized the importance of CRISPR technology in making Russia less dependent on imported crops. "Despite considering itself a bread basket, Russia is highly dependent on imports when it comes to elite crop varieties, so [the government decided] something needs to be done. . . Luckily, a few RAS members managed to make the case that CRISPR–Cas9 is a good thing," says Severinov.
Read the original article in Nature.
Beyond Crop Biotech
Livestock farming poses environmental harm such as land and water degradation, biodiversity loss, and climate change. Tufts University suggests a toolbox of potential solutions to address this problem. The popular options include shifting to plant-based diets, insect farming, lab-grown meat, and genetically modified animals. In an article in Frontiers in Sustainable Food Systems, Natalie Rubio of Tufts University explains why lab-grown insect meat-fed on GM products for maximum growth, nutrition, and flavor, could be the best green alternative for high volume, nutritious food production.
"Compared to cultured mammalian, avian and other vertebrate cells, insect cell cultures require fewer resources and less energy-intensive environmental control, as they have lower glucose requirements and can thrive in a wider range of temperature, pH, oxygen and osmolarity conditions," Rubio explains.
Since regular contraction is necessary for cultured insect muscle to develop a meaty texture, an efficient method called optogenetic engineering may be used. This technique makes cells contract in response to light through introduction of a new gene.
Read the complete article in Frontiers in Sustainable Food Systems for more details.
Announcements
What: Africa Biennial Biosciences Communication Symposium (ABBC 2019)
When: August 29-30, 2019
Where: Pretoria, South Africa
In the wake of advanced technologies, emerging genetic technologies such as genome editing are attracting a lot of attention as they enable faster, easier, cheaper and more precise changes to DNA. Genome editing holds great promise and is set to transform healthcare and agriculture sectors globally. Given the precision, affordability and potential offered for quick win, Africa stands to benefit most. The African Union High Level Panel on Emerging Technologies (APET) has already identified advances in gene technology as key to fast-tracking Africa's development and transformation process. The continent's chance to benefit from these technologies lies heavily on its ability to efficiently regulate and communicate its potential and risks. However, genome editing is establishing itself in a world where perceptions about any form of induced genetic variations are highly influenced by the continuing emotion-based GMO-food debate. Although this technology poses tremendous scientific, medical, agricultural and business implications, communication approaches will either hamper or facilitate its uptake.
Conversations on how to govern genome editing are starting to gain momentum in the region and public engagement needs to keep pace with these rapid advancements, to avoid inheritance of restrictive regulatory regimes. Despite numerous investments in this frontier, stringent regulations not informed by credible science will thwart efforts to roll out products and limit market growth. Although several conferences have provided an international forum for scientists to discuss developments in genome editing, they have limited participation of African experts and rarely focus on the communication and regulatory aspects of this technology in the region. Africa Biennial Biosciences Communication Symposium, 2019 (ABBC2019), will provide a unique opportunity to address key components that will lay the foundation for uptake of genome editing in Africa. It will involve key African players who will play a role in steering the narrative and governance of the technology. ABBC 2019 will provide an Africa-based and African-led platform to interrogate best communication practices that will facilitate informed decision making on genome editing in the region.
Objectives:
Interrogating the various regulatory options and implications for adoption and application of genome editing
Optimizing use of traditional and digital media in communicating genome editing
Sharing current and past experiences and identifying effective stakeholder engagement strategies on genome editing
Themes:
Overview of the global policy and regulatory landscape
Framing the genome editing narrative
Addressing stakeholder complexity
Expected outcomes:
Informed policy and regulatory decision making on genome editing
Best practices to inform effective communication strategies for genome editing
Innovative public engagement strategies on genome editing
A virtual platform that tracks global progress on application and use of genome editing in agriculture
Approach:
Keynote presentations by experts in the various topics
Experience sharing and case studies
In-depth group discussions
Policy dialogue
Science cafe
Participants:
Scientists with specialization in genome editing
Science communication experts
Policy makers
Media practitioners with specific focus on editors
Technology developers and industry players
Regulators
Professional associations representing various end-users like farmers
Know more about the
ABBC2019
.