News
Africa
Stakeholders in the cotton sub-sector in Kenya are eagerly awaiting the introduction of Bt cotton in the country. This was raised at a recent workshop to prepare officials from the Ministry of Agriculture, Livestock and Fisheries for the adoption of the GM crop. The workshop, also attended by representatives from Ministry of Industry, Trade and Cooperatives, was held in Embu, north-east of Nairobi on October 16-17, 2017 and aimed at developing skills and capacity for effective management of the GM crop.
Dr. Charles Waturu, the principal researcher for Bt cotton in Kenya Agricultural and Livestock Research Organization (KALRO), informed participants that the trials for Bollgard I® and Bollgard II® cotton were successfully completed about 10 years ago. According to Dr. Waturu, the trials showed that transgenic cotton effectively controlled the populations of African bollworm and had no significant effect on non-target pest species. "Growing Bt cotton will significantly reduce the amount of insecticides used by Kenyan farmers, from 12 to about three sprays per season, thus reducing the cost of production and increasing income from cotton farming," he pointed out.
Anthony Muriithi, the head of Fibre Crops Directorate agreed that Bt cotton is the way to go for Kenya. He acknowledged that the introduction of GM crops will be a remedy to poor cotton yields recorded currently. "The country currently produces approximately 25,000 bales which is only 10.4% of her potential and once Bt cotton is commercialized, we will see an upsurge in cotton production," he noted. Some participants were, however concerned that the country's political dynamics could derail efforts to expedite the adoption of the crop. "Political leaders must show political goodwill and lead the course towards adoption and commercialization of Bt cotton," a participant said.
ISAAA Senior Programme Officer Dr. Faith Nguthi trained the stakeholders on effective science communication to promote understanding of the Bt cotton technology. Dr. Nguthi emphasized that in order to enhance trust and facilitate uptake of GM technology, there is a need to develop messages that are credible. The workshop was organized by Fibre Crops Directorate in collaboration with ISAAA and the Open Forum on Agricultural Biotechnology (OFAB-Kenya).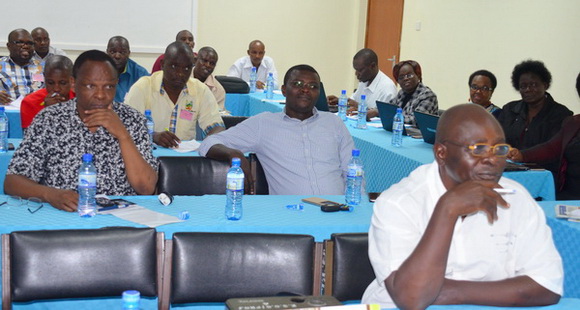 For more information on the article reference mkarembu@isaaa.org.
Americas
Scientists at Boyce Thompson Institute (BTI) and the National Engineering Research Center for Vegetables in Beijing, China have sequenced the genomes of two important pumpkin species, Cucurbita maxima and C. moschata.
The research team sequenced the two pumpkin species to better understand their contrasting desirable traits: C. moschata is known for its resistance to disease and other stresses, such as extreme temperatures, while C. maxima is better known for its fruit quality and nutrition. The hybrid of these two species called "Shintosa" has even greater stress tolerance than C. moschata, and is often used as a rootstock for other cucurbit crops.
The sequencing project also revealed an interesting evolutionary history for Cucurbita species. When the researchers compared the Cucurbita genome sequences to those of other cucurbits, they discovered that the pumpkin genome is actually a combination of two ancient genomes, making it a paleotetraploid.
For more details, read the BTI News.
[ Send to a Friend | Rate this Article ]
---
The U.S. Department of Agriculture's (USDA) Animal and Plant Health Inspection Service (APHIS) has made available for public comment a petition from Bayer CropScience, seeking deregulation of cotton genetically engineered (GE) for resistance to the herbicides glyphosate and isoxaflutole. Glyphosate is a broad spectrum herbicide commonly used to control any weed, and isoxaflutole controls broadleaf weeds and grasses.
The petition is available for public review and comment for 60 days starting October 27, 2017 and is available on the News and Information page of the Biotechnology Regulatory Services website. Comments may be submitted from October 27 – December 26, 2017, at http://www.regulations.gov/ by entering docket number APHIS-2017-0073 in the search box.
[ Send to a Friend | Rate this Article ]
---
In a report in Plant Cell Tissue and Organ Culture (PCTOC), scientists have engineered cowpea -- one of the most important sources of vegetable protein for rural families in Sub-Saharan Africa -- to produce a Bacillus thuringiensis (Bt) protein, which protects against the Maruca pod borer that plagues the crop. Bt has been used as an organic pesticide for several decades, but it is often unavailable or too expensive for smallholder farmers.
Bt cowpea could yield as much as 25 percent more than other cowpea varieties, said TJ Higgins, a research scientist at the Commonwealth Scientific and Industrial Research Organisation (CSIRO) who led this work.Bt cowpea could be released next year to farmers in Nigeria, Burkina Faso, and Ghana at no cost.
For more details, the open access article is available at PCTOC.
Asia and the Pacific
The latest biosafety regulatory guidelines in the Philippines, the Joint Department Circular (JDC), was presented to around 200 key stakeholders from Region III such as farmers, Department of Agriculture (DA) information officers, regulators, members of the academe (students and faculty from various universities), and constituents of local government units of selected municipalities in the region. The event, Biotechnology 101 & Joint Department Circular (JDC) Public Briefing, was held on October 27, 2017 at Hotel Stotsenberg, Clark, Pampanga.
Aside from the new regulations, the science, food and environmental safety, actual and potential socioeconomic benefits, and current and upcoming products of modern crop biotech in the Philippines, were also discussed by experts. These include biotech scientists and experts as well as representatives from the concerned government agencies of the JDC. The open forum clarified concerns on the safety of biotech crops, popularizing biotech, and research and production of local biotech crops. Participants from the academe expressed the need for conduct of more local research on biotech, while farmers recognized the potential benefits that crop biotech can deliver.
The activity was organized by ISAAA, the Southeast Asian Regional Center for Graduate Study and Research in Agriculture-Biotechnology Information Center (SEARCA BIC), Department of Agriculture (DA)-Biotechnology Program Office, and DA-Regional Field Office III.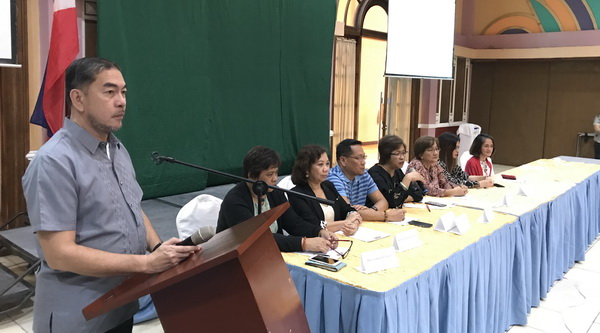 For more updates on biotech in the Philippines, visit the SEARCA BIC website.
[ Send to a Friend | Rate this Article ]
---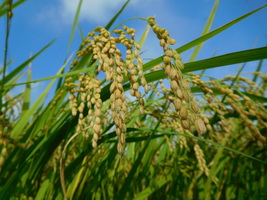 Chinese scientists develop new rice varieties that can be planted in seawater, which can potentially provide food for 200 million people.
Scientists have long been working on rice that can grow in seawater, and finally commercially viable varieties are now being tested. Around 200 rice varieties are under testing near the Yellow Sea coastal city of Qingdao in Shandong province to see which ones perform best in salty conditions. Seawater is pumped into the fields, diluted, and then channelled into the rice paddies. The researchers projected that the rice varieties would produce 4.5 tons per hectare, but one variety already showed promising results by producing 9.3 tons per hectare.
"The test results greatly exceeded our expectations," said Liu Shiping, one of the researchers and professor of agriculture at Yangzhou University.
Read more from the Genetic Literacy Project.
Europe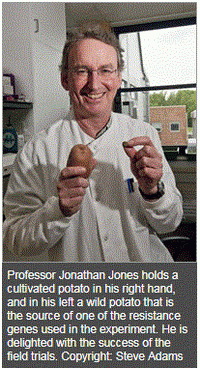 Technology has become the blight of the Irish potato famine pathogen. A research team led by Professor Jonathan Jones at The Sainsbury Laboratory in Norwich Research Park has successfully modified a potato to resist the devastating disease 'late blight' by introducing a blight-resistant gene from a wild potato to the popular Maris Piper.
Blight is a serious problem globally, and was a significant contributor to the Irish Potato Famine in the 1840s. "The first year of the Maris Piper field trial has worked brilliantly", said Professor Jones. "We've observed resistance to late blight in all the lines.
This new blight-resistant gene introduced to the Maris Piper offers the promise of furthering its crop strength, and even the possibility of avoiding the use of chemical fungicides in its cultivation altogether. Field trials at Norwich are continuing, and next year the team will begin to explore the genetic traits that can improve tuber quality. The team hopes to produce a crop that is less prone to bruise damage and help improve the quality and sustainability of potato crop in the UK.
For more details, read the news article at the Biotechnology and Biological Sciences Research Council website.
Research
Non-essential trace metals such as cadmium (Cd) are toxic to plants. While some plants have developed ways to deal with absorbed Cd, the regulatory mechanisms behind the Cd tolerance are not fully understood. Ferrochelatase-1 (FC1), the terminal enzyme of heme biosynthesis, have been shown to be involved in several physiological processes. However, its function associated with plant abiotic stress response is poorly understood. Jun Song and Sheng Jun Feng from Nanjing Agricultural University aimed to learn more of FC1 from Arabidopsis.
Analysis showed that AtFC1 is activated by Cd exposure. AtFC1 overexpressing lines accumulated more Cd than wild types, and exhibited enhanced plant tolerance to Cd stress. The overexpressing lines also exhibited improved primary root elongation, biomass and chlorophyll contents. In contrast, the AtFC1 loss-of-function mutants showed sensitivity to Cd stress. Exogenous application of heme, the product of AtFC1, partially rescued the Cd-induced toxic phenotype of loss-of-function mutants. Further analysis showed that disfunction of AtFC1 led to 913 genes specifically upregulated and 522 genes downregulated in loss-of-function mutants exposed to Cd. Some of these genes are involved in metal transport, Cd-induced oxidative stress response, and detoxification.
These results indicate that AtFC1 acts as a positive regulator of plant tolerance to Cd stress. This study will serve as reference for studies on the role of FC1 in mediating plant response to Cd stress.
For more information on this study, read the article in BMC Plant Biology.
[ Send to a Friend | Rate this Article ]
---
Drought is one of the environmental factors that severely restrict plant distribution and crop production. Previous studies have reported that the high-affinity potassium transporter OsHAK1 plays important roles in potassium acquisition and translocation in rice. However, knowledge on the regulatory roles of OsHAK1 in drought stress is limited. The team of Guang Chen from China National Rice Research Institute now aims to elucidate its role in drought stress regulation.
The transcript levels of OsHAK1 were found to be elevated by water deficit in roots and shoots. Under drought conditions, the OsHAK1 knockout mutants (KO) exhibited lower drought tolerance and displayed stunted growth. The OsHAK1 overexpression seedlings (Ox) showed better tolerance to drought stress than wild types. Further analysis revealed that OsHAK1 acts as a positive regulator of the expression of stress-responsive genes as well as of two well-known rice channel genes, OsTPKb and OsAKT1, involved in potassium homeostasis and stress responses in the transgenic plants under dehydration.
Most importantly, OsHAK1-Ox plants displayed enhanced drought tolerance at the reproductive stage, resulting in 35% more grain yield than wild types under drought conditions. This study shows that OsHAK1 can be considered in molecular breeding for improvement of drought tolerance in rice.
For more information, read the article in Frontiers in Plant Science.
New Breeding Technologies
Parthenocarpy in horticultural crop plants is an important trait with agricultural value for various industrial purposes as well as direct eating quality. The team of Risa Ueta from Tokushima University in Japan introduced a breeding strategy to generate parthenocarpic tomato plants using the CRISPR-Cas9 system.
The team used the CRISPR-Cas9 system to introduce mutations effectively into SlIAA9, a key gene controlling parthenocarpy. The team achieved mutation rates of up to 100% in the T0 generation. Further analysis revealed that no off-target mutations were induced in the host genome. The regenerated mutants exhibited morphological changes in leaf shape as well as a seedless fruit, the characteristic of parthenocarpic tomato. The segregated next generation (T1) also showed phenotype associated with the mutated genome.
The system in this study could be used to produce parthenocarpy in a wide variety of tomato cultivars, as well as in other major horticultural crops.
For more on this study, read the article in Scientific Reports.
[ Send to a Friend | Rate this Article ]
---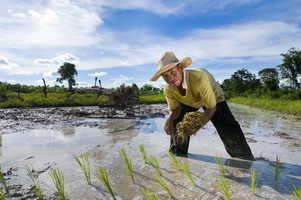 Gene editing technology, such as the use of CRISPR-Cas9, could revolutionize the development of high-yielding, drought-, disease- and pest-resistant, and quality plant seeds; with lesser time of development compared to current breeding methods. These were highlighted by a panel of expert scientists at the 2017 Borlaug Dialogue conference held on October 18-20, 2017 in Des Moines, Iowa.
According to Feng Zhang, the originator of the technology who is a core member of the Broad Institute of MIT and Harvard University, CRISPR-Cas9 is almost as simple as editing a Microsoft Word document on a computer. To edit genes, the Cas9 protein is programmed to create an RNA search string, which can search and edit paired DNA to change a genome to get desired results in plants, Zheng explained. "There's a lot of exciting opportunity to apply this technology in both human health and in agriculture," he said.
Scientist at the International Maize and Wheat Improvement Center (CIMMYT) also aim to use the breakthrough technology to help smallholder farmers in the developing world address food security, nutrition shortcomings and economic threats to their livelihoods caused by climate change, pests and disease. They acknowledge the potential of the technology to reduce the use of pesticides, and to boost nutrition through biofortification of crops.
"We want sustainable agriculture that provides food and nutrition security for all, while enabling biodiversity conservation," said Kevin Pixley, who leads the Seeds of Discovery project and the Genetic Resources Program at CIMMYT. "CRISPR-Cas9 is an affordable technology that can help us close the technology gap between the resource rich and resource poor farmers of the world." Gene-edited varieties could also lessen the risk of investing in fertilizers, grain storage or other technologies, thereby contributing to "double benefits" for smallholder farmers, Pixley stressed.
More more details, read the news release from CIMMYT.
Beyond Crop Biotech
Drought resistant jojoba could lead to growing forests on deserts, according to scientists at Osaka University in Japan.
Jojoba, which has high drought resistance and salt tolerance, is a popular source of oil used in cosmetic products. However, mass production of jojoba for agriculture has not been explored. Because of its potential economic value, researchers at the Plant Bioengineering for Bioenergy Laboratory at Osaka University explored on developing jojoba as plant genetic resource for afforestation projects.
To improve plant cloning efficiency, the researchers developed a tissue culture method involving a new combination of plant hormones. They also completed the first genetic transformation procedure to improve jojoba varieties by using Agrobacterium and developed DNA markers. Because of the positive results of the study, stable production of jojoba in deserts led to more supply of jojoba oil, which is now available for sale in Japan. It is the first step towards continuous conversion of deserts into forests through agriculture. It is expected to be adopted in unsused deserts in Egypt and at the same time provide livelihood to farmers.
Read the originala articles from Osaka University and Asian Scientist.
[ Send to a Friend | Rate this Article ]
---
An international research team led by the University of Adelaide has published the full genome of the water buffalo. The consortium of partners in Australia, Italy, China, Brazil, and the USA, with additional contributors from other countries, say they have now created the tools needed to apply modern molecular breeding systems to water buffalo.
The researchers sequenced the genome of the River buffalo, one of two subspecies of water buffalo. The River buffalo has been selected for milk production through organized breeding programs in Italy, India, the Philippines and Brazil.
Consortium leader Professor John Williams, Director of the University of Adelaide's Davies Research Centre said, "Water buffaloes were domesticated about 5000 years ago, and since then have been of economic importance for milk, meat and as a work animal around the world." He added that the water buffalo is a key agricultural animal because it is able to adapt to diverse environments, and is particularly tolerant of disease.
For more details, read The University of Adelaide News & Events.
[ Send to a Friend | Rate this Article ]
---
The B-BOX (BBX) proteins play important functions in regulating plant growth and development. In plants, the BBX gene family has been identified in several plants, such as rice, Arabidopsis, and tomato. However, there is still a need for a genome-wide study of BBX genes in pear (Pyrus bretschneideri).
The team of Yunpeng Cao from the Anhui Agricultural University in China identified and characterized 25 BBX genes in pear. The transcript analysis revealed that twelve PbBBX genes were specifically expressed only in pear pollen tubes. Further analysis also indicated that both PbBBX4 and PbBBX13 have potential roles in pear fruit development, while PbBBX5 in involved in the senescence of pear pollen tube.
This study provides a genome-wide study of the BBX gene family as well as their roles in both pear fruits and pollen tubes. These findings will be useful in studying the complexity of BBX gene family.
For more information, read the article in BMC Plant Biology.
From The BICs
DA Regional Field Office III information officers, technical staff, and other constituents of government agencies learned about maximizing engagement through Facebook and Twitter, crafting social media posts, the social media plan, infographics, and using Facebook for advocacy in the field of agriculture and biotechnology during the training Storytelling Agri-Innovations through Social Media held on October 28, 2017 at Hotel Stotsenberg, Clark, Pampanga.
The training involved hands-on exercises on developing social media plans, and crafting and posting messages on social media pages and accounts, and equipped participants with skills in optimizing social media engagement, particularly for agri-biotech and related topics. ISAAA social media managers Ms. Clement Dionglay and Ms. Kristine Grace Tome served as resource persons.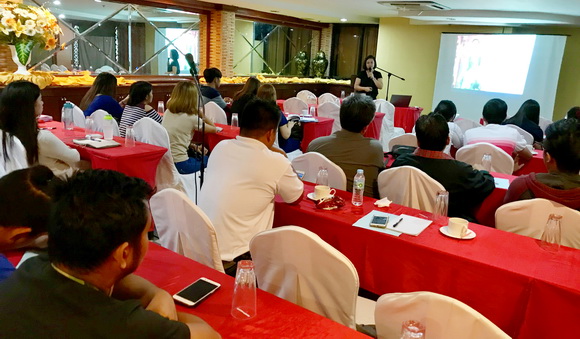 The activity was organized by ISAAA, SEARCA BIC, DA-Biotech Program, and DA Regional Field Office III. For more updates on biotech in the Philippines, visit SEARCA BIC website.