News
Africa
The U.S. Department of Agriculture Foreign Agricultural Service (USDA FAS) released the Global Agricultural Information Network (GAIN) report on the agri-biotech status of Nigeria. According to the report, Nigeria passed the biosafety bill into law and established the National Biosafety Management Agency (NBMA) in April this year. NBMA provides regulatory framework, an institutional and administrative mechanism in the application of modern biotech in the country. Confined field trials of biotech cow pea, sorghum, and cassava have been conducted and multi-locational trials have been approved. Because of these developments, stakeholders project that adoption of agri-biotech products will not face major setbacks in Nigeria.
Read the report from USDA FAS.
[ Send to a Friend | Rate this Article ]
---
The President of Uganda, H.E. Yoweri Museveni, has asked Members of Uganda's Parliament (MPS) to "modernize their thinking" towards new scientific innovations and technologies, including modern biotechnology. This statement was made during the World Food Day celebration at the National Agricultural Research Organization's Zonal Agricultural Research and Development Institute in Rwebitaba, Kabarole district on October 16, 2015.
In his speech, H.E. Yoweri Museveni asked the Members of Parliament to approve passage of the National Biotechnology and Biosafety Bill so that scientists are allowed to release their research products to the farmers for testing. He directed that scientists should not be "frustrated" but rather allowed to innovate so that they contribute to fulfilling the National Priorities including helping rural communities to become resilient to negative effects of climate change and to produce more food for their families and for the country.
During the celebration, the Uganda Bioscience Information Center (UBIC), together with biotech communication partners, demonstrated the relevance of using biotechnology to address some of the agricultural challenges faced by farmers in Uganda. The colorful showcase included use of tissue culture to provide farmers with disease-free planting materials for banana, cassava, coffee, and pineapple; use of GM technology to address crop diseases for banana and cassava; and use of GM technology to address climate change issues including drought in maize. The President visited the exhibit and was impressed by the work being done by Ugandan scientists and pledged government support to modernize agriculture.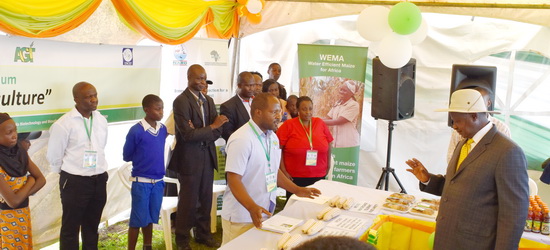 Watch the detailed speech by H.E. Yoweri Museveni in Youtube. For more information about biotechnology in Uganda, contact the UBIC Coordinator at ubic.nacrri@gmail.com.
Americas
Scientists at Michigan State University will be conducting studies to enhance potato production in Bangladesh and Indonesia. The project is part of USAID's work on Feed the Future, the U.S. government's global hunger and food security initiative. USAID awarded MSU with US$5.8 million to conduct the project.
"Genetically engineered crops are among the technologies with potential to increase agricultural productivity, benefiting livelihoods of both small-scale and commercial farmers, while reducing inputs and environmental impacts," said Dave Douches, head of MSU's Potato Breeding and Genetics program. "Internationally, potatoes are the world's third-largest food crop. So our team is committed to developing new varieties, finding potatoes that result in reduced pesticide use and more sustainable growing methods, and exploring ways to enhance the nutritional value of the potato," he added.
MSU scientists will work with the University of Minnesota and J.R. Simplot Company, together with institutions based in Bangladesh and Indonesia. The researchers aim to develop varieties that will help farmers fight diseases such as late blight, and produce high yields.
For more details, visit the MSU website.
[ Send to a Friend | Rate this Article ]
---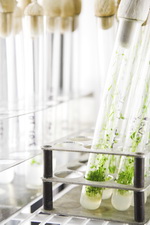 Researchers from North Carolina State University (NCSU) show how plants handle at the molecular level, the release of ethylene, an important gaseous stress hormone that regulates plant growth and stimulates fruit ripening process. Plant geneticists Anna Stepanova and Jose Alonso show that ethylene triggers a process that begins, but doesn't complete gene expression, one of the cell's most basic functions.
The researchers show that, when ethylene is perceived, transcription of certain genes that function as circuit breakers of ethylene signaling occurs, but protein production becomes restricted until ethylene is removed.
Their study shows that a key signaling molecule, EIN2, is an essential component in the ethylene-response process. EIN2 protein binds to the messenger RNA of the ethylene circuit breaker EBF2, incapacitating its protein synthesis, and thus allowing for a full activation of plant ethylene responses.
For more details, read the news release and abstract of the paper published in the journal Cell at the NCSU website.
[ Send to a Friend | Rate this Article ]
---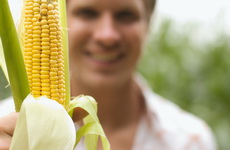 The USDA Animal and Plant Health Inspection Service has deregulated the biotech corn event MON 87411 (glyphosate tolerant and rootworm resistant). The decision is based on the assessment that corn is not harmful to agricultural crops, environment, or other crops. Importation of MON 87411 corn seeds, other propagative material, and grain for consumption will still be subject to APHIS foreign quarantine regulations.
Read the official document from APHIS.
Asia and the Pacific
The Indian Council of Agricultural Research (ICAR) and the South Asia Biotechnology Centre (SABC) have signed a memorandum of understanding (MOU) to accelerate the deployment of public sector-developed genetically engineered crops in India. The MOU was signed by Dr. S. Ayyappan, Director General of ICAR and Secretary DARE and Dr. C.D. Mayee, founding director of SABC, coinciding with the executive council meeting of the National Academy of Agricultural Sciences (NAAS) on September 19, 2015. ICAR and SABC will work to create an independent platform to support technology assessment and deployment, biosafety and regulatory approval, and outreach activities of biotech products developed through the national agricultural research system.
Dr. Ayyappan lauded the effort and expressed hopes that the collaboration would improve understanding of the regulatory science protocols and guidelines of biotech products which is crucial for taking biotechnology from lab to land through a multi-layer regulatory system involving different ministries in India. He further emphasized that "Translating biotech research by ICAR into ultimate products is a key challenge for our scientific community. Regulatory science and biosafety assessment studies assume a great significance to navigate through the regulatory system."
Dr. Mayee said the MOU is a historic milestone in taking biotech products to farming community. "Our endeavor is to provide technological intelligence to National Agriculture System and help them with wherewithal to deal with technology deployment, biosafety and regulatory science and approval of improved crops and biotech products developed by NARS."
Key scientists from ICAR and science administrators from the National Academy of Agricultural Sciences (NAAS) witnessed the ceremony held at National Agriculture Science Complex, New Delhi.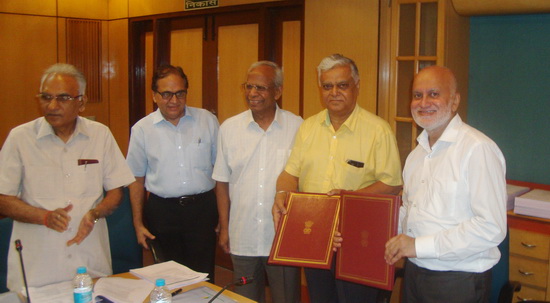 More details about the event are available at the ICAR website.

[ Send to a Friend | Rate this Article ]
---
The National Committee on Biosafety of the Philippines celebrated its 25th founding anniversary, with the theme "Celebrating 25 years of Biosafety in the Philippines Looking BackůMoving Forward" at the Chardonnay by Astoria in Pasig City, Philippines on October 27, 2015. The event was attended by more than 120 representatives of the NCBP partner government departments, scientists, academe, research agencies and institutions, media and private industry.
Dr. Jaime Montoya, Chairman of the Department of Science and Technology (DOST) Biosafety Committee, opened the program with his recollection of their experiences in regulating products of modern biotechnology and how these experiences will steer the NCBP in the right direction moving forward. DOST Secretary and NCBP Chairman Hon. Mario G. Montejo, recalled how the International Rice Research Institute (IRRI), the University of the Philippines Los Ba˝os (UPLB) and the Department of Agriculture were instrumental in the establishment of NCBP. He also declared the 25 years of regulatory work on modern biotechnology as an achievement and that the committee has overcome challenges through the years. He also thanked the member departments and scientists that have helped guide the committee to carry out its mandate.
Atty. Jose Mari A. Ochave, the Legal Adviser of the DOST Biosafety Committee, presented the 25 year history of NCBP, and recognized the people who have made an impact within the committee. He also presented possible improvements for the future of the committee as well as that of GM regulation in the Philippines. Recognition to individuals who have been instrumental in the establishment of biosafety in the Philippines were given service awards including National Scientists Dr. Dolores Ramirez, for her contributions in the formulation of the country's biosafety protocols and procedures and Dr. Ricardo Lantican, for his support of the committee and his capacity as the first NCBP Chairperson, as well as former Academician Dr. Estrella Alabastro, for spearheading the establishment of the NCBP during her helm as DOST Secretary.
Representatives of each member department, including that on health, environment and natural resources, trade and industry, interior and local government, and foreign affairs signed a Renewal of Commitment to NCBP. It symbolized inter-agency commitment to a science-based biosafety framework. Presentations from experts as well as discussions on the GM regulations, new plant breeding techniques socio-economic impacts of a country's adoption of GMOs were also conducted during the event.
For details of the event contact knowledge.center@isaaa.org.
[ Send to a Friend | Rate this Article ]
---
The Ministry of National Food Security and Research (MNFS&R), together with Pakistan Agricultural Research Council (PARC), the Food and Agriculture Organization of the United Nations (FAO), the World Food Programme (WFP) and the International Fund for Agricultural Development (IFAD) organized an event to celebrate World Food Day (WFD) at National Agricultural Research Centre (NARC) in Islamabad, Pakistan.
The year's theme was "Social Protection and Agriculture; Breaking the Cycle of Rural Poverty" and the chief guest was Mr. Sikandar Hayat Khan Bosan, the Federal Minister MNFS&R. He said that the government has taken the necessary steps for the growth of agriculture sector and also for the social protection of farmers. According to him, the government is committed to eradicate poverty and enhance food security. To achieve this goal, zero hunger and family farming programs will be launched, with FAO's technical expertise and cooperation.
For more details, read the article at the Pakistan Biotechnology Information website.
Europe
Dr. Ksenia Krasileva, Triticeae Genomics Group Leader at The Genome Analysis Centre (TGAC), and her team are working on large-scale projects to make significant advances in global food security. Dr. Kasileva's team is analyzing an extremely large collection of wheat lines to identify novel resistance genes to various diseases and understand the mechanism of action of these genes.
According to Dr. Krasileva, they are comparing DNA sequences of wheat lines with the reference genome published last year, saying that they have an efficient way of identifying genes that are involved in a given line's relative disease resistance. This enables them to enrich the cultivated wheat gene pool with novel, economically important genes.
For more, read the news article at the TGAC website.
[ Send to a Friend | Rate this Article ]
---
Corporate social responsibility initiatives show favorable impact on consumers attitudes toward GE foods, says a study conducted by researchers from University of Salento and LUISS Guido Carli University in Italy. The results are published in Journal of Cleaner Production.
The researchers surveyed 260 Italian consumers and used the well-stablished model of corporate social responsibility proposed by Caroll in 1979. Results indicate that the philantrophic and legal responsibilities fulfilled by the producers had positive impact on the consumers attitudes and their intentions to buy GE products, respectively.
Read more about the study in Journal of Cleaner Production.
[ Send to a Friend | Rate this Article ]
---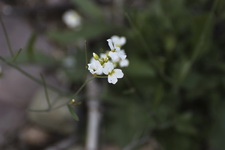 In a study published in PLOS Genetics, a team led by Professor Claus Schwechheimer from the Technical University of Munich (TUM) in Germany describes a molecular mechanism that allows plants to adapt their flowering time to ambient temperatures and indicate ways in which the flowering time can be predicted based on genetic information.
The research team described how thale cress plants adapt their flowering time to the ambient temperature. The first indication of this natural gene variation came from the cool latitudes of Scotland, where scientists discovered a molecular mechanism that causes flowering two weeks earlier than its counterparts in warmer regions. Due to the insertion of a jumping gene (transposon), the formation of the crucial flowering gene was so minimal that the function of the flowering repressor no longer had any effect.
Ulrich Lutz, first author of the study, was also able to show that this gene mutation is already established in other variants of thale cress and controls its flowering behavior. The researchers were able to predict this flowering behavior based on the presence of the transposon with a high degree of accuracy. Their findings could help with the prediction and even modification of plant flowering time in the future, insights that are important for plant breeding to ensure that food production can be guaranteed in the long term in the context of progressive global warming.
For more details, read the news release at the TUM website.
Research
Pheophorbide a oxygenase (PAO) is a vital enzyme in the chlorophyll catabolism pathway and is involved in leaf senescence. Previous studies have indicated the function of PAO during cell death, but its involvement in leaf senescence is not well understood. Huai-Juan Xiao of the Northwest A&F University and Henan Agricultural University in China, together with colleagues studied the function of PAO.
A PAO gene, CaPAO, was isolated from pepper (Capsicum annuum L.) and expression was found to be higher in leaves than roots, stems, and flowers. It was upregulated by abscisic acid, methyl jasmonate, and salicylic acid. A gene silencing technique was used to silence the CaPAO gene in pepper plants. After 3 days of high salt treatment, the chlorophyll breakdown of CaPAO-silenced pepper plants was retarded.
The gene was expressed in tobacco plant after a week of salt treatment. The leaves of transgenic tobacco exhibited extreme chlorosis and chlorophyll content was significantly lower than in control plants. Results suggest that CaPAO gene plays an important role in responses to salt-induced leaf senescence.
For more information on the study, read the article in BMC Biotechnology.
[ Send to a Friend | Rate this Article ]
---
Understanding the mechanism of low cadmium (Cd) accumulation in crops is crucial for sustainable and safe food production in Cd-contaminated soils. A research team led by Hongyan Sun of Zhejiang University in China recently discovered a distinct difference in Cd accumulation and tolerance between the two barley genotypes: W6nk2, a low-grain-Cd-accumulating and Cd-sensitive genotype, and Zhenong8, a high-grain-Cd-accumulating and tolerant genotype.
Analysis detected large-scale changes of gene expression in response to Cd stress with an obvious difference between the two genotypes. Cd stress led to higher expression of genes involved in transport, carbohydrate metabolism and signal transduction in W6nk2. Novel transporter genes such as zinc transporter genes were identified as being associated with low Cd accumulation.
Furthermore, suppression of the zinc transporter genes HvZIP3 and HvZIP8 showed increased Cd accumulation and reduced Zn and Mn concentrations in barley grains. Thus, HvZIP3 and HvZIP8 could be candidate genes related to low-grain-Cd-accumulation.
For more information on this study, read the article in BMC Plant Biology.