Kenyan Top Doctors Support Agri-biotech, Calls for Lifting of GM Ban
December 17, 2014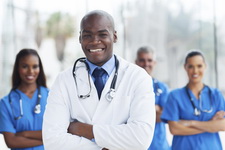 Kenyan medical practitioners under the umbrella body - Kenya Medical Association (KMA), have voiced their views in support of agricultural biotechnology. During a recent stakeholders meeting in Nairobi, organized by the Kenya University Biotech Consortium (KUBICO), the KMA chairman Dr. Elly Nyaim supported KUBICO's call on the government to lift the 2012 ban on importation of GM food products. This would allow scientists to deliver current GM crops under research to farmers, who have been waiting in earnest for the products.
The doctors expressed willingness to work with the academia and other stakeholders in educating the public about the safety of GM foods, acknowledging the prevailing gross misinformation about GMOs. According to Dr. Simon Mwangi, a general physician, medics and biotechnologists should work together to improve the living standards of the people. He called on a more collaborative working relationship between biotechnologists and medics adding that doctors need inputs from biotechnologists to solve current health problems brought about by nutritional gap in foods consumed by patients. "From a medical perspective, GM foods have been ascertained as safe for human consumption," said Dr. Mwangi.
KUBICO chairman, Dr. Richard Odour informed the forum that foods such as sweet potato and sorghum are essential part of preventive programs aimed at strengthening the immune system in the human body. He added that biotechnology can make them even more nutritious and Kenyan scientists have what it takes to transform these crops, he said.
For more on KUBICO contact: Dr. Richard Odour of Kenyatta University at: oduor.richard@ku.ac.ke and rooduor2000@yahoo.co.uk
ISAAA shares, disseminates, and promotes science-based information to help in achieving global agricultural sustainability and development. During this time of COVID-19 pandemic, we monitor research on treatments, vaccines and keep track of the pandemic's effect on food security and agriculture. We help the public make informed decisions and actions to mitigate and recover from the impact of COVID-19. At this crucial time, we need your help. Please support our efforts today from as little as $10  
See more articles:

News from Around the World

Research Highlights

Beyond Crop Biotech

Announcements

Resources


Subscribe to CBU: