News
Global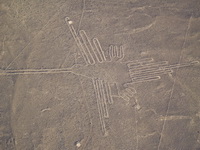 Twelve members of the environmental group Greenpeace performed a stunt in Peruvian desert to express their participation in the Conference on Climate Change held in Lima, Peru on December 1-14. They placed huge yellow letters stating "Time for Change! The Future is Renewable. Greenpeace" just beside the hummingbird-like geoglyph, which is part of the Nazca lines. The Nazca lines are mysterious geometric figures covering the Nazca desert in the southern coast of Peru built by ancient Nazca people during the 4th to 9th century. The hummingbird-like geoglyph is called Colibri, which is the most visible and most recognized of all the figures in the desert.
This act raised widespread public concern not because of the statement of Greenpeace, but because their action damaged the Nazca lines, which is recognized as a World Heritage Site by United Nations Educational, scientific, and Cultural Organization (UNESCO) since 1994. The ground around the site is very fragile and considered as sacred that the government of Peru prohibits anyone from walking on the site without permission, even the president or top officials. Researchers who visit the site wear special shoes to avoid leaving traces, but the Greenpeace members wore regular shoes leaving footprints that may last for hundreds and thousands of years.
According to Luis Jaime Castillo, a Peruvian deputy culture minister, Peru would file charges of "attacking archaeological monuments" against the activists from Argentina, Austria, Brazil, Chile, Germany, Italy, and Spain.
Greenpeace has a history of insensitive or poorly-staged actions such as destroying field trial sites of Bt eggplant and vitamin A-rich rice, crops that were designed to address farmers' overuse of pesticides and prevent blindness, respectively.
For more information, visit the following links: http://news.nationalgeographic.com/news/2014/12/141212-nazca-lines-greenpeace-archaeology-science/, http://www.bbc.com/news/world-latin-america-30412336, and http://gizmodo.com/how-greenpeace-wrecked-one-of-the-most-sacred-places-in-1669873583.
Africa
"This country needs science and technology innovation to get our economy back on track; and to get the answers to the biggest challenges we face such as climate change, lack of employment, and economic growth". These were the words of the Speaker of Parliament Hon. Rebecca Kadaga, during the Parliamentary Science Week exhibitions held from December 8-12, 2014 at the Parliament Grounds. The expo was held under the theme: "Promoting Local Science and Technology Innovation for Job Creation and Economic Development" and it attracted a spectrum of exhibitors, from locally-made innovations to advanced scientific innovations, including: nongovernmental organizations, universities, corporate companies, and the National Agricultural Research Organization (NARO).
During her visit to the biotechnology stall, Hon. Kadaga was taken through various biotech innovations being used in different sectors including development of biotechnology crops from the laboratory to the field. Also on display were some of the farmers' challenges that are being addressed using biotechnology. The speaker was delighted to learn that the country has the human and infrastructural capacity to use advanced tools of science, and that local scientists are testing various methods to combat some of problems that make it difficult for farmers to reap from their hard work. The speaker was, however, reminded that without a law to regulate the some of the biotechnology tools, these products will not be able to reach farmers' fields.
Other biotech-related activities conducted during the week-long expo included, a series of breakfast meetings organized by SCIFODE for members of Parliament. Most legislators appreciated the need to have a law on biotechnology, which is currently waiting to be debated in Parliament. The legislators promised to support its passing when it is introduced for seconding reading in Parliament.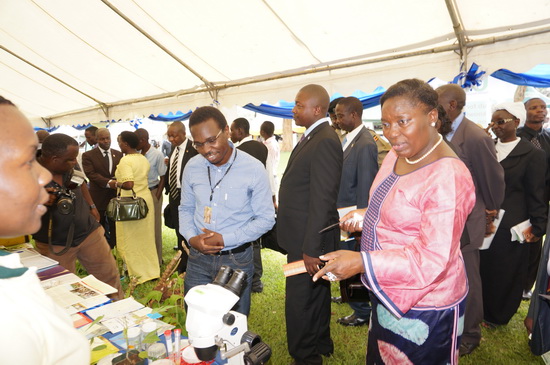 For more information, contact Uganda Bio-sciences Information Center at ubic.nacrri@gmail.com.
[ Send to a Friend | Rate this Article ]
---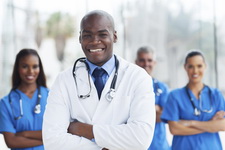 Kenyan medical practitioners under the umbrella body - Kenya Medical Association (KMA), have voiced their views in support of agricultural biotechnology. During a recent stakeholders meeting in Nairobi, organized by the Kenya University Biotech Consortium (KUBICO), the KMA chairman Dr. Elly Nyaim supported KUBICO's call on the government to lift the 2012 ban on importation of GM food products. This would allow scientists to deliver current GM crops under research to farmers, who have been waiting in earnest for the products.
The doctors expressed willingness to work with the academia and other stakeholders in educating the public about the safety of GM foods, acknowledging the prevailing gross misinformation about GMOs. According to Dr. Simon Mwangi, a general physician, medics and biotechnologists should work together to improve the living standards of the people. He called on a more collaborative working relationship between biotechnologists and medics adding that doctors need inputs from biotechnologists to solve current health problems brought about by nutritional gap in foods consumed by patients. "From a medical perspective, GM foods have been ascertained as safe for human consumption," said Dr. Mwangi.
KUBICO chairman, Dr. Richard Odour informed the forum that foods such as sweet potato and sorghum are essential part of preventive programs aimed at strengthening the immune system in the human body. He added that biotechnology can make them even more nutritious and Kenyan scientists have what it takes to transform these crops, he said.
For more on KUBICO contact: Dr. Richard Odour of Kenyatta University at: oduor.richard@ku.ac.ke and rooduor2000@yahoo.co.uk
[ Send to a Friend | Rate this Article ]
---
Dr. Adel El-Beltagy, Egypt's Minister of Agriculture and Land Reclamation, said in a press statement on December 13, 2014 that genetic engineering techniques play a major role in increasing crop productivity amidst the effects of climate change that cause high temperatures, drought and soil salinity.
As a scientist and professor in Aim Shams University, Dr. El-Beltagy played a critical role in establishing the Genetic Engineering Research Institute.
The Minister added that currently the ministries of agriculture, health, and the environment are working together toward the completion of the Egyptian biosafety law for genetic engineering in plants. He likewise stressed the importance of making use of genetic engineering in agriculture, especially as it works to accelerate what nature does to plants in many years.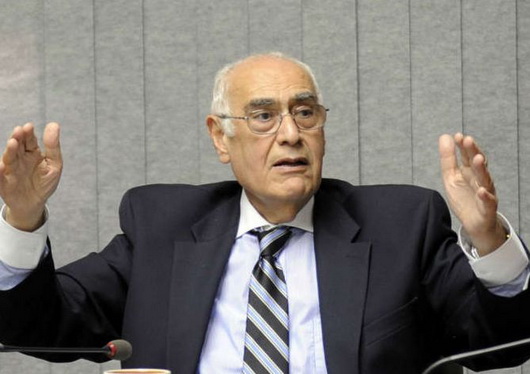 To read the press statement visit http://www.almasryalyoum.com/news/details/600330. For more information, contact Dr. Naglaa Abdallah, Director of the Egypt Biotechnology Information Center at naglaa_a@hotmail.com.
Americas
The US Department of Agriculture (USDA) National Institute of Food and Agriculture (NIFA) announced the release of US$3 million worth of grants to advance the use of robotics in American agriculture production. The four grants are part of the National Robotics Initiative (NRI), a federal research collaboration of NIFA, the National Science Foundation (NSF), the National Institutes of Health (NIH), the National Aeronautics and Space Administration (NASA), and the Department of Defense.
"We are on the cusp of seeing incredible advancement in the use of robotics and sensors supporting agriculture in this country," said Sonny Ramaswamy, NIFA director. "These technologies, which are components of the 'internet of agricultural things,' have the ability to make agriculture production more efficient, saving time and money – benefits that can be passed from producers to consumers."
Read more at http://www.nifa.usda.gov/newsroom/news/2014news/12151_robotics_initiative.html.
Research
Researchers from University of Bath studied the two main traits in seeds, seed size and seed number, which are necessary for improving crop yields. Typically, a small seed size will yield high seed number while a large seed size will then give off small seed number. This scenario occurs due to trade-offs associated with the two traits. With this, the researchers observed the genetic basis of natural variation in seed size and number to identify the factors associated with them.
A multiparent advanced generation intercross (MAGIC) lines of Arabidopsis thaliana plant was used. With this plant lines, the precise location of gene chromosomes associated with seed size and number can be identified. A QTL mapping was conducted on the seeds and showed that there is a non-overlapping QTL between seed size and seed number. This result implies that the genetic factors involve with the two seed traits are located differently in the genome. It is then possible to independently control seed size and seed number. An improvement in one trait will not affect the other trait.
Further details of the study can be read at: http://www.bath.ac.uk/news/2014/12/12/seed-size-2/ and http://www.genetics.org/content/198/4/1751.full.pdf.
[ Send to a Friend | Rate this Article ]
---
Researchers from China Agricultural University studied the gene maspardin (IbMas) in improving salt tolerance in sweetpotato. IbMas is a member of α/β superfamily isolated from a salt-tolerant sweet potato line. The study was conducted by up-regulating the expression of IbMas in sweetpotato under salt stress and ABA treatment condition.
Results showed that overexpression of IbMas in sweet potato obtain improvements in its salt tolerance, superoxide dismutase and photosynthesis activities and proline content. Presence of up-regulated salt-stress responsive genes under salt stress was also observed. These findings show the ability of IbMas in enhancing salt tolerance in transgenic sweet potato.
Read more on the study at: http://www.plosone.org/article/info%3Adoi%2F10.1371%2Fjournal.pone.0115128#authcontrib.
[ Send to a Friend | Rate this Article ]
---
Scientists have established that natural movement of a gene in a transgenic variety (transgene), that is not under farmers' selection, from a widely grown transgenic variety into the non-improved potato varieties (landraces) over a long period of time is unlikely to happen at a detectable scale. Scientists at CIP, led by Dr. Marc Ghislain reported this in findings published in Springer in July 2014.
The findings are contained in the results of an experiment where the scientists set out to find out possible natural hybridization of landraces with an exotic variety, 'Yungay'. The exotic variety and the landraces had coexisted for 15- 25 years in the Peruvian Andes. The experiment which involved 688 landraces concluded that none of them could be said to be a hybrid with Yungay as a parent.
The study was necessitated by concerns raised that a possible introduction of genetically modified potato in the Andean region could lead to the unintentional introduction of transgenes into the native potato germplasm because it is perceived to convey negative impacts on biodiversity. "This outcome provides convincing, significant scientific evidence for refuting the precautionary position of a unilateral ban on transgenic potatoes in their center of origin." Dr. Ghislain said.
The open-access research article is available at http://link.springer.com/article/10.1007/s11248-014-9854-4. For more information, contact Dr. Marc Ghislain at m.ghislain@cgiar.org.
[ Send to a Friend | Rate this Article ]
---
Drought is the most important environmental factor causing yield losses in soybeans [Glycine max (L.) Merr.]. To address this, Maria Fátima Grossi-de-Sa and Maria Helena Bodanese-Zanettini from the Universidade Federal do Rio Grande do Sul, transferred a gene (SnOLP) encoding an osmotin-like protein from Solanum nigrum var. americanum (black nightshade) into soybean and produced two transformed soybean lines expressing SnOLP.
Transgenics performed better than the control when exposed to water deficit. Leaf physiological measurements revealed that transgenic soybean plants maintained higher leaf water potential at predawn, higher net CO2 assimilation rate, higher stomatal conductance and higher transpiration rate than non-transgenic plants. Decrease in productivity and 100-grain weight were observed for both transgenic and non-transgenic plants under water deficit, but was more pronounced in non-transgenic plants.
Expression of SnOLP in transgenic soybeans improved physiological responses and yield components of plants when subjected to water deficit, highlighting the gene's importance.
For more information, the full article is available here: http://www.biomedcentral.com/content/pdf/s12870-014-0343-y.pdf
Beyond Crop Biotech
A consortium of scientists released the most comprehensive family tree of birds ever reported, containing genetic information from 48 species showing how modern bird lineages arose and flourished after the mass extinction that killed the dinosaurs.
The study elucidated the evolutionary relationships of modern bird groups and revealed some genetic information on bird traits such as singing, toothlessness, colorful feathers, and color vision. The research found singing evolved independently in songbirds, parrots, and hummingbirds and showed that the set of about 50 genes involved in birdsong is similar to those involved in human speech.
The species included penguins, falcons, eagles, woodpeckers, owls, vultures, pelicans, cranes, crows, hornbills, cormorants, hummingbirds, pigeons, ducks, chickens, turkeys, ostriches, finches, loons, flamingos, swifts, and even the White-throated Tinamou.
Read more at http://www.sciencemag.org/content/346/6215/1308.short.
[ Send to a Friend | Rate this Article ]
---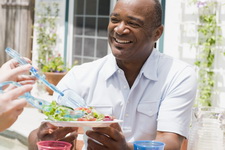 University of Toronto scientists report that persons have specific nutritional needs based on one's genetic makeup. They found that personalized dietary advice based on their DNA improved the eating habits of the subjects, compared to those who followed standard dietary recommendations. This emerging field of study is called nutrigenetics, which aims to understand why some people respond differently than others to the same kind of food. Personalized nutrition, a branch of personalized medicine, is an application of nutrigenomics that helps tailor dietary recommendations to a person's DNA.
The findings of the study were published in PLoS One.
For more information, visit http://www.medicalnewstoday.com/releases/285505.php.
Document Reminders
Alan McHughen, scientist from the University of California, wrote an article in Beyond the Science about GMO Safety and Regulations. He said that GM crops and foods are regulated at every stage of production from research planning through field testing, food and environmental safety assessment, and after commercial use. Thus, pushing for increased regulation ignores the robust review of biotech crops that are already in place.
Download the article at http://www.geneticliteracyproject.org/wp/wp-content/uploads/2014/11/GM-Dialogue-Brief-Safety-McHughen.pdf